Becoming an ICU Nurse: A Career Guide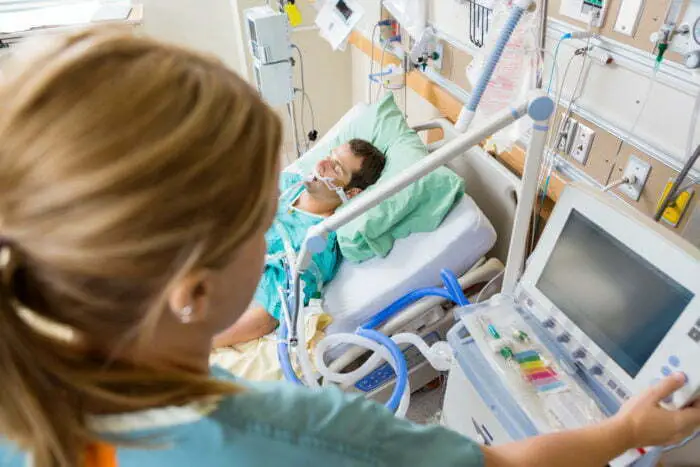 There are more than 20 Intensive Care Unit (ICU) beds per 100,000 residents in the US. With the country expecting the population over 65 to double in the next two decades, the opportunity for becoming an ICU nurse can only be expected to increase.
In other words, the requirement for Intensive Care Units will grow steadily, and highly trained ICU nurses can be expected to be in high demand in the coming decades. Therefore, it couldn't be a better time to consider becoming an Intensive Care Unit Nurse.
These healthcare professionals earn a high salary and have excellent career prospects. However, to become an ICU nurse, you will need to earn the right qualifications and meet continuing education requirements.
We've outlined everything you need to know about starting a career as an ICU nurse in this post.
What is an Intensive Care Unit (ICU) Nurse?
An ICU nurse (also called a critical care unit nurse) is a specialized health care professional that provides quality nursing care to critically ill patients. The patients may have a life-threatening illness, be severely injured, or be badly infected. 
Often, patients that have undergone very invasive surgery or have poor outcomes after surgery are also admitted to the Intensive Care Unit. To provide adequate care to patients in the ICU and help them survive or de-escalate care, critical care nurses must have extensive knowledge and specialized skills.
These health care professionals are trained to make life-saving decisions on their feet and move quickly when a patient's condition changes.
What Does an ICU Nurse Do?
ICU nurses provide high-quality nursing care to critically ill patients that depend on their expertise 24/7. At the risk of stating the obvious, ICU nurses work in complex, challenging conditions and strive to provide life-saving care to patients fighting for their life.
In this role, you can expect to work with patients that are ventilated, intubated, and dependent on several machines and medications for survival. To provide the patients with the level of care they require to recover back to good health, ICU nurses are well-versed with every aspect of specialized care.
The roles and duties of these healthcare professionals include:
Moving patients to comfort care
Administering appropriate medications
Performing diagnosis or therapy as required
Evaluating and monitoring patient's progress
Identifying sudden or subtle changes in a patient's condition
Keeping the team, patients, and patient's families informed about progress
Responding to emergencies and notifying doctors
Working with an interdisciplinary team to create care plans
Advocating for the patient's needs
Evaluating patient's test reports and vital signs 
Assessing patient's pain level to determine sedation requirements
Providing emotional support to patients and families
Setting up and working with medical equipment 
Maintaining detailed documentation of patient care
Educating patients and prospective caregivers about the care plan
The American Association of Critical Care Nurses requires registered nurses working in the ICU to uphold healthcare standards. For example, nurses must record vital signs every hour, assess the patient from head to toe every four hours, reposition the patient every two hours, and so on.
You can read about what it takes to upkeep these standards in detail on the ACCN website.
Where Do Critical Care Nurses Work?
As the job title suggests, critical care nurses work in Intensive Care Unit departments in health care facilities of all sizes. Critical care nurses usually work the standard morning, afternoon, or night shifts. However, shifting schedules may change depending on the hospital and region.
An Intensive Care Unit is a sanitized, well-equipped medical center that strictly adheres to health and safety standards. 
Since resources and specialized equipment can be difficult to arrange for, hospital networks tend to share resources. ICU units are usually located in large and centralized hospitals. Furthermore, hospitals in the network that do not have an ICU department typically have a transfer agreement with the nearest hospital that does.
While ICU nurses work mostly in their department, they may need to move between the ICU, ER, and operating theatre throughout their shift. In addition, these nurses may also need to visit other specialty wards with critically ill patients. 
ICU Nurse Salary
According to ZipRecruiter, critical care nurses earn an average salary of $101,374 annually. However, salaries often vary from state to state. If you want to earn a higher salary, you could consider moving to New York, New Hampshire, or Vermont since ICU nurses in those states make more money on average. A critical care nurse in New York earns $114,269 a year on average.
It is important to note that the nurse's experience and education also influence their salary. Therefore, you can expect your salary to increase as you earn more experience and get more certifications.
Job Outlook
The demand for these nursing professionals is expected to grow quickly and steadily. The Bureau of Labor Statistics projects the number of ICU nursing jobs to increase by 9% by 2030. 
There couldn't be a better time to join nursing programs and start a career as a registered nurse. As you earn the appropriate certification and specialize in ICU nursing, you can be sure that finding a job won't take long.
How Do I Become an ICU Nurse?
You must earn the right qualifications before you can become an ICU nurse. Here's a step-by-step guide:
Step #1: Earn A Bachelor's Degree in Nursing
Before you can become an ICU nurse, you will need to work towards becoming a Registered Nurse (RN). The first step towards becoming an RN is to earn a Bachelor of Science in Nursing (BSN). You must make sure you enroll in a nursing program accredited by organizations such as the CCNE.
While you can become a registered nurse by earning an Associate Degree in Nursing (ADN), employers have come to expect nursing professionals to have a bachelor's degree.
If you want to shorten the time to get the bachelor's degree, you could earn an ADN and enroll in a bridge program to get your BSN. Of course, you could also do this if you're looking to find a job as a nurse while you work towards your degree. Bear in mind, though, that nurses with an ADN get paid lesser than nurses with a BSN.
Step #2: Pass the NCLEX Exam
Earning a degree in nursing makes you eligible to take the NCLEX exam. The NCLEX test is a standard test that nursing students must pass before getting their RN license. There are many NCLEX reviewers available to help you prepare.
The exam is five hours long and has 145 questions. You will need to answer at least 50% of the questions right to pass the exam. You must pay $200 to take the test.
The exam has a pass rate of >85% every year, so it's not the most difficult test you'll take. However, being prepared is critical since less than half of the repeat test-takers pass the NCLEX. If you fail the first time, the probability of you clearing the exam the next time you take it reduces drastically.
Step #3: Gain Experience
After you get licensed, you will need to work at a health care facility in an Intensive Care Unit (ICU) for at least two years to become an ICU nurse. 
Step #4: Obtain Certifications (Optional)
The ACCN doesn't require nurses to earn certifications to become ICU nurses. However, earning certifications shows employers your commitment to the role. In addition, having certifications often reassures employers that they're hiring the best nurses. 
In addition to making getting hired easy, obtaining certifications can also increase your salary. There are primarily three certifications that prepare you for nursing in critical care conditions:
Certified Rehabilitation Registered Nurse (CRRN): Offered by the Association of Rehabilitation Nurses, getting a CRRN will prepare you to provide high-quality nursing care to critically ill adult patients. After earning this certification, you can work in surgical ICUs, trauma units, and cardiac care units.
CCRN Certification: Depending on which patient population you want to specialize in treating, you can enroll in the CCRN adult, pediatric, or neonatal certification program. These nursing programs will teach you everything you need to know about nursing populations in critical condition.
Cardiac Medicine Certification: You can get the CMC certification if you're more interested in getting involved in cardiac care. After certification, you can work in electrophysiology units and heart failure clinics.
Continuing Education
Completing CEUs will ensure that you're up-to-date with the latest knowledge, skills, and trends. In addition, most employers require ICU nurses to maintain continuing education to retain their position as critical care nurses.
ICU Nursing Specialties
Getting certified is different from specializing. After you earn your certification, you can work towards a position in the following specialties: 
Neurological ICU Nurse: These ICU nurses work with patients having TBIs or spinal cord injuries. They must assess the patient's condition and use intracranial devices and medication to manage it.
Cardiac ICU Nurse: These registered nurses care for patients that require or have had cardiac surgery. Cardiac ICU nurses must frequently monitor the patient, use intracardiac devices and medications to help the patient recover.
Medical ICU Nurse: They have the necessary skills to provide care for patients experiencing withdrawal, stroke, sepsis, pneumonia, and other complications. A medical ICU nurse's responsibilities include frequent monitoring, using ventilators and hypothermia equipment, and providing medication to control infections.
Trauma ICU Nurse: These nurses are trained to identify complications from trauma in intensive care patients who sustained injuries from accidents and similar events. Trauma ICU nurses monitor the patients closely and take charge if there is a need for emergency interventions.
Burn ICU Nurse: These nurses specialize in treating patients who have suffered burn injuries.
There are several other areas you can work towards specializing in. You could specialize in caring for children, infants, transplant patients, and psychiatric patients.
Conclusion: Should You Become An ICU Nurse?
Being an ICU nurse requires you to have excellent critical thinking skills. In addition, you must work well with data so you can record and monitor patient progress and pay great attention to subtle shifts in the patient's condition.
Compassion, grit, and solid communication skills are must-haves in ICU nurses. Additionally, you will need to advocate for the patients and their families and stay strong when caring for patients with life-threatening conditions.
Seeing people recover back to good health can be deeply gratifying, and if you're willing to put in the work to make that happen for people, becoming an ICU nurse may be your calling.