Levels of Nursing Degrees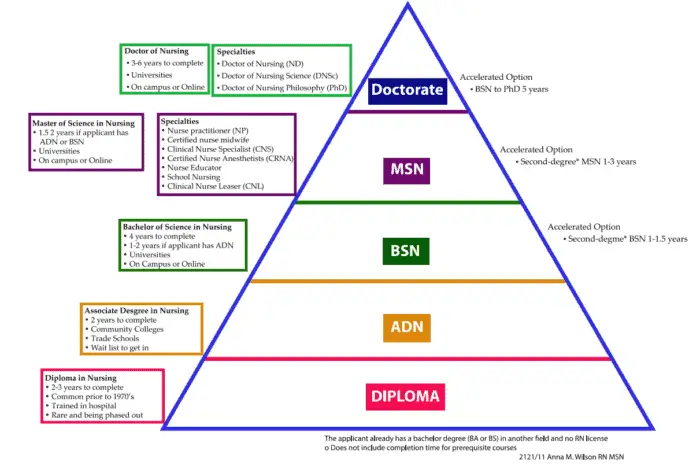 In today's job market, nurses are in high demand. According to the US Bureau of Labor Statistics, employment of registered nurses is projected to grow 7 percent from 2019 to 2029. This is faster than the average for all occupations. Therefore, if you are thinking about becoming a nurse, it's essential to familiarize yourself with the levels of nursing.
Now, more than ever, flexible and affordable programs are available for starting your nursing career. There are five different levels of nursing, or types of degrees, as well as other certificate programs and specialties.
Diploma in Registered Nursing
The Levels of Nursing Pyramid above shows how nursing degrees progress from diploma and associate degrees to advanced degrees like bachelor of science in nursing, master of nursing, and doctorate of nursing. Check out this post if you want to know how long it takes to become a nurse.
Diploma in Registered Nursing
Registered nurse diploma programs aren't as popular or readily available as they once were. Compared to an academic degree in nursing, a diploma functions similarly to an apprenticeship. A diploma focuses more on clinical hours than general education and nursing concepts.
A curriculum leading to a diploma in nursing is typically offered by a hospital. The curriculum takes approximately 18-32 months to complete. At this level of nursing, the program includes classroom and clinical training. This training is for patients in any given department within acute care, long-term care, and community settings.
Graduates of the hospital-based programs receive a diploma and are eligible to apply to take NCLEX-RN. A Registered Nurse license is awarded upon successfully passing the NCLEX and satisfaction of other licensure requirements.
Associate Degree in Nursing (ADN)
One of the first types of nursing degrees is the associate's degree. An Associate Degree in Nursing (ADN) largely zeroes in on technical skills and less on theory. It also lets you start your nursing career quickly.
Around 30% of graduates use their associate degree in nursing as a stepping-stone to pursuing a bachelor's in nursing. This option is good for individuals that have not worked as an LPN/LVN but would like to start their careers as registered nurses.
At this level of nursing, most nursing degree programs are offered through vocational schools or community colleges. This program is flexible and typically conducted through night and weekend courses. Therefore, it takes around 2 years to complete assuming you have a high school diploma or equivalent.
This path is a good option for students with professional, familial, and other obligations. This path also allows you to begin getting paid sooner as a registered nurse (RN) relative to a 4-year bachelor's degree.
LPN-to-Associate's Program
Any licensed practical nurse (LPN) interested in becoming an entry-level RN should pursue the LPN-to-Associate's Degree in Nursing (ADN) bridge program. As the name implies, this is a degree designed to "bridge the knowledge gap" between what an LPN knows and what an RN is expected to know.
Those with no prior experience must obtain a standard ADN. However, LPNs can often earn their degrees more quickly by receiving credit for previous coursework and, in some cases, work experience.
With an ADN, you are one step closer to pursuing a Bachelor's Degree. Some employers offer tuition reimbursement to licensed practical nurses who choose to pursue becoming an RN.
LPN-to-BSN Program
This bridge nursing program takes into account the work experience you may have already put in as an LPN. You are not required to complete the traditional 4-year bachelor's degree and may pursue a liberal arts education. Once you have completed the program, you will be qualified to work at the RN level.
Students can attend part-time liberal arts classes at their own pace at this level of nursing. However, a full-time student can complete the curriculum in four academic semesters or about two years.
Bachelor of Science in Nursing (BSN)
Most nursing leaders have obtained a BSN degree. In today's competitive job market, this nursing degree provides one with the best opportunities for career stability and advancement.
A four-year bachelor of science in nursing BSN degree requires commitment and dedication. Some students find they can work and take care of their families while pursuing their degrees. However, lab time and coursework in BSN programs require extra effort on the part of the student at this level.
If you can forgo your income and do not have substantial obligations and responsibilities, earning a BSN degree out of the gate is a great option.
RN-to-BSN
If you are an RN with an associate's degree (ADN), the RN to BSN has been designed for you. By enrolling, RNs can save a lot of money and time in obtaining their bachelor's.
The RN-to-BSN recognizes the credits for nursing skills that you have already learned through work experience or school. You can complete the program in about two years.
Instead of beginning in September, the schools offering these programs have multiple start dates year-round and students can pursue online RN-to-BSN programs in many locations.
Second Degree BSN
The Second Degree BSN is specifically designed for non-nurses who have bachelor's degrees in fields not affiliated with nursing. A second-degree bachelor of science in nursing will assume credits from your current bachelor's degree, and apply them toward the liberal arts requirements of your BSN.
A Second Degree BSN can take two academic years or less to complete. Students that need more scheduling flexibility can enroll in online classes but it is important to note that the courses at this level are challenging.
Once you have graduated, you may take the national licensure exam. With a BSN you are qualified to work as an RN with greater opportunity to be promoted to supervisory positions.
Master of Science in Nursing (MSN)
A Master of Science in Nursing (MSN) allows professionals to specialize in a specified area such as research or advanced clinical training. Some students have undertaken joint degrees in related fields such as hospital administration, business administration, and public health.
Traditional master's degree programs take between 18 and 24 months to complete. However, the MSN programs are rigorous as they deal with advanced clinical subjects.
Working nurses have the option of taking hybrid online programs and having their employers reimburse their tuition. A joint MSN/MBA nursing degree is a good fit for working professionals at this level.
The completion of a master's degree can move you higher on the nursing career ladder. You will learn progressive skills, that will allow you to become one of the four advanced practice registered nurse (APRN) roles such as nurse practitioner (NP) or nurse anesthetist, that will allow you to provide care to patients similar to a doctor.
For example, nurse midwives prepare mothers for delivery, can administer low-intervention pain relief during labor, and help provide care for new mothers and infants immediately after childbirth. Nurse anesthetists examine patient histories, discussing side effects and risks with patients and develop an appropriate anesthetic plan, and perform spinal, epidural, or nerve blocks.
With greater responsibility and skill also comes higher monetary benefits and salaries. Other roles available with an MSN include:
Other MSNs
RNs having an associate's degree can enroll in an RN-to-MSN program that will allow them to earn a BSN and MSN. Direct entry MSN programs are "graduate entry" or "master's entry" programs. These programs are suitable for non-nurses holding a bachelor's degree in other fields.
Entry-level RNs can pursue the bridge curriculum and specialize in one area of advanced nursing. Credit is earned for the BSN if courses are geared towards the specific needs of students. Online RN-to-MSN courses are also available.
These nursing degree programs take into account RN licensure and advanced training in a specialty area for the master's programs. It takes three years to complete the direct-entry MSN program. One year is spent on entry-level coursework and two years are devoted to master's level study.
Highest Level of Nursing – Doctorate in Nursing
In the next ten years, nurses having a doctoral degree will be in high demand. These programs focus on advanced clinical practice, clinical research, and health administration. These subjects are preferred for nursing executives.
As one of the highest levels of nursing, the doctor of nursing practice practice program takes between 4 to 6 years to achieve.
3-Year Doctorate Programs
A Doctorate of Nursing Education program seeks to develop the practicing and specialist skills of the nurses. This is a newer degree that emphasizes more on clinical practice and leadership development.
Most DN programs take between 3 to 5 years of full-time study to complete, inclusive of summers. Completion of the doctor of nursing practice DNP program requires three years of full-time study and is suitable for working nurses.
ND programs prepare you to draw evidence-based decisions in educational, clinical, and organizational settings. Doctor of nursing practice DNP programs will provide you with the necessary skills to undertake research, understand patient outcomes, management of systems, and clinical care. Even though time is of the essence, your decision should be focused on matching your career goals with the appropriate degree.
Doctor of Nursing Science Programs
DNS program graduates are nurse scientists. They have adequate investigative skills as well as clinical and leadership capabilities that can have an impact on the health care system. Many go on to attain the role of a chief nursing officer in various public and private health systems.
If you attend full-time classes, you will complete the program in five years. Part-time classes are available though you will take longer to complete the program. The program entails challenging coursework, clinical defense, thorough research, and a final dissertation.
As a graduate of the DNS program, you will be able to work as an administrator, analyst, or educator among other leadership positions.
Doctor of Philosophy Programs
Nurse scholars are researchers who can advance the theoretical foundation of health care delivery and nursing practice through Ph.D. programs.
Most Ph.D. programs will take you between four and five years to complete if you attend classes as a full-time student. Part-time classes are available. Ph.D. students engage in extensive research and prepare a final dissertation, but they are not necessitated to complete the clinical hours. Most Ph.D. students earn scholarships and grants, which they use to pay for their fees.
Upon graduation, you will be qualified to pursue different dimensions of scholarly and professional life. A Ph.D. graduate can conduct an academic inquiry, form public policy, and provide leadership in health care delivery systems.
Highly qualified nurses with a BSN interested in pursuing an intensive and accelerated program can pursue the MSN/Ph.D. dual degree. The program offers master's preparation while at the doctoral level; it provides one with advanced training in research. It takes five years to complete. Some schools are offering the program to students having a non-nursing bachelor's degree.
Levels of Nursing – Certifications and Roles
Certified Nursing Assistant (CNA)
Nursing assistants are often called Nursing Aides or Certified Nursing Assistants (CNAs). Of all the different levels of nursing, this is considered the base entry-level nursing program.
These professional roles are usually the primary point of contact between patients and medical staff. They provide basic care to patients in facilities like nursing homes and community centers.
The job duties at this level of nursing typically include measuring patient vital signs, helping patients eat, bathe, dress, and perform various other daily activities. CNAs may also help transfer patients between rooms or departments via wheelchairs and beds.
How to Become a CNA
If you have your high school diploma or GED you can become a CNA by first completing a state-approved education program. A program can be found at community colleges and can take three to eight weeks to complete.
Upon completion, you must pass an exam to earn your CNA certification and title. Upon successful completion of the exam, you will be a state-certified CNA.
Once you've become a CNA and obtained some experience, Becoming a Certified Medication Aide is another way of furthering your healthcare career. Also referred to as Medical Aide Technicians, CMAs are responsible for administering daily medication to patients.
How Much Does a CNA make?
Median annual salary (2019)1: $29,640
Projected employment growth (2018–2028)1: 9%
LPN or LVN
Licensed Practical Nurses (LPNs), sometimes known as Licensed Vocational Nurses (LVNs) in Texas and California, are responsible for a variety of patient duties. They communicate with patients, monitor patient health, and administer basic care.
Typical tasks performed at this level of nursing might include starting IVs (varies by state), changing bandages, administering medication (depending on state supervision requirements), taking blood pressure, and inserting catheters.
How to become a Licensed Practical Nurse
The first step toward becoming a LPN is to obtain a Practical Nursing Diploma. This nursing program can be completed in as little as 12 months and can be found at community and career colleges near you.
In most instances, LVN/LPN programs suit students that are working or have other obligations. Some courses can be taken online thereby further helping students with demanding schedules.
The curriculum is fast-paced and prepares students for their initial nursing job by teaching basic skills. After graduation, you'll be required to pass the National Council Licensure Examination (NCLEX-PN) to receive a license from your state board of nursing and be qualified for employment.
Prospective students already working as Certified Nursing Assistants can progress into the profession through one of many CNA to LPN programs. In California, CNAs can use the CNA to LVN Bridge Program.
How much does an LPN make?
Median annual salary (2019)1: $47,480 – According to the BLS
Projected employment growth (2018–2028)1: 11%
Registered Nurse (RN)
Registered Nurses (RNs) assume a broad assortment of roles across patient care. RNs are responsible for administering medication, collaborating with Doctors (MDs), monitoring symptoms, and recording patient history. Some registered nurses are even responsible for overseeing other healthcare staff including CNAs and LPNs.
At this level of nursing, you'll have many different career options. RNs have the opportunity to focus their careers on specific areas of practice such as emergency nursing, pediatric, or psychiatric nursing. They also have a lot of choices beyond direct patient care including becoming subject matter experts for continuing education, staffing health clinics, advising organizations on health risks, and promoting public health.
How to become an RN
There are two levels of nursing degrees that create a path to becoming a registered nurse. One is to earn an ADN, and the other is to earn a BSN.
An ADN typically takes 18 months to complete while a BSN can be finished in about 33 months – OR as few as 18 months with a prior degree. If you are an LVN, you may also consider the LVN-to-RN bridge program.
Once you have obtained your degree, you must pass the NCLEX-RN in order to obtain your license to practice in your state of choice. With an RN, you'll be able to find numerous nursing jobs around the country. With more experience, you can even apply to become a nurse manager.
How much does an RN make?
Median annual salary (2019)1: $73,300 – According to the US Bureau of Labor Statistics
Projected employment growth (2018–2028)1: 12%
Advanced Practice Registered Nurses (APRNs)
A nurse who earns their MSN degrees can become an APRN. This level of advanced nursing has many different options when it comes to career choices in healthcare.
APRNs can work independently as well as in collaboration with physicians. They can perform all of the duties of an RN as well as more extensive tasks such as referring patients to specialists, diagnosing, and prescribing treatments.
There are a few other notable career paths nurses with a master's degree can pursue outside of these advanced practice registered nurse roles. One option is to become a nurse educator while another possibility is to advance into leadership positions as a clinical nurse such as a director of nursing.
Nurse Practitioner (NP)
Nurse Practitioners are one of the most popular APRN roles. They not only focus on creating and delivering treatment plans, but also on diagnostic and preventive measures in patient care.
Similar to a doctor, a nurse practitioner can administer physical exams, diagnose illnesses, and prescribe medication.
How much do Nurse Practitioners Make?
Median annual salary (2019)1: $111,000 – according to the BLS
Projected employment growth (2018–2029)1: 52%
Clinical Nurse Specialist (CNS)
Clinical Nurse Specialists is another popular APRN role. While similar to NPs, CNS's focus on improving patient outcomes across departments and entire hospital systems. They do this by working with department leaders to make process improvements and implement new methods of care.
How much do Clinical Nurse Specialists Make?
According to the BLS, on the lower end, a CNS can make around $75,000, and the most qualified CNSs make more than $150,000 a year. 
Projected employment growth (2019–2029)1: 45%
How to become an APRN
MSN programs typically require candidates to first have an RN license, with most preferring a BSN degree as opposed to an ADN or Diploma.
The next step is to gain acceptance into an accredited MSN program and earn your degree. Depending on the specialty you wish to pursue there might be additional requirements, including clinical experience hours or other certifications. For example, nurse practitioners have their own specific requirements.
After graduation, you'll likely need to pass a national certification exam in your area of expertise. Requirements vary slightly by state. In some states, as a nurse practitioner, you'll also need to apply for a separate prescriptive authority license that permits you to prescribe medication.
APRN Salary
Median annual salary (2019)1: $115,800
Projected employment (2018–2028)1: 26 percent
Bureau of Labor Statistics, U.S. Department of Labor, Occupational Outlook Handbook [career information accessed Jan 2021]. Data represents national average earnings for the occupations listed and includes workers at all levels of education and experience. Ranges do not represent starting salaries and employment conditions in your area may vary.