Nursing Schools in Indiana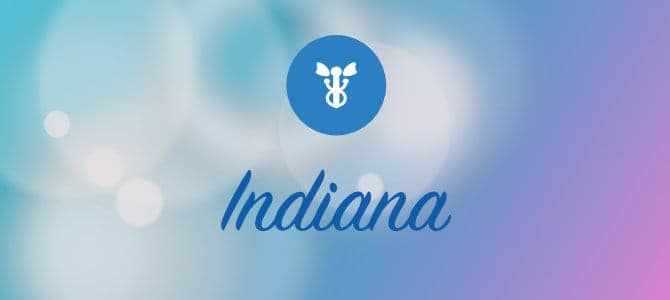 Although the state has the fewest universities in the US, there are several reputable nursing schools in Indiana that offer excellent training. To ensure sufficient health solutions for the citizens of Indiana, the state has recently added about 21,000 new nursing jobs in long-term care facilities, hospitals, and medical centers.
Reputable and accredited ,The University of Indiana offers various nursing degree options like Adult Care, Community Health, Gerontology, Informatics, Midwife (CNM), Nursing, Nutrition, Pediatrics, Pharmacology, Psychiatric/Mental Health, Radiology, Respiratory Medicine and a Bachelor of Nursing BSN degree and the RN-BSN degree. The University is the largest school of its kind in the nation and one of the most recognized nursing schools in the world in terms of its multi-program offering.
There are other options for community colleges, universities and technical nursing schools in Indiana from which to choose. Furthermore, nursing in the state has been well implemented by the Indiana Nursing Workforce Coalition tirelessly works to reduce nursing shortages by raising job satisfaction and providing more scholarship opportunities to students who choose to become nurse educators.
Sponsored Programs
Featured Programs
Anderson University School of Nursing
Anderson University is a private liberal arts college founded in 1917 by the Church of God. It is host to approximately 1,800 students. The mission of the university, which started life as a Bible training school, is to educate students for lives of faith and service in the church and society. The nursing program is accredited by CCNE and ranked #3 in Indiana in terms of pass rates on the NCLEX-RN licensure examination.
The curriculum of the four-year direct-entry BSN program focuses upon the development of analytical skills, building the expertise needed for the nursing profession, and commitment to Christian service through the lens of a broad liberal arts perspective. Clinical experiences begin in the sophomore year. The program also incorporates a requirement for developing intercultural sensitivity, therefore, international travel for clinical placements is strongly encouraged and supported.
Admission to the program is competitive and there are limited places available. A minimum high school GPA of 3.5 and an SAT score of 1125, or a composite ACT score of 22, are among the requirements.
1100 E. Fifth Street
Anderson, IN 46012
800-428-6414
Website: http://www.anderson.edu
Ball State University School of Nursing
Ball State University has been named as one of the best universities in the Midwest by The Princeton Review for 13 years and received a Higher Education Excellence in Diversity (HEED) Award from Insight into Diversity in 2016 and 2017. Its online graduate nursing program was ranked #13 by the US News & World Report 2017, and the university has been designated a National League for Nursing Center of Excellence. Accreditation for the nursing programs is in place from CCNE.
Nursing students at Ball State are part of the College of Health which emphasizes inter-disciplinary learning and expertise. Several BSN tracks are available within the suite of nursing education options. These include a traditional BSN, an LPN to BSN, an accelerated 19-month BSN, and an RN to BSN pathway. Aspiring master's students can opt for one of three concentrations as Nurse Educator, Nurse Administrator, or Family Nurse Practitioner. RNs with an associate degree in nursing and a bachelor's degree in the nursing field can choose the RN to MSN option.
In addition to a part-time online DNP program, the RN to BSN, RN to MSN, and master's programs are all offered in an online format.
2000 W. University Ave.
Muncie, IN 47306
800-382-8540
Website: http://www.bsu.edu
Marian University Leighton School of Nursing
Marian University is the only Catholic University in Indianapolis and the ethos of the school is strongly informed by Franciscan values and dedicated to the nurturing of mind, body, and spirit. The School of Nursing's BSN degree program has a two-step process for general admission and a direct admittance program for highly qualified high school seniors. An accelerated hybrid (online and on campus) BSN is also available alongside a fully online RN to BSN program.
The MSN in Nursing Education program is delivered in a hybrid format and includes a large percentage of online courses plus a 225-hour field-based clinical practicum and a capstone project. Both DNP options, DNP-Nurse Anesthesia and DNP-Nurse Practitioner are also delivered in a hybrid format. Nursing programs at Marian University are accredited by the Commission on Collegiate Nursing Education (CCNE) and the Council on Accreditation of Nurse Anesthesia Educational Programs.
3200 Cold Spring Road
Indianapolis, IN 46222
317-688-1234
Board of Nursing Approved Programs in Indiana
Indiana Wesleyan University School of Nursing – Campus and Online
Location: Fort Wayne, Indiana
Programs: RN to BSN, MSN
School Founded In: 1920
Accreditation: Commission on Collegiate Nursing Education (CCNE)
Website: http://www.indwes.edu
Indiana Wesleyan University School of Nursing – Campus and Online
Location: Indianapolis, Indiana
Programs: RN to BSN, MSN
School Founded In: 1920
Accreditation: Commission on Collegiate Nursing Education (CCNE)
Website: http://www.indwes.edu
Indiana Wesleyan University School of Nursing – Campus and Online
Location: Marion, Indiana
Programs: RN to BSN, MSN
School Founded In: 1920
Accreditation: Commission on Collegiate Nursing Education (CCNE)
Website: http://www.indwes.edu
Anderson University School of Nursing
Location: Anderson, Indiana
Programs: BSN, MSN, MSN/MBA
School Founded In: 1917
Accreditation: Accreditation Commission For Education in Nursing (ACEN)
Website: http://www.anderson.edu
Ball State University School of Nursing 
Location: Muncie, Indiana
Programs: BSN, MSN
School Founded In: 1918
Website: http://www.bsu.edu
Bethel College School of Nursing 
Location: Mishawaka, Indiana
Programs: ADN, BSN, MSN
School Founded In: 1947
Accreditation: Accreditation Commission For Education in Nursing (ACEN)
Website: http://www.bethelcollege.edu
Goshen College School of Nursing 
Location: Goshen, Indiana
Programs: BSN
School Founded In: 1894
Accreditation: Commission on Collegiate Nursing Education (CCNE)
Website: http://www.goshen.edu
Indiana University Bloomington School of Nursing 
Location: Bloomington, Indiana
Programs: BSN
School Founded In: 1914
Accreditation: Accreditation Commission For Education in Nursing (ACEN)
Website: http://www.indiana.edu
Indiana University East School of Nursing 
Location: Richmond, Indiana
Programs: ASN, BSN
School Founded In: 1971
Accreditation: Accreditation Commission For Education in Nursing (ACEN)
Website: http://www.iue.indiana.edu
Indiana University Kokomo School of Nursing 
Location: Kokomo, Indiana
Programs: ASN, BSN, MSN
School Founded In: 1945
Accreditation: Accreditation Commission For Education in Nursing (ACEN)
Website: http://www.iuk.edu
Indiana University Northwest School of Nursing 
Location: Gary, Indiana
Programs: BSN
School Founded In: 1959
Accreditation: Accreditation Commission For Education in Nursing (ACEN)
Website: http://www.iun.edu
Indiana University Purdue University Fort Wayne School of Nursing 
Location: Fort Wayne, Indiana
Programs: ASN, BSN, MSN
School Founded In: 1917
Accreditation: Accreditation Commission For Education in Nursing (ACEN)
Website: http://www.ipfw.edu
Indiana University Purdue University Indianapolis School of Nursing 
Location: Indianapolis, Indiana
Programs: BSN, MSN, PhD
School Founded In: 1969
Accreditation: Accreditation Commission For Education in Nursing (ACEN)
Website: http://www.nursing.iupui.edu
Indiana University South Bend School of Nursing 
Location: South Bend, Indiana
Programs: BSN
School Founded In: 1922
Accreditation: Accreditation Commission For Education in Nursing (ACEN)
Website: http://www.iusb.edu
Indiana University Southeast School of Nursing 
Location: New Albany, Indiana
Programs: BSN
School Founded In: 1941
Accreditation: Accreditation Commission For Education in Nursing (ACEN)
Website: http://www.ius.edu
Marian College School of Nursing
Location: Indianapolis, Indiana
Programs: ASN, BSN
School Founded In: 1851
Accreditation: Accreditation Commission For Education in Nursing (ACEN)
Website: http://nursing.marian.edu
Purdue University School of Nursing
Location: West Lafayette, Indiana
Programs: BSN, MSN
School Founded In: 1869
Accreditation: Commission on Collegiate Nursing Education (CCNE)
Website: http://www.nursing.purdue.edu
Purdue University Calumet School of Nursing
Location: Hammond, Indiana
Programs: BSN, MSN
School Founded In: 1951
Accreditation: Accreditation Commission For Education in Nursing (ACEN)
Website: http://www.calumet.purdue.edu
Saint Mary's College School of Nursing 
Location: Notre Dame, Indiana
Programs: BSN
School Founded In: 1844
Accreditation: Accreditation Commission For Education in Nursing (ACEN)
Website: http://www.saintmarys.edu
University of Evansville School of Nursing 
Location: Evansville, Indiana
Programs: BSN
School Founded In: 1854
Accreditation: Accreditation Commission For Education in Nursing (ACEN)
Website: http://nursing.evansville.edu
University of Indianapolis School of Nursing 
Location: Indianapolis, Indiana
Programs: ASN, BSN, MSN, MSN/MBA
School Founded In: 1902
Accreditation: Accreditation Commission For Education in Nursing (ACEN)
Website: http://nursing.uindy.edu
University of Saint Francis School of Nursing 
Location: Fort Wayne, Indiana
Programs: ASN, BSN, MSN
School Founded In: 1890
Accreditation: Accreditation Commission For Education in Nursing (ACEN)
Website: http://www.sf.edu
University of Southern Indiana School of Nursing 
Location: Evansville, Indiana
Programs: ASN, BSN, MSN
School Founded In: 1965
Accreditation: Commission on Colligate Nursing Education (CCNE)
Website: http://health.usi.edu
Valparaiso University School of Nursing 
Location: Valparaiso, Indiana
Programs: BSN, MSN
School Founded In: 1859
Accreditation: Commission on Colligate Nursing Education (CCNE)
Website: http://www.valpo.edu