Neonatal Nurse (NICU)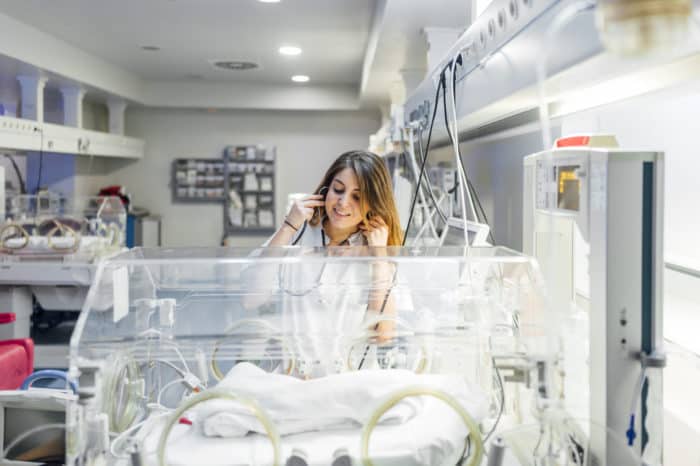 Nursing is one of the most challenging careers there are. Being a good nurse means you have to be involved with patients along their entire journey to recovery. If you're drawn to caring for the sick and injured, especially infants, and are an empath by nature, becoming a neonatal nurse might be a great opportunity for you.
Neonatal nurses face a conceivably more demanding workload on a day-to-day basis providing neonatal care than other nurses. NICUs are dedicated professionals that look after the most delicate of patients – ill and premature newborns.
It takes a certain balance of grit and empathy to work as a NICU, and it certainly isn't the right job for everybody. However, if you've decided to pursue a career in nursing, becoming a neonatal nurse can be one of the most rewarding jobs you can get.
But as rewarding as the work is, it is proportionally difficult. You will need to put in a lot of time and effort to get the right qualifications.
But what are the right qualifications? Are there similar, more rewarding roles you can try and qualify for? And what kind of salary can you expect as a neonatal nurse?
To help you explore this career path, we've answered all of those questions and more in this post.
What Does A Neonatal Nurse Do?
Neonatal Nurses work with newborn infants and their parents. A Neonatal Nurse will remain with the new mother and help the mother feed, bathe, and hold their baby until they are comfortable enough to do it themselves. And while these are all important steps, helping and educating parents is only one part of the job. 
A NICU nurse's role becomes much more critical when an infant has suffered a premature birth, developed an infection, has a physical malformation after delivery, or is critically ill at birth. NICU nurses also work with infants with birth defects, cardiac malformations, and surgical complications.
Neonatal nurses work under neonatologists, neonatal nurse practitioners (NNPs), and physicians, and help them with the diagnosis and treatment of ill infants.
The role also involves monitoring newborn infants' vital signs and ensuring the ventilators, incubators, and other equipment is working correctly. Further, a NICU must also ensure that both the baby and the mother receive the care they need, and the diet of the mother is appropriate.
Levels of Neonatal Nurses
There are four levels of NeoNatal intensive care that you will find.
Level I
This neonatal intensive care level will provide care for healthy newborns that do not suffer from any health issues. Such infants are kept in a separate room from their mother, where the NICU nurses take care of them.
Level II
Neonatal intensive care is provided for babies born sick in level II. The baby may have an infection or minor issue, for which a Neonatal Nurse gives definitive therapy to neonatal patients.
Level III
In level III, care is provided in the Neonatal Intensive Care Unit (NICU). Here the neonatal nurse offers treatment and direct care through breathing and feeding tubes to the infants.
Level IV
At this level, the babies are provided with higher care levels with 24-hour neonatologists and surgeons. These cases are very critical where the babies are suffering from an acute illness or are premature. The NICU nurses working at this level require clinical experience along with the exceptional nursing skills to handle such cases. 
What is a Neonatal Nurse Practitioner?
There are several nursing specialties, and most people are only aware of roles like ER nurse or critical care nurse. However, a Neonatal Nurse Practitioner (NNP) is a specialty of nursing that involves taking care of newborn infants with a variety of problems, typically for the first month of life.
Being an NNP encompasses care for infants that experience long-term medical problems due to their illness or prematurity. An NNP may care for babies up to two years of age.
Where do Neonatal Nurses Work?
You will generally find Neonatal Nurses in the Neonatal Intensive Care Unit (NICU). They work in private and public hospitals and are also found in clinics and other healthcare facilities for patient care.
There can be different places where you can find Neonatal nurses working.
Clinics and Hospitals
Some neonatal nurses work in clinics, hospitals, and children's hospitals – taking care of the infants during the time the mother is admitted. The responsibility of these nurses in these neonatal intensive care units is limited to the time the mother and the infant are in the clinic or the children's hospital.
Community Services
Apart from the clinics and hospitals, some neonatal nurses perform community services. These NICU nurses visit the houses where the infant is born and take care of the baby there. They also guide the mother and the family members through the different factors involved in taking care of the baby.
Years ago, maids used to help in delivery too. The difference is that now the task is taken care of by a clinical nurse. Women with a lack of financial aid often get discharged from the hospital much earlier. These nurses offer patient care to these mothers too. 
Are Neonatal Nurses Different From Neonatal Nurse Practitioners?
While NICU nurses and NNPs work towards the same goal – the recovery of the infant – there's a big difference in the responsibilities, expertise, qualifications, and compensation of the two roles.
To become a neonatal nurse and deliver neonatal care, you must first obtain your associate degree in nursing, or bachelor's degree and obtain a registered nurse RN certification. After that, you must gain some clinical experience, and then optionally get your RNC Certification for Neonatal Intensive Care Nursing. 
On the other hand, to become a Neonatal Nurse Practitioner, after becoming a registered nurse RN, you will need to earn your MSN-NP (Master of Science in Nursing) or DNP (Doctorate Nurse Practitioner). 
If you choose to get your master of science in nursing, you can also enroll in a post-graduate program. After you get accredited, you must earn your Neonatal Nurse Practitioner (NNP-BC) Certification.
While NNPs also perform the duties of a NICU nurse, they have additional responsibilities. They must order, perform, and interpret diagnostic and lab tests, and perform procedures such as intubation and central line placement. 
Diagnosing and treating acute and chronic conditions, recording and examining medical history, monitoring specialized equipment, performing resuscitation, maintaining central catheters and umbilical lines, and participating in primary care management post-discharge are some of the many responsibilities of an NNP.
If you wish to become a NICU nurse or specialize as an NNP in your neonatal nursing career, you have nothing to worry about in terms of job outlook. The career outlook for nursing professionals in all specialties is expected to be strong in the coming decades.
The BLS estimates that jobs for RNs will grow at a rate of 7%, and the projected percent change in employment from 2019 to 2029 for Nurse Practitioners is 45%, which is much higher than the 4% average.
What is the Salary for a Neonatal Nurse?
When it comes to salaries, you can expect a good annual salary from this profile. Since this profile requires a lot of expertise and precision, Neonatal Nurses are generally paid a reasonable amount for their nursing care work profile.
According to Salary.com, the median annual salary for a NICU nurse is $92,010, and the median salary for an NNP is $152,162. Based on the location, degree, and workplace, the compensation would also differ.
The highest salary that one can get in this role is $111,000. Also, as you gain more experience, you can expect even more than this. Also, once you have earned your master's degree, the jump in annual salary is significant. 
When it comes to career growth, the demand for neonatal nurses has increased many fold over the last few years. Unfortunately, more women are suffering from pregnancy complications than before, leading to critically ill infants in some cases.
How Do I Become a Neonatal Nurse?
To become a neonatal nurse, you need to pursue a bachelor of science degree (BSN) or Associate Degree in Nursing (ADN) from an accredited college or university with a nursing program. The degree program for your nursing education will be two years long for an ADN and four years long for a bachelor of science (BSN).
After you earn your bachelor of science in nursing, you must pass the NCLEX-RN to become a Registered Nurse. After you become a Registered Nurse, you technically don't need to get certified to work in a NICU. However, earning a certification from the National Association of Neonatal Nurses will undoubtedly help with career advancement.
Some of the certifications you can get after you've gained at least two years of experience are:
Critical Care Neonatal Nursing Certification, which is also called CCRN (Neonatal).
RNC Certification for NICU Nursing (RNC-NIC).
It is important to note that all NICU nurses must be certified in Basic Life Support, Advanced Cardiovascular Life Support, and Neonatal Resuscitation Program. Neonatal resuscitation being of the utmost importance.
Sponsored Programs
Location - Houston, TX, US 77092

The College of Health Care Professions is a Texas-based career education school founded by physicians in the Texas Medical Center solely specializing in healthcare education and dedicated to provid...ing students with training and education Read More

Programs

Nursing – AAS Degree (LVN to ADN)

Vocational Nursing Certificate Program

Location - Port Saint Lucie, FL, US 34987

Since 1977, Keiser University has maintained a practical, hands-on approach to career-focused education to help our students achieve their personal and professional goals.  Our student-ce...ntered approach remains at the foundation of the Keiser University mission and continues to attract students who prefer a more personal learning experience. At Keiser University, you will find a warm, friendly community with faculty and staff truly committed to your success.  Our small class sizes, individualized attention, and one-class-at-a-time schedules create a positive learning environment where you can excel.  Whether your goal is to prepare for a new career or to advance with your current employer, Keiser University is designed around your needs. Keiser University Advantage• Associate, Bachelor's, Master's and Doctoral degree programs• Day, Evening, and Online Classes• Financial Aid to Those Who Qualify• Job Placement Assistance Available• Military-friendly, scholarships for qualified active duty personnel, Veterans, and dependants.  Yellow Ribbon program participant, approved for Veterans trainingPrograms and delivery format vary by campus. Courses are subject to change. Keiser University's programs and curriculum remain in-line with technology and workforce trends, helping you develop the skills and qualifications necessary to succeed in today's job market.  Our career-focused programs make it possible for you to graduate in less time than you may think.  Keiser University is a private, not-for-profit university. Read More

Programs

Bachelor of Science in Nursing (FastTrack)

Nursing, MSN - Family Nurse Practitioner
Career Opportunities in Neonatal Nursing
Once you have decided to take up a job in neonatal nursing with proper academics, license, and experience, you can seek a fair opportunity ahead. With an increasing number of hospitals, children's hospitals, clinics, and NICUs, the demand for professionals in different specializations such as neonatal nursing is also prospering. Many statistics and reports have been coming forward that state that there is a scarcity of such neonatal nurse practitioners in many hospitals lately.
Childbirth is a natural process that will continue to keep the human race going. In such a situation, taking up a job as a neonatal nurse can be a great opportunity for many people who love to show care for infants. As time is passing by, new opportunities are coming up for registered nurses. After acquiring your education and experience and becoming one of the registered nurses, you can now proceed with several options.
Different certification courses are coming up to enhance career opportunities in the field of neonatal nursing. Some of the certification courses that can be beneficial today are neonatal nurse practitioners, low-risk neonatal nursing, maternal newborn nursing, neonatal pediatric, and many others. 
Previously, neonatal nursing was considered a specialty of nursing in and of itself. But now, there are several specialties of neonatal nursing as well. Depending upon the certification that you acquire and your work experience, you will get compensated generously — so pick wisely.
Conclusion
Nursing is one of the thankless jobs that these professionals offer. It is said that in places where doctors are not available, nurses are there to help patients. The worth of nurses is understood because they are the primary contact at a healthcare center. While a doctor may not be available when you need them, you will always find a nurse to help you.
Becoming a NICU nurse requires a lot more than just smarts. It is a job for empaths with a strong gut. Furthermore, NICUs don't just work in hospitals. The professionals are also community helpers who help in the labor and delivery of the baby. 
Some professionals may extend their nursing practice to patients even when they have been discharged from the hospital. In case of ill infants or birth defects, these professionals help the family take care of the infant. 
The compensation is excellent, and you'll never have a problem finding a job, regardless of where you live. Once you are experienced enough, you can also choose to run your own service intensive care nursing. 
Becoming a neonatal nurse is one of the brightest career options today. If you're interested in a career in healthcare, and if watching families heal as their newborn heals is a thought that appeals to you, don't let anything stop you from pursuing it.