RN to BSN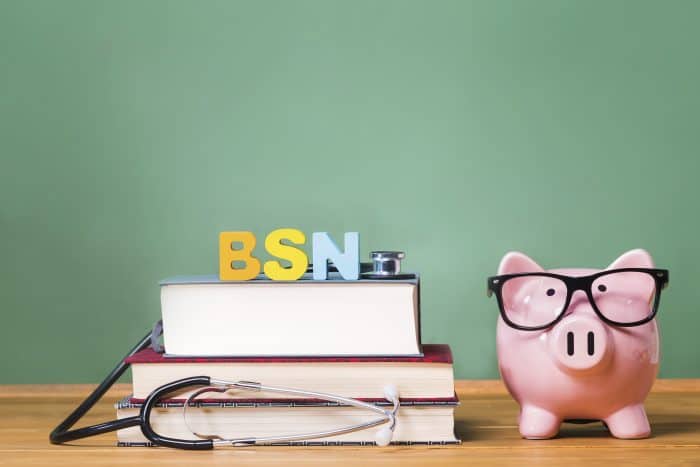 Getting certified as a registered nurse is one of the biggest steps you can take toward committing to a career in nursing. However, it's not the last step. If you want to advance your nursing career by taking on more responsibility and earning a higher salary, getting your bachelor of science in nursing through an RN to BSN program might be an excellent option for you.
When it comes to building a career in nursing, many nurses first complete their associate degree in nursing. They then pass the NCLEX-RN and begin working as an entry-level registered nurse.
In time, they may look to advance their careers by applying for supervisory roles or pursuing specialty roles as critical care or perioperative and operating room nurses. However, many of these roles require a bachelor of science in nursing. Thus, for RNs looking for the fastest path to a BSN, an RN to BSN curriculum can do just that.
More and more hospitals are working towards achieving magnet status, and having a bachelor's on your resume will help gain the attention of these organizations. More importantly, most hospitals now require nurses to have a BSN degree to be eligible for nursing positions. 
With a bachelor's, you can take on more responsibility and earn a higher salary. You will also have more people counting on you – colleagues and patients alike.
But what is an RN to BSN program? What's the difference if I have a BSN or not? How long is the program? And what is the difference in the salary of a nurse with an ADN versus a BSN?
We answer those questions and many more in this post.
What's the Difference Between an RN with an Associate's Degree, and an RN with a Bachelor's degree?
RNs with ADNs
An RN often holds an associate degree in nursing (ADN) or a diploma in nursing and has passed the NCLEX-RN exam. This officially makes them eligible to be licensed and employed as a nurse.
The duties of an RN with an ADN may vary depending on the work setting, location, and education level. However, the American Nurses Association outlines the duties of a nurse in detail and states that the key responsibilities of a registered nurse are:
Administering medications.
Conducting personalized interventions.
Providing health counseling and education.
Performing physical exams and examining health histories to make critical decisions.
Coordinating and collaborating with healthcare professionals to care for patients.
As an RN, you can expect the responsibilities listed above to be a part of your duties every day. However, if you are an RN with a bachelor's, you may also take on additional responsibilities. 
RNs with BSNs
An RN BSN is also a registered nurse, given that they've passed their NCLEX-RN exam and gotten licensed. However, students who obtain their bachelor's can take on leadership roles and specialize.
Furthermore, nursing students who complete the bachelor's program can also pursue a master's degree or a doctoral degree.
After you complete an RN to BSN program, you will have the opportunity to take on additional responsibilities. In addition to monitoring a patient's health and working closely with physicians, you may also:
Educate and train nurses
Manage nurses and patients
Take up administrative tasks and manage promotions
Oversee quality control and help maintain low infection rates
A nurse with a bachelor's is able to take these tasks on because they undergo between one and two years of extra training. This added schooling and hands-on experience give them the supplementary skills needed to handle additional duties on a day-to-day basis.
How Much Can I Make as an RN with a BSN?
As reported by The Bureau of Labor Statistics, in 2018, the median salary for a registered nurse was $71,730. On the lower end, RNs earned $50,800, and on the higher end, nurses earned $106,530 that year.
Nurses that complete their BSN program typically earn more than $70,000 a year regardless of where they work. 
Finding a job is rarely difficult for someone with an RN BSN degree, and with more clinical practice, BSN holders become eligible for management roles that pay upwards of $90,000.
What is an RN to BSN Program?
The RN to BSN degree program is designed specifically for registered nurses who want to enhance their careers by obtaining a bachelor of science in nursing (BSN). Commonly called a "bridge" program, the curriculum of an RN to bachelors program takes into account your prior education, training, and experience.
An RN to BSN program is a bridge curriculum that a registered nurse with a diploma or an associate degree in nursing can enroll in to obtain their bachelor's, faster.
The best RN to BSN program focuses on developing research, social sciences, management, and leadership skills, to help students become better-rounded and accelerate their careers.
Keep in mind that if you already have a bachelor's in a field other than nursing, you can pursue what is called a Second Degree BSN.
The Second Degree BSN is specifically designed for non-nurses who have bachelor's degrees in fields unrelated to nursing. This program assumes credits from your current bachelor's and applies them toward the liberal arts requirements of your bachelor's.
Sponsored Programs
Location - Sarasota, FL, US 34240

Since 1977, Keiser University has maintained a practical, hands-on approach to career-focused education to help our students achieve their personal and professional goals.  Our student-ce...ntered approach remains at the foundation of the Keiser University mission and continues to attract students who prefer a more personal learning experience. At Keiser University, you will find a warm, friendly community with faculty and staff truly committed to your success.  Our small class sizes, individualized attention, and one-class-at-a-time schedules create a positive learning environment where you can excel.  Whether your goal is to prepare for a new career or to advance with your current employer, Keiser University is designed around your needs. Keiser University Advantage• Associate, Bachelor's, Master's and Doctoral degree programs• Day, Evening, and Online Classes• Financial Aid to Those Who Qualify• Job Placement Assistance Available• Military-friendly, scholarships for qualified active duty personnel, Veterans, and dependants.  Yellow Ribbon program participant, approved for Veterans trainingPrograms and delivery format vary by campus. Courses are subject to change. Keiser University's programs and curriculum remain in-line with technology and workforce trends, helping you develop the skills and qualifications necessary to succeed in today's job market.  Our career-focused programs make it possible for you to graduate in less time than you may think.  Keiser University is a private, not-for-profit university. Read More

Programs

Bachelor of Science in Nursing (FastTrack)

Accelerated Bachelor of Science in Nursing

Location - Orlando, FL, US 32811

Since South College was founded in 1882, we have focused on serving students who want hands-on, career-driven education that will have a meaningful impact on their lives and livelihoods.More than a ce...ntury ago, fulfilling that mission meant supplying on-campus offices so students could conduct business in the mercantile and banking industries while getting an education.Today, it means offering accelerated, hybrid, transfer, and distance learning programs. It means small class sizes, state-of-the-art labs, and campuses that are convenient to large numbers of students. Most of all, it means experienced professors who provide real world examples and lead in-depth discussions. Read More
Why Pursue an RN to BSN Degree?
The benefits of earning your bachelor of science in nursing through an RN to BSN curriculum are substantial. Not only will you deepen your skills in critical thinking and leadership, but you'll also have better earning potential and job opportunities.
Higher Pay
According to the most recent figures from the U.S. Bureau of Labor Statistics, registered nurses earn a median annual salary of $73,300 or $35.24 per hour. And according to PayScale, the average salary for a nurse with a BSN is $85,584.
Better Patient Care
After obtaining your RN BSN, you will be better prepared to lead your team and communicate more effectively. As a result, the quality of care you deliver to your patients should increase.
An evidence-based study by nurse researcher Linda H. Aiken indicates that with each 10% increase in the number of BSN nurses, there is a 7% decrease in mortality after surgery. Furthermore, studies also suggest that hospital stays are shorter and patients at a significantly lower risk of re-admission in a BSN graduate's care.
Job Security
Earning your bachelor's will open the doors to taking up leadership roles that pay well. Other than educator roles, with a Bachelor of Science in Nursing, you could take up nurse unit management positions.
Specialization
With a bachelor's, you'll have the opportunity to specialize. You'll also have the opportunity to land a job as an Advanced Practice Nurse (APRN).
Meet Increasing Requirements
Perhaps the most crucial reason you to earn your bachelor's is that it is slowly becoming a requirement. For example, New York has made it mandatory for licensed nurses to obtain their bachelor's degree within ten years of getting their license. Only then can they continue their nursing practice.
How Long Does it Take to Complete?
According to the American Association of Colleges of Nursing (AACN), as of 2019, there were 777 RN to BSN programs across the United States of America. And of the schools offering the program, they all generally take between 12 and 24 months to complete.
Typically, a student pursuing a bachelor's must study full-time for four years. The degree doesn't just include classes specific to nursing but also includes liberal arts courses so the student can fulfill general education requirements. 
Depending on the college of nursing you choose, you may have the option of picking between a part- or full-time schedule. In choosing a full-time schedule, the time to attain your bachelor's could be shortened by up to 30 months when compared to a part-time college of nursing schedule.
A Second Degree BSN can take two academic years or less to complete. Students that need more scheduling flexibility can enroll in online classes but it is important to note that the courses at this level are challenging. 
What are Some of the Courses I Will Have to Take?
Depending on the college of nursing and degree program you choose, you will take nursing courses like these.
Economics
Cultural diversity
Nursing management
Health information technology
History, Humanities, and Literature
Community and public health nursing
Transition to baccalaureate/professional nursing
You will also garner more practical experience from the program. This is broken down into two sections – direct and indirect care.
Through these sections, you will strengthen your proficiency in collaboration and communication, integration of technology into healthcare practice, leadership development, and clinical prevention and population health.
What are the Admission Requirements for BSN Students?
Having your nursing diploma or associate degree in nursing from an accredited university will put you well on your way to meeting the typical requirements for admission. Although each school will have its own specific requirements, you'll probably need the following additional qualifications.
A GPA of 3.0 or higher
Have a current, unrestricted RN license
A passing score on the HESI Admission Assessment (A2) Exam
You'll also likely need to complete a criminal background check at the time of application. As for the HESI exam, it isn't required for all schools so do your research.
Once you've selected a school, verify your school of choice is accredited by either the Commission on Collegiate Nursing Education (CCNE) or the Accreditation Commission for Education in Nursing (ACEN).
Earning a bachelor's the traditional way does not require you to be a licensed registered nurse. In contrast, to enroll in RN BSN nursing degree programs, you will need to have an active nursing license. What's more, is that some institutes also require prior experience.
How Do I Apply?
If you've decided you want to enroll in an accredited RN to BSN degree program, it is best to apply to more than one nursing program. The lack of trained nurse educators and an influx of applicants has made admissions highly competitive. 
The typical admission requirements a college of nursing asks for include:
A personal statement of purpose.
Professional or academic recommendations.
Transcripts from your postsecondary school.
A passing score on the NCLEX or HESI exam.
Valid evidence of authorization to work for any employer in the US.
Proof of an active RN license regardless of if you have a degree or diploma.
RN to BSN Online Degree: Is It Right For You?
If you work full-time or live in a location where attending classroom-based courses isn't convenient, you can consider enrolling in an online RN to BSN program. 
In RN to BSN online courses, you will complete most of your theory-based education virtually. However, you will need to fulfill your clinical requirements at a local health care facility in order to earn your degree.
To thrive in an RN to BSN online course, you need excellent time management skills and to be organized. While you have the flexibility of learning on your own schedule, you must meet the same milestones in an RN to BSN online program as an on-campus one.
Job Outlook For BSN Holders
There couldn't be a better time to earn this baccalaureate degree and advance your career. The American Association of Colleges of Nursing reports that 39.1% of hospitals and healthcare institutions now require employees in their nursing practice to have an RN BSN to be eligible for a job.
In the same report, the AACN highlights that about three in four healthcare employers favor hiring nurses with bachelor's degrees to deliver patient care over nurses with other credentials. 
Additionally, the Bureau of Labor Statistics estimates that the demand for healthcare workers, and specifically registered nurses, will increase by 7% by 2029. 
Hiring a nurse that has completed one of these nursing programs makes a lot of sense to employers in clinical practice since these nurses have also been shown to improve evidence-based patient outcomes.
Continuing Education and Specialization 
Even though you will have earned your RN license long before you complete your BSN, in some states, you must meet specific continuing education requirements to keep your license. 
You can earn your continuing education units (CEUs) or credits by enrolling in specialization courses. And taking these courses also makes you eligible for a bigger paycheck.
The list of specialization courses you could take is endless. You could take a cardiac vascular nursing course, gerontology, informatics, surgical nursing, or pediatric nursing course to name a few. 
To complete the course, you will need to pass an exam to prove your competency in the area of study and get certified. You can find details about the courses you can take at the ANCC and the NCC websites.
If you wish to pursue jobs like nurse manager, nurse educator, or nurse informaticist, you could also consider earning your master's degree in nursing. There are several hybrid MSN programs out there that will prepare you for those roles.
Things to Look for in Schools Offering RN to BSN Programs
Not every school is the same. And if you want to get your money's worth, you need to perform your due diligence and compare RN to BSN programs.
Here are some indicators of the quality of education you might expect to receive:
The student-to-faculty ratio.
The percentage of graduates from the most recent class.
The ranking of the school's programs among other programs in the state.
There are a few other factors you must consider before enrolling in any nursing program.
Accreditation
Once you've selected a school, verify your school of choice is accredited by either the Commission on Collegiate Nursing Education (CCNE) or the Accreditation Commission for Education in Nursing (ACEN). You can search for your program in the database the Education Department maintains.
It is essential to know that the U.S. Department of Education only identifies six accrediting agencies for postsecondary institutes. Programs accredited by the commission on collegiate nursing education are considered to be some of the best programs out there.
If you require financial aid to pursue degree programs, you must ensure that you enroll in an accredited institution, or else you may not be eligible. 
Furthermore, enrolling in an accredited program is crucial if you wish to pursue advanced degrees at a later stage since accredited institutions only accept credits earned at other accredited institutions.
Job Placements
Different programs and universities that offer nursing education vary in the job placement resources they provide. If you're not sure about what healthcare career path is right for you, ensure the college and clinical program you're enrolling in also offers career counseling. 
With the help of a university professional, you will be able to create an education plan that aligns with your goals and advances your career.
Another benefit of enrolling in a course that offers career counseling services is that you get networking opportunities. You also get a head start at preparing for positions that interest you the most.
Tuition and Other Costs
To earn your degree from a nursing curriculum, you will need to spend anywhere between $32,000 and $100,000 every year. 
Besides the tuition, the above sums also factor in living expenses, transport costs, and the prices of books and other supplies you will need.
However, if you want to earn your RN to BSN online, the yearly tuition you need to pay for these nursing programs can be as little as $3,000. However, the total cost of an online RN to BSN nursing program can range from $25,000 to $80,000. 
Most institutions that offer RN to BSN online and on-campus publish the tuition details on their websites. Before you apply for a program, you can compare your options and figure out which program fits your budget.
When you're comparing costs, though, you must remember that different programs price tuition costs in different ways. Out-of-state students often pay higher fees than in-state students. On the other hand, merit students attending state-affiliated institutions almost always pay less.
Outside of these costs, you must remember to factor in the costs of background checks, fingerprinting, and other clinical requirements into your budget.
Fortunately almost every online and campus-based program allows its students to continue working as they earn their degree. 
If you intend on continuing to work after you begin pursuing your nursing education, there's a good chance that you will be eligible for tuition reimbursement by your employer. 
Financial Aid for Nurses
Scholarships
There are many scholarships that help out students trying to enter the healthcare industry, and there are several scholarships geared towards aiding students pursuing their RN to BSN online. 
The AfterCollege-AACN Scholarship Fund and the A Nurse I Am fund are two of the numerous scholarships you can apply to.
Reimbursement By Employer
If you're a working RN, enquiring with your employer about paying for your degree advancement is one of the best ways to pay your tuition. Employers typically have a tuition reimbursement program, but some also have Career Ladder Programs in place. 
These programs help RNs continuing their nursing practice pay for their education (even if it's an online degree), with a promise of a promotion when they graduate.
Contests
You can participate in scholarships and essay contests from reputable sources to pay for your education. The amount you earn can range from $100 to a full scholarship.
Federal Financial Aid
The federal government offers aid to students that come from families that earn a little less. To get federal assistance, you must submit a FAFSA, which comprises a series of questions that help institutions assess your financial needs.
Students are eligible to get The Pell Grant which one does not need to repay. However, it is important to note that the maximum funds awarded to students are $5,920 per year. If you're in extreme financial need, you can apply for the SEOG, which will give you between $400 and $4000 a year to pay your tuition and other fees.
Speaking with your employer about reimbursements and submitting the FAFSA should be your first steps after deciding which nursing program you're going to enroll in.
Final Thoughts
If you are looking to move further in your career and enhance the knowledge you already have, an RN to BSN program is a great option. It will not only provide you with the required practical experience that is necessary for supervisory and specialty roles but will also increase the knowledge and skills that you would need in your day-to-day job.
Once you've made your decision to go for it and narrowed down the programs that meet your needs, do a quick review of your goals and schedule. Does each of the schools offer courses in your area of career interest? Can you adjust your schedule to meet the requirements of the clinical hours and classroom work?