Nursing Schools in Georgia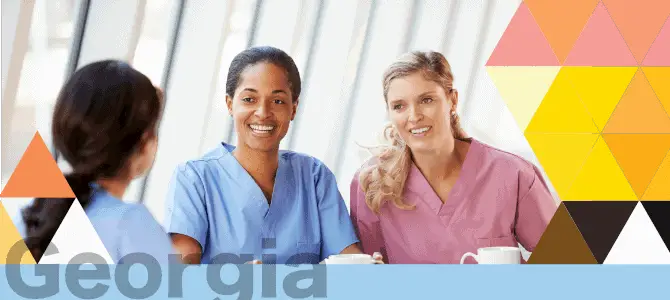 Home to over 10 million people, Georgia is the 9th most populous state in the USA. Aspiring nurses here have a choice of top medical facilities, whether it be private healthcare institutions, large hospitals, or medical-surgical clinics. Because of the diversity of employment opportunities, finding nursing schools in Georgia is a great place to start a rewarding career in nursing.
It's common to see healthcare employers working alongside nursing schools to combat the shortage of professionals here. macon.com reports that shortages are due to the lack of nursing staff at he RN level while colleges are dealing with a shortage of training new professionals, making the graduation of new nurses much slower.
Gerontology, in particular, is an in-demand speciality, due to the aging population in Georgia. If you want to focus your studies in this area, there's a very strong job outlook in the state.
Colleges in Georgia require many clinical hours of experience as an admission prerequisite. Which is also true for online education colleges. These can put you in contact with a local healthcare institution in many cases, in order to fulfill admission requirements.
To graduate as a nurse here, you'll get access to a varied training including theory and practice hours. Curriculums are also challenging, including classes on Nutrition, Pediatrics, Adult Health and Geriatrics as well as Public Health, and much more.
In the first year or two of your degree, you'll have a chance to figure out which nursing career path you will want to take opting for one specialty perhaps or continuing your studies into advanced nursing. Leadership and management courses are also included in a Bachelor level degree.
Sponsored Programs
Location - Tallahassee, FL, US 32309

Since 1977, Keiser University has maintained a practical, hands-on approach to career-focused education to help our students achieve their personal and professional goals.  Our student-ce...ntered approach remains at the foundation of the Keiser University mission and continues to attract students who prefer a more personal learning experience. At Keiser University, you will find a warm, friendly community with faculty and staff truly committed to your success.  Our small class sizes, individualized attention, and one-class-at-a-time schedules create a positive learning environment where you can excel.  Whether your goal is to prepare for a new career or to advance with your current employer, Keiser University is designed around your needs. Keiser University Advantage• Associate, Bachelor's, Master's and Doctoral degree programs• Day, Evening, and Online Classes• Financial Aid to Those Who Qualify• Job Placement Assistance Available• Military-friendly, scholarships for qualified active duty personnel, Veterans, and dependants.  Yellow Ribbon program participant, approved for Veterans trainingPrograms and delivery format vary by campus. Courses are subject to change. Keiser University's programs and curriculum remain in-line with technology and workforce trends, helping you develop the skills and qualifications necessary to succeed in today's job market.  Our career-focused programs make it possible for you to graduate in less time than you may think.  Keiser University is a private, not-for-profit university. Read More

Programs

Accelerated Bachelor of Science in Nursing

Bachelor of Science in Nursing (FastTrack)

Nursing, MSN - Family Nurse Practitioner
Featured Programs
The main nursing program offered at the Atlanta Technical College is the Atlanta Technical College Associate of Science in Nursing Program (ASN). The curriculum is designed to accommodate those with or without a medical background and is offered student support services. This accredited college is built on the philosophy of helping students excel in their nursing programs and become lifelong learners through various professional development opportunities. The program prepares students for generalist practical nursing. Students become qualified to pass the licensure examination that enables them to practice as a registered nurse in Georgia. Graduates are able to work in a variety of settings from in-home care facilities and hospitals to clinics and schools.
Atlanta Technical College
1560 Metropolitan Parkway SW
Atlanta, GA 30310-4446
Phone: 404.225.4400
Accredited by the Commission on Collegiate Nursing Education (CCNE) and approved by the Georgia Board of Nursing, Columbus State University School is was reported by U.S. News as being one of the top public universities in the South. The Columbus State University School of Nursing offers a 1-year degree online RN-BSN program for those already working in the field as registered nurses. The curriculum moves quickly from pre-requisite courses to a higher division, more in-depth nursing core courses and fieldwork. Those enrolled in the program are given increasingly more complex material and are required to complete hours of fieldwork.
Mailing Address:
Columbus State University
4225 University Avenue
Columbus, Georgia 31907
Phone: 706-507-8800
Toll-free: 1-866-264-2035
Columbus State Community College
Those who want to earn a Registered Nurse (RN) Associates degree should enroll in the 2-year program that includes general education, basic medical education, like basic care skills, and technical education, like nursing care for people with behavioral problems. Applicants are not expected to have prior nursing experience but are required to complete an online Nursing Program Information Session. However, licensed practical nurses can upgrade their nursing credentials to RN through this program. The courses become full quickly. Graduates are qualified to work in schools, clinics, hospitals, hospices, and other facilities that serve people of various ages.
3343 Peachtree Road NE, Suite 850
Atlanta, Georgia 30326
Phone:404-975-5000
A popular accredited school in Georgia that offers a practical nursing certification program, the Savana Technical College prepares graduates for entry-level practical nurse positions. The program accepts applicants as young as 17 and doesn't have a maximum age requirement, making it an option for adults returning to college or changing careers. Individuals who earn a practical nursing diploma after completing the program can work under the supervision of doctors and registered nurses and have the opportunity to upgrade their credentials later. Graduates are expected to complete at least 57 credit hours of academic and occupational courses. Expected duration of the program is 5 terms.
5717 White Bluff Rd,
Savannah, GA 31405, USA
Phone: 912-443-5700
Emory University – Nell Hodgson Woodruff School of Nursing
Emory University is a highly recognized private school both nationally and internationally. They are accredited by the by the Southern Association of Colleges and Schools Commission and offers traditional classes for several nursing degree programs, listed below. The institution prides itself on encouraging their students and alumni to achieve higher professional growth through collaboration with professionals across the field in interprofessional education events and various supports and student resources. There are several scholarships offered to students year-round.
Bachelor of Science (BS) and Bachelor of Science Nursing (BSN): Four-year program Accelerated BSN,
RN-to-BSN, MSN, RN-to-MSN: For upgrading current nursing credentials. Registered nurses can upgrade to a bachelor of science
Nurse Practitioner: Licensed nurse practitioners qualify for entry-level assistant health positions and with physicians and registered nurses.
PhD (Doctoral): Graduates can work in any medical facility as registered nurses, supervisors, educators, and more. 239 Hampton St
Helena, GA 30322Phone: 404.727.6036
Board of Nursing Approved Schools in Georgia
Armstrong Atlantic State University School of Nursing
Location: Savannah, Georgia
Programs: BSN, MSN
Accreditation: CCNE
Website: http://www.armstrong.edu
Brenau University School of Nursing
Location: Gainesville, Georgia
Programs: BSN, MSN
Accreditation: NLNAC / ACEN
Website: http://www.brenau.edu
Clayton College and State University School of Nursing
Location: Morrow, Georgia
Programs: BSN
Accreditation: NLNAC / ACEN
Website: http://www.clayton.edu
Columbus State University School of Nursing
Location: Columbus, Georgia
Programs: BSN
Accreditation: NLNAC / ACEN
Website: http://www.colstate.edu
Emory University School of Nursing
Location: Atlanta, Georgia
Programs: BSN, MSN, PhD
Accreditation: CCNE
Website: http://www.emory.edu
Georgia College And State University School of Nursing
Location: Milledgeville, Georgia
Programs: BSN, MSN, MSN/MBA
Accreditation: NLNAC / ACEN
Website: http://www.gcsu.edu
Georgia Southern University School of Nursing
Location: Statesboro, Georgia
Programs: BSN, MSN
Accreditation: CCNE
Website: http://www.georgiasouthern.edu
Georgia Southwestern State University School of Nursing
Location: Americus, Georgia
Programs: BSN
Accreditation: NLNAC / ACEN
Website: http://www.gsw.edu
Georgia State University School of Nursing
Location: Atlanta, Georgia
Programs: BSN, MSN, PHD
Accreditation: CCNE
Website: http://www.gsu.edu
Kennesaw State University School of Nursing
Location: Kennesaw, Georgia
Programs: BSN, MSN
Accreditation: CCNE
Website: http://www.kennesaw.edu
LaGrange College School of Nursing
Location: LaGrange, Georgia
Programs: BSN
Accreditation: NLNAC / ACEN
Website: http://www.lagrange.edu
Medical College of Georgia School of Nursing
Location: Augusta, Georgia
Programs: BSN, MSN, PhD
Accreditation: NLNAC / ACEN
Website: http://www.mcg.edu
Mercer University Georgia Baptist College of Nursing
Location: Atlanta, Georgia
Programs: BSN, MSN
Accreditation: NLNAC / ACEN
Website: http://www.mercer.edu
North Georgia College and State University School of Nursing
Location: Dahlonega, Georgia
Programs: BSN, MSN
Accreditation: NLNAC / ACEN
Website: http://www.ngcsu.edu
Piedmont College School of Nursing
Location: Demorest, Georgia
Programs: BSN
Accreditation: NLNAC / ACEN
Website: http://www.piedmont.edu
Thomas University School of Nursing
Location: Thomasville, Georgia
Programs: BSN
Accreditation: NLNAC / ACEN
Website: http://www.thomasu.edu
Valdosta State University School of Nursing
Location: Valdosta, Georgia
Programs: BSN, MSN
Accreditation: CCNE
Website: http://www.valdosta.edu