Clinical Nurse Specialist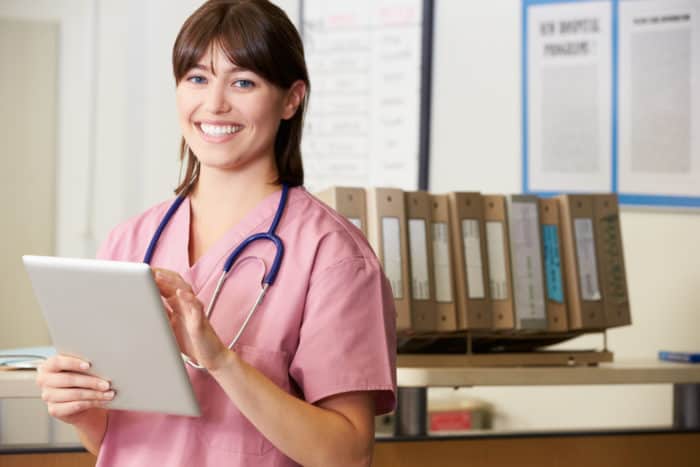 Deciding how to advance your career in the field of nursing can get confusing. There are many career paths you could pick, including becoming a clinical nurse specialist. And while all of them seem equally gratifying, the best way to go about picking the right path is to analyze your own personality traits.
If you're ambitious, assertive, optimistic, tactful, and have the drive to help those in need — even if it means supervising a team of nurses rather than being directly involved — becoming a Clinical Nurse Specialist (CNS) may be the right choice for you.
But what are the duties of a clinical nurse specialist? How is the role different from the role of a Nurse Practitioner?
More importantly, what is the salary range for this role? Will a qualified CNS find it difficult to get a job?
To help you explore this career path, we have detailed the importance and duties of a CNS and expounded upon the requirements, job outlook, and salary range.
What is a Clinical Nurse Specialist (CNS)?
A CNS is an Advanced Practice Registered Nurse (APRN). These nurses provide their expertise in the specialized area they are certified in. 
These advanced practice registered nurses integrate their knowledge of diseases to assess, diagnose, and treat a patient. While the primary goal of a clinical nurse specialist (CNS) is to provide quality specialty care safely, the role of a specialist clinical nurse extends far beyond providing care to patients. 
Every CNS works towards a much bigger goal of improving the healthcare system from within. 
The American Association of Colleges of Nursing, the organization that is dedicated to improving nursing education, recognizes that CNSs play a key role in improving healthcare delivery.
While a clinical nurse specialist is also a registered nurse, they specialize in either one or more of the following:
Disease (diabetes, dementia, etc.)
Care type (Gastroenterology, Rheumatology, etc.)
Problem type (mental illness, wound care, etc.)
Setting (outpatient department, emergency room, etc.)
Population (adult health, women's health, etc.)
History Of The Profession
While the role of Clinical Nurse Specialists is now deeply integrated into clinical practice, getting it to this level in the health care system for over 60 years.
Over decades, the profession transformed from a largely thankless role to a critical role that is standardized and licensed. CNSs are responsible for providing safe and effective care at a low cost. Therefore, it is a profession that has a considerable impact on the economy.
Their evidence-based practice and influence over healthcare delivery make them the leaders of the industry.
Nurse Practitioners Versus Clinical Nurse Specialist
The Similarities
Both nurse practitioners and clinical nurse specialists are advanced practice nurses that are involved in direct patient care. Training for both roles involves learning how to lead teams of professionals. Both must conduct research and be educated in both medical and academic settings.
There are also significant overlaps in the duties of the two nurses. Both a CNS and an NP must record the patient's medical history, conduct physical examinations, and analyze their finding to develop care plans. Furthermore, the two must administer medication, carry out other treatments, monitor the patient's well-being, and adjust care plans as per patient need.
Like a clinical nurse specialist, a nurse practitioner may also assume a leadership role or take up an educational role in an academic setting. 
While they receive similar training and have some overlaps in their duties, there are a number of differences between the two roles.
The Differences 
The CNS role involves administrative tasks, clinical research at the workplace and academic settings, and care program development.
On the other hand, nurse practitioners focus a lot more on direct patient care and are only sometimes involved in clinical leadership. On an average day, a nurse practitioner will conduct physical examinations, order and interpret tests, and conduct physical examinations more than a clinical nurse specialist will.
A typical workday for a clinical nurse specialist entails collaborating with coworkers from different departments, advocating patient needs, and carrying out evidence-based research.
However, both nurse practitioners and clinical nurse specialists have the flexibility to alter their responsibilities. A CNS is free to take up a leadership role, and an NP can carry out clinical research if they find that more interesting.
It is also important to note that a nurse practitioner holds a different certification than a clinical nurse specialist. A CNS can only get certified through the ANCC or the ACCN, whereas NPs can earn their certifications via a large array of organizations.
What Does a Clinical Nurse Specialist Do?
A clinical nurse specialist can take up a wide variety of work. Factors like where you live, your workplace, and your specialty determine the type of care you provide.
But remember that regardless of where you work, your advanced nursing qualifications will enable you to take on big responsibilities, both as a nurse and as a leader.
While the area of nursing you get certified in has a huge effect on the type of work you do, in general, the CNS role entails the following tasks:
Creating treatment plans for every patient after examination. 
Analyzing patient information and patient outcomes after treatment.
Educating patients and potential caregivers about patient treatment.
Partaking in new research with coworkers.
Working with nursing staff to optimize direct patient care. You will need to evaluate current practices, gauge alternatives, and consult with your coworkers to provide the highest quality patient care. You must also introduce practices in a way that promotes teamwork.
Some states give clinical nurse specialists prescriptive authority, adding to the list of a CNSs' responsibilities.
Some of the many specialties that a clinical nurse specialist can provide care in include:
Adult gerontology
Mental health
Oncology
Geriatric medicine
Pediatrics
Community health
What Makes Clinical Nurse Specialists So Important?
CNSs are catalysts that facilitate change in the health system. They also play a big role in developing cost-saving medical care strategies and are responsible for ensuring that fellow nurses have the skills they need to thrive. 
They play roles such as mentors, educators, and advocates and use their expertise in their specialty area to conduct research to reveal weaknesses in medical care. 
How Clinical Nurse Specialists Influence Healthcare Delivery
CNSs use evidence-based care to ensure the best possible outcome for patients and drive practice changes throughout an institute by continually challenging weak practices.
Clinical nurse specialists influence patient care at the grass-root level by providing expertise and support to the nurses caring for patients. Small changes and marginally improved practices snowball into large, industry-influencing changes over time.
CNSs also work to find gaps in the delivery of patient care and design interventions to assess and improve them. A 2013 study by the National Association of Clinical Nurse Specialists reveals that clinical nurse specialist practice leads to:
Reduced hospital costs, complications in patients, ER visits, and patient admission length;
Improved patient satisfaction and pain management practices.
CNSs play an invaluable role in healthcare, and a well-learned CNS will never have trouble getting hired.
Where do Clinical Nurse Specialists Work?
Clinical Nurse Specialists have an opportunity to practice in a diverse array of settings. As a graduate-level RN in a CNS role, you could work at:
Hospitals
Physician's offices
Outpatient's clinics
Schools, colleges, and universities
Long-term care facilities
Nursing Homes
Public health departments
Surgery centers
Corporations
Rehabilitation centers
Laboratories
Community centers
Prisons
It is also important for you to remember that every state governs the CNS practice differently. The regulations that apply to your scope of practice will be different in different locations.
A 2018 study by the NACNS revealed that about one in every three CNSs works at a hospital. Academic health centers are the second most desired workplace, and roughly 10% of CNSs work as educators. Many choose to take on administrative roles, and only about 1% of American nurses have a private practice.
CNSs also have the option of working as a consultant for nurses in organizations. Consultants develop guidelines for the organization and provide the support that the nurses need to facilitate change in practices. 
Clinical Nurse Specialist Salary
Most professionals in this profile make between $100,000 and $125,000 annually. On the lower end, a CNS can make around $75,000, and the most qualified CNSs make more than $150,000 a year. 
Moving to the right state is one of the best ways to boost your career. Medical facilities in California, Nevada, Massachusetts, and Washington pay some of the highest salaries for this profile.
The Bureau of Labor Statistics expects the number of positions available for this profile to grow by 45% between 2019 and 2029. If you're interested in the role, you don't have to worry about job security.
How Do I Become a Clinical Nurse Specialist?
Step #1: Earn A BSN
Becoming a CNS takes years of dedicated studying. The first thing you need to do is obtain your Bachelor's of Science in Nursing. The degree will take you four years to earn.
If you don't feel prepared financially, you could choose to get your degree online. Bear in mind that you will need to complete the physical coursework at a medical facility nearby if you enroll in an online program. There are also plenty of scholarships you can apply to and get the financial support you need.
You could also earn a diploma or an Associate's Degree in Nursing, get licensed and start earning before enrolling in an RN-to-BSN program.
Step #2: Get Licensed
After you complete your BSN program, you will become eligible to take the NCLEX-RN exam and become a Registered Nurse. Post passing the exam and getting licensed, you will be able to begin working as an RN at a hospital.
Step #3: Earn Your Master's Degree
Your nursing education does not end with getting a BSN. You must go back to school and earn at least a Master of Science in Nursing (MSN), with a focus on the CNS practice. Only after you get the master's degree will you be able to become an Advanced Practice Nurse.
You could optionally pursue a doctorate (DNP) – but note that doctorates are not required to get a job as a CNS.
Step #4: Get Certified
Back in 2008, the nursing community came together to endorse a regulatory model called the Consensus Model for APRN Regulation to help define titles and specialties consistently.
The document states that every APRN that works as a CNS must obtain a certification based on a population area. 
You can choose from several certifications to pursue depending on the type of nursing you want to practice. As of 2020, most CNSs in the industry specialize in adult gerontology. 
The exams for the specialty area certifications are administered by the ANCC, which requires you to renew your certification every few years.
To learn more about getting a certification, you can visit the American Association of Critical Care Nurses Certification Corporation website.
—
Advancing your nursing practice after entering the healthcare industry can get confusing. There's a lot of avenues you could explore, and since there is no shortage of positions, you don't have to worry about finding a job regardless of what nursing role you hold.
Pursing a career in nursing isn't suitable for everybody. It takes grit, level-headedness, and empathy, and without those, the chances of someone succeeding in a nursing position are slim.
If you're an RN and know you're ready for more responsibility, pursuing an MSN and getting a certification may be the right thing for you to do.
Not only will your advanced education give you a greater grasp of the kind of care patients need, but it will also boost your salary and accelerate your career.
It is largely the area of your specialization that determines where you can work to heal people back to health.
However, after becoming a CNS, you can take on administrative roles, educate a new cohort of nurses, or open up your own practice. You could also become a travel nurse — the pay is the best in the industry, and you also get to travel to another location for 13 weeks.
Getting the right education and landing a role as a clinical care specialist is one of the best things you can do for your career.