Nursing Schools in Louisiana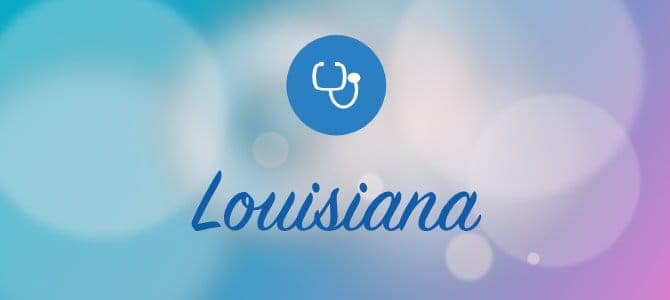 Schools that offer competitive nursing studies in Louisiana include Baton Rouge General Medical Center, Louisiana College, Grambling State University, and Nicholls State University. Some of these programs include a degree in C.N.A, Geriatrics, Health Care Administrator, Holistic, Midwife (CNM), Nurse Practitioner (NP), Nursing, Radiology, and Registered Nurse (RN).
While learning your nursing profession at these accredited schools in the state, you can enjoy some thrilling attractions that include the famous Mardi Gras celebration and jazz.
Louisiana State University of Health Sciences Center School of Nursing is the only nursing institution in the state with an academic health sciences center. The school is actively engaged in academic partnerships with clinical affiliations to ensure a sufficient nursing workforce and to bridge the gap between nursing education and nursing practice.
A primary care clinic has been developed and well managed by the center's faculty and students who have partnered with LSU Health Care.
The school offers Bachelor of Science in Nursing (BSN) programs with three opportunities to get a Bachelor of Science in nursing. These three opportunities are the generic program, Alternative Registered Nurse Education (CARE) program and RN to BSN program.
The Alternative Registered Nurse Education is offered to students with previous bachelors or higher degrees. You can also go in for a Doctor of Nursing Science program that prepares you to be a nurse scientist, scholar, and educator.
If you are pursuing a Master of Nursing degree, you get the opportunity to specialize in multiple advanced practice nursing specialties like clinical nurse specialist, neonatal and family, nurse anesthetist, nursing administrator, and nurse educator.
The Nursing Center is the first in Louisiana State to offer doctoral education in nursing within the state of Louisiana. The school's faculty actively engages in the scholarship of teaching within academic programs to give you a supportive studying atmosphere to prepare the next generation of nurses and leaders.
Sponsored Programs
Location - Houston, TX, US 77092

The College of Health Care Professions is a Texas-based career education school founded by physicians in the Texas Medical Center solely specializing in healthcare education and dedicated to provid...ing students with training and education Read More

Programs

Nursing – AAS Degree (LVN to ADN)

Vocational Nursing Certificate Program

Location - Melbourne, FL, US 32901

Since 1977, Keiser University has maintained a practical, hands-on approach to career-focused education to help our students achieve their personal and professional goals.  Our student-ce...ntered approach remains at the foundation of the Keiser University mission and continues to attract students who prefer a more personal learning experience. At Keiser University, you will find a warm, friendly community with faculty and staff truly committed to your success.  Our small class sizes, individualized attention, and one-class-at-a-time schedules create a positive learning environment where you can excel.  Whether your goal is to prepare for a new career or to advance with your current employer, Keiser University is designed around your needs. Keiser University Advantage• Associate, Bachelor's, Master's and Doctoral degree programs• Day, Evening, and Online Classes• Financial Aid to Those Who Qualify• Job Placement Assistance Available• Military-friendly, scholarships for qualified active duty personnel, Veterans, and dependants.  Yellow Ribbon program participant, approved for Veterans trainingPrograms and delivery format vary by campus. Courses are subject to change. Keiser University's programs and curriculum remain in-line with technology and workforce trends, helping you develop the skills and qualifications necessary to succeed in today's job market.  Our career-focused programs make it possible for you to graduate in less time than you may think.  Keiser University is a private, not-for-profit university. Read More

Programs

Bachelor of Science in Nursing (FastTrack)

Nursing, MSN - Family Nurse Practitioner

Location - Cranberry, PA, US 16066

Since South College was founded in 1882, we have focused on serving students who want hands-on, career-driven education that will have a meaningful impact on their lives and livelihoods.More than a ce...ntury ago, fulfilling that mission meant supplying on-campus offices so students could conduct business in the mercantile and banking industries while getting an education.Today, it means offering accelerated, hybrid, transfer, and distance learning programs. It means small class sizes, state-of-the-art labs, and campuses that are convenient to large numbers of students. Most of all, it means experienced professors who provide real world examples and lead in-depth discussions. Read More

Programs

Certificate - Practical Nursing (PN)
Featured Programs
Dillard University School of Nursing
The Accreditation Commission for Education in Nursing (ACEN) has approved the nursing program at Dillard University. The educational institution is a private, historically black, liberal arts university located on a 55-acre campus in a residential area of New Orleans and was the first college in Louisiana to offer a baccalaureate in nursing.
Application to the nursing major for first-degree students is usually sought in the sophomore year and requires a minimum GPA of 2.7 and completion of several pre-requisite courses. LPN to BSN and RN to BSN pathways are also on offer. Students have access to six nursing laboratories, including a high-tech simulation laboratory. Each specialty area has its own designated laboratory.
At the time of writing, the School of Nursing of Dillard University has probationary status with the Louisiana State Board of Nursing and recent graduates have demonstrated a lower than average pass rate on the NCLEX-RN licensure examination.
2601 Gentilly Boulevard,
New Orleans Louisiana 70122
504-283-8822
Website: http://www.dillard.edu/
Louisiana College School of Nursing
Founded in 1906, Louisiana College is a private, Baptist, co-educational college of liberal arts and sciences. The nursing program is accredited by the Commission on Collegiate Nursing Education (CCNE). Both a traditional and an accelerated BSN are on offer.
The four-year nursing education program is built upon a liberal arts foundation in the humanities, natural sciences, Christian studies, and social sciences. In the junior year, students move into their professional nursing preparation courses which are organized around a conceptual framework based upon Neuman's Systems Model and focuses upon examining life processes along the wellness to illness continuum. Skills built through the curriculum include: complex problem solving; change agent activities; and the application of knowledge and experience for the improvement of individual, family and community health.
1140 College Drive,
Pineville, LA 71360
318-487-7011
Website: http://www.lacollege.edu
Nicholls State University School of Nursing
CCNE-accredited Nicholls State University offers both a BSN and an MSN for aspiring nursing students. The BSN option includes a traditional four-year program for those without a first degree or professional licensure, and also an LPN to BSN and RN to BSN articulation pathway. Both pathways are designed to give appropriate credit for previous studies and experience while staying true to the aims and outcomes of the BSN program overall.
The MSN program is offered in affiliation with the Intercollegiate Consortium for a Master of Science in Nursing (ICMSN). The consortium universities include McNeese State University; Nicholls State University; Southeastern Louisiana University; and the University of Louisiana at Lafayette who works collaboratively to provide a comprehensive online master's curriculum. MSN concentrations are possible in the following disciplines: Family Nurse Practitioner; Psychiatric/Mental Health Nurse Practitioner; Nursing Education.
906 East 1st Street
Thibodaux, Louisiana 70301
Nicholls State University
1-877-NICHOLLS
Website: http://www.nicholls.edu
Franciscan Missionaries of Our Lady University
Established in 1923, the college was founded alongside the establishment of Our Lady of the Lake Sanitarium in the Capitol Lake area of downtown Baton Rouge. Today, Franciscan Missionaries of Our Lady University is a small, Catholic, not-for-profit institution with a healthcare emphasis and a strong tradition of service to the community. The selection of nursing courses on offer include a traditional BSN; RN to BSN pathway; standard MSN, MSN-Family Nurse Practitioner; and a DNP-Nurse Anesthesia.
All nursing programs at the college are accredited by ACEN. Students will experience ongoing experimentation with new ways to engage with the community, service and experiential learning, and cross-disciplinary inquiry. Practical clinical skills are built in the Simulated Environment Teaching Hospital which includes a dedicated anesthesia skills lab and an Anatomage, a device which enables advanced anatomy teaching without a cadaver.
5414 Brittany Drive
Baton Rouge, LA 70808
225-768-1700
Website: https://www.franu.edu/
Board of Nursing Approved Schools in Louisiana
Dillard University School of Nursing
Location: New Orleans, Louisiana
Programs: BSN
Founded In: 1869
Accreditation Body: Accreditation Commission For Education in Nursing (ACEN)
Website: http://www.dillard.edu
Grambling State University School of Nursing
Location: Grambling, Louisiana
Programs: BSN, MSN
Founded In: 1901
Accreditation Body: Accreditation Commission For Education in Nursing (ACEN)
Website: http://www.gram.edu
Louisiana College School of Nursing
Location: Pineville, Louisiana
Programs: BSN
Founded In: 1906
Accreditation Body: Commission on Collegiate Nursing Education (CCNE)
Website: http://www.lacollege.edu
Louisiana State University Health Sciences Center School of Nursing
Location: New Orleans, Louisiana
Programs: BSN, MSN, PHD
Founded In: 1931
Accreditation Body: Commission on Collegiate Nursing Education (CCNE)
Website: http://www.lsuhsc.edu
McNeese State University School of Nursing
Location: Lake Charles, Louisiana
Programs: BSN, MSN
Founded In: 1939
Accreditation Body: Accreditation Commission For Education in Nursing (ACEN)
Website: http://www.mcneese.edu
Nicholls State University School of Nursing
Location: Thibodaux, Louisiana
Programs: BSN
Founded In: 1948
Accreditation Body: Commission on Collegiate Nursing Education (CCNE)
and Accreditation Commission For Education in Nursing (ACEN)
Website: http://www.nicholls.edu
Northwestern State University of Louisiana School of Nursing
Location: Shreveport, Louisiana
Programs: BSN, MSN
Founded In: 1884
Accreditation Body: Commission on Collegiate Nursing Education (CCNE)
Website: http://www.nsula.edu
Our Lady of Holy Cross College School of Nursing
Location: New Orleans, Louisiana
Programs: BSN
Founded In: 1916
Accreditation Body: Accreditation Commission For Education in Nursing (ACEN)
Website: http://www.olhcc.edu
Our Lady of the Lake College School of Nursing
Location: Baton Rouge, Louisiana
Programs: BSN
Founded In: 1990
Accreditation Body: Accreditation Commission For Education in Nursing (ACEN)
Website: http://www.ololcollege.edu
Southeastern Louisiana University School of Nursing
Location: Hammond, Louisiana
Programs: BSN, MSN
Founded In: 1925
Accreditation Body: Accreditation Commission For Education in Nursing (ACEN)
Website: http://www.selu.edu
Southern University Agricultural and Mechanical College School of Nursing
Location: Baton Rouge, Louisiana
Programs: BSN, MSN, PhD
Founded In: 1880
Accreditation Body: Commission on Collegiate Nursing Education (CCNE)
and Accreditation Commission For Education in Nursing (ACEN)
Website: http://www.subr.edu
University of Louisiana Lafayette School of Nursing
Location: Lafayette, Louisiana
Programs: BSN, MSN
Founded In: 1898
Accreditation Body: Accreditation Commission For Education in Nursing (ACEN)
Website: http://www.louisiana.edu
University of Louisiana Monroe School of Nursing
Location: Monroe, Louisiana
Programs: BSN
Founded In: 1931
Accreditation Body: Commission on Collegiate Nursing Education (CCNE)
Website: http://www.ulm.edu