How to Become a Travel Nurse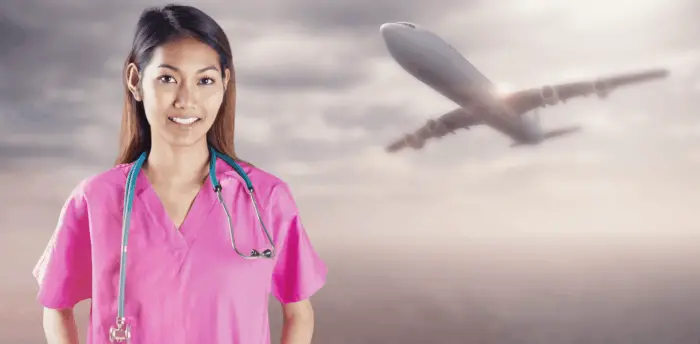 There couldn't be a better time for becoming a travel nurse. Recent reports from Business Insider revealed that travel nurses are in high demand because the healthcare industry is facing a shortage of qualified nurses.
But taking up a job in travel nursing isn't the right move for everybody. It takes a combination of compassion and a traveler's mindset to thrive in ever-changing work environments like hospitals and clinics. However, if you're an empath, enjoy change, and can stay calm in stressful situations, a career in travel nursing may suit you well.
Travel nurses have some of the best pay of all nurses, and it's not hard to understand why. Jobs are never hard to find, and professionals get exposed to different roles that can improve your expertise and boost your nursing career.
But what is a travel nurse? And how can you become one?
We have outlined the jobs' responsibilities and explained how you could pursue this nursing career path in this guide.
What Is A Travel Nurse?
A travel nurse is a registered nurse that travels from one healthcare institution to another every 13-weeks or so (depending on their contract). They do this to help address the shortage of nurses around the country.
The role was originally created to address short-term employment gaps and fill in for sick nurses or those on maternity leave. However, with the country dealing with a massive shortage of nursing professionals, the role has evolved into its own specialty.
A registered nurse from any background can partner up with travel nursing agencies and take up travel nursing assignments around the country. Moreover, some travel nursing agencies also give nurses opportunities to address nurse shortages in other countries.
To attract nurses to the role, companies pay nurses higher salaries and also cover the relocation costs. Having the opportunity to travel to different locations free of charge, and not worry about accommodation, makes travel nursing an exciting career choice.
What Does A Travel Nurse Do?
You could get certified in any of the several specialties before pursuing travel nursing. Your specialty largely determines the work you will be doing.
Having said that, there isn't much difference between travel nursing and regular nursing. You can expect your responsibilities to remain more or less the same as a clinical professional.
On your travel nursing assignments, you will be expected to:
Assess and diagnose patient conditions
Plan, implement and evaluate care
Administer medication and fluids
Assist patients with daily activities
Review and interpret diagnostic tests
Monitor patient health
Educate the patient and potential caregivers about treatment
Provide necessary resources to patients
In travel nursing, you may need to take up additional responsibilities due to the ongoing COVID-19 crisis on your assignments. Additionally, you may be called to work more hours so you can support the medical needs of patients. 
However, you will be compensated generously for all the work you do.
How Does Travel Nursing Work?
Healthcare facilities work with recruiters to find travel nurses to fill job positions temporarily. You don't have to "search" for such nursing jobs in the traditional sense. 
To get travel nursing jobs, you will need to get in touch with a recruiter or a staffing company. Also, there are several staffing companies that could help you. However, it is better to work with companies certified through the Joint Commission. 
Most hospitals with a magnet status only work with certified agencies. So if you're looking to get a job at a magnet facility, getting in touch with an accredited company is the right way to go.
There are over 300 companies in the US that can get you travel nursing jobs. However, only about 100 of them are certified by the Commission.
Contract Lengths
Depending on your preference, you could opt to get a short-term or a long-term contract. Short-term assignments last between 8 and 13 weeks, whereas long-term assignments may extend to 26 weeks. 
If you want to travel more and be exposed to different work environments and teams, getting a short-term contract in travel nursing is the right move. However, should you value stability more than the ability to travel and expose yourself to more opportunities, long-term contracts will serve you well. 
If you find that you will be working with an excellent team of healthcare professionals, we recommend making the most of the opportunity.
Staffing companies and facilities are increasingly flexible about the duration of the assignment. This is due to the nursing shortage in the healthcare industry. If you have the experience, you will also be given a chance to pick what specialty you want to work in.
If you're unsure about the assignment's duration, we advise you to take up a 10-13 week assignment and see how that goes.
Some facilities give you the flexibility of ending an assignment earlier than stipulated if your position no longer needs to be filled. You won't be paid the stipulated salary, either. These circumstances are rare, but if you choose to pursue this role, it is something you need to keep in mind.
Types Of Travel Nurses
Working as a travel nurse can feel empowering since you have a great deal of control over what work you do, for how long you work, where you work, and how much you get paid. You can also negotiate a bonus in travel nursing. Travel nurses are of two types: Domestic and International.
Domestic Travel Nurses
As the title of the role suggests, these nurses only travel within the country to address nursing shortages. Assignment lengths are typically short, and you can expect an assignment to last 13 weeks.
These travel nursing roles are typically most in demand during a pandemic (like the ongoing COVID-19 pandemic) or a natural disaster.
International Travel Nurses
These nurses travel overseas to address a nursing shortage and lend their expertise where it is needed more. International assignments typically last a few years, but sometimes, travel nurses can be asked to return home after a couple of months.
To get international travel nursing jobs, you will need to work on your communication skills. Learning the country's language is an excellent way of showing the recruiter or agency that you are the right candidate for the role and can adapt to a new working environment without much hassle.
Nurses in these positions typically handle the day-to-day administration of the ward under their authority. A lot of times, nurses are called to provide medical attention to patients in underdeveloped areas.
Where Do Travel Nurses Work?
Most healthcare professionals in this role work in hospitals and clinics. However, a shortage of qualified professionals can occur in any healthcare facility, meaning you may be offered a position at a nursing home or even a research lab.
You could also be asked to work at medical camps on international lands, which is one of the most exciting opportunities the role has to offer.
Working Conditions 
There is no way to predict the working conditions you may have to thrive in. It is one of the drawbacks of this high-paying job. Working conditions largely depend on the location and the type of facility you're working at.
You may work with a highly qualified team at a large hospital. You could also work in an underdeveloped area that lacks the quality of healthcare facilities you expect.
However, if you choose to become a travel nurse, you must remember that you will need to adapt to the circumstances. You cannot stop working until your contract is over, and if you don't know if you'll be comfortable in a role, you can negotiate a shorter assignment.
There is one thing you can be sure of — travel nursing will challenge you. However, working in challenging conditions will also feel rewarding.
Travel Nurse Salary
The Bureau of Labor Statistics reports that RNs earn $80,010 on average annually. However, that is only a fraction of how much you could make as a travel nurse.
Since you have the flexibility to travel at any time if you become a travel nurse, you'll be paid a much higher salary than a typical RN. Some nurses report that they earn as much as an RN does after gaining 15 years of experience with only two years of experience in a healthcare facility.
A travel nurse can make up to $3,000 a week, sometimes a lot more. The current epidemic has driven the demand for nurses even higher, and facilities at major locations like New York City are offering $100,000, 13-week contracts to nurses.
However, opportunities like those are hard to come by. It is reasonable for you to expect to make over $100,000 a year in this profile.
Some agencies are known for paying smaller wages, but they offer large stipends for food, travel, and housing. Other agencies pay a higher base salary but offer fewer allowances. You can expect to be insured, and depending on the agency you connect with, you may also get some paid time off.
End-of-assignment bonuses are common, and you will also be compensated for renewing your license.
How Do I Become A Travel Nurse?
Here is a breakdown of the requirements to get hired as a travel nurse.
Step #1: Get Your Education
Before you can become a licensed registered nurse, you will need to complete your Associate's Degree in Nursing or get a nursing diploma. Without either of those credentials, you will not be eligible for giving the NCLEX-RN.
Bear in mind that while having a Bachelor's degree of Science in Nursing is not a requirement, it is slowly becoming the industry standard. Most hospitals now only hire candidates with a BSN.
Step #2: Get Your License
After you get your degree, you will be eligible for giving the NCLEX-RN exam. Book a slot for the test, and when you pass, you can apply for your nursing license. After you get your license, you can apply for RN positions at any healthcare institution in your state.
Step #3: Gain Experience
You cannot apply for travel nursing jobs right after getting a license. This is because a travel nurse is never given much orientation time. In the two or three orientation shifts you get, you will need to learn how the unit you're working in operates, get used to the patient population, get to know your co-workers, and review the charting system.
There is no time for you to learn basic nursing care in these shifts, which is why two years of work experience is seen as a must. You may be able to get a position with only one year of experience, but this is rare.
No additional training or education is required.
Step #4: Get Certified (Optional)
Completing a certification course in any specialty will make you a more attractive travel nursing candidate to recruiters. Having a certificate shows that you're dedicated and focus on your job.
Some of the certifications RNs in this profile can get include:
Basic Life Support (BLS);
Neonatal Resuscitation Program (NRP); and
Advanced Cardiac Life Support (ACLS).
Getting certified increases your chances of earning a higher salary and gives you the leverage you need to negotiate higher pay.
After you get certified, the next step is to find a job.
Sponsored Programs
Location - Pittsfield, MA, US 01201

The mission of Mildred Elley is to provide quality career education and technical training to allow students of diverse educational, cultural and personal backgrounds to become successful in an eve...r-changing global economy. Mildred Elley strives to afford students quality placement opportunities and instill in all of our graduates a desire for lifelong education and learning. Mildred Elley is a co-ed college in Albany, NY with branch campuses in Pittsfield, MA and New York City (Lower Manhattan). Mildred Elley has provided quality higher education for over a century. Each program at Mildred Elley is designed to help you get the career you want in a short amount of time. Programs at Mildred Elley The programs at Mildred Elley offer the most advanced job training available because we know how crucial up-to-date employment skills are to our students' professional development. We design and continually update our courses of study to help you become the perfect match for future employers. Mildred Elley offers a variety of degree and certificate programs that fit your needs for obtaining a successful career. Not all programs offered at all campuses. Benefits of Mildred Elley Flexible Class Schedules Mildred Elley knows not everyone has an open schedule. No matter what your busy day looks like, you can attend class in a variety of sessions: day, evening or weekends, and take some classes online as well. See admissions for class schedule options. Small Class Sizes & Academic Support Our small class sizes allow for more student-to-teacher interaction and overall a more intimate learning environment. This personalized attention gives you the support necessary for your success. Your department chair and faculty act as your mentors; they are available to discuss courses, classwork, careers and anything else that may come up. Faculty and staff will be there to assist you every step of the way. Lifetime Job Placement Assistance Now more than ever, people need a helping hand finding work. Students and graduates of Mildred Elley can rely on us to aid them in finding gainful employment. Our career services staff is dedicated to our graduates for life. Financing Your Education At Mildred Elley, financial aid and scholarships are available for those who qualify. The Office of Financial Aid is dedicated to assisting students with the financial aid process. Free Tutoring & Personal Attention Hand in hand with small class sizes, Mildred Elley offers a variety of academic support services including free tutoring. Take the Next Step Towards the Career of Your Dreams Mildred Elley is the perfect choice for individuals just out of high school, unemployed, underemployed, or looking for a new career. You can receive career training in a wide variety of programs and features designed to allow you to get the most out of your educational experience. At Mildred Elley, you are more than just a student—you are a professional in training. Read More

Programs

Practical Nurse (LPN) - CERT

Location - Louisville, KY, US 40205

Earn your degree from an accredited university by taking all of your classes online. Sullivan University Online delivers high quality online degree programs in an e-Learning environment that allows... you to fit education into your life. Read More

Programs

Practical Nursing Diploma

Location - Boynton Beach, FL, US 33426

At Florida Career College, we encourage our students to achieve their highest potential. We understand that each student learns and grows at their own pace. Our goal is to successfully prepare you ...for new career opportunities. We are the college that cares Whether you're interested in a career in healthcare, computers, cosmetology or trades, FCC is here for you! With real world equipment and training facilities, students have the added advantage of gaining hands-on experience.Our schools offer hybrid learning - online learning with hands-on training in the labs on campus. Our instructors are knowledgeable in their fields and dedicated to helping you succeed. Our career services department is dedicated to helping you find a job! Many of the programs can be completed in as little as 8-9 months!* If you don't have your High School Diploma, ask us about your options! As a student in one of our eligible career pathway programs, you'll have the opportunity to earn your High School Diploma while you complete your career training! Best of all, the opportunity to complete high school is available to you at no additional cost!** Our schools are accredited and ready to get you started on your path to success. Financial Aid is available for those who qualify! **Not all programs are eligible. www.careercollege.edu/studentdisclosures *Timing varies by program. Florida Career College – Miami is the main campus and Boynton Beach, Hialeah, Houston, Jacksonville, Lauderdale Lakes, Margate, Orlando, Pembroke Pines, Tampa, and West Palm Beach  are Branch campuses. Programs vary by campus. All campuses are institutionally accredited by the Accrediting Council for Independent Colleges and Schools (ACICS).Florida Career College – Boynton Beach, Hialeah, Houston, Jacksonville, Lauderdale Lakes, Margate, Miami, Orlando, Pembroke Pines, Tampa, and West Palm Beach are accredited by the Commission of the Council on Occupational Education (COE). Read More

Programs

Patient Care Technician (10-month diploma program)
How To Find Travel Nursing Jobs
Here is how you can find travel nursing jobs.
Get In Touch With A Recruiter/Staffing Agency
After you have enough experience in the field and have built an impressive resume, the final step to getting a job as a travel nurse is to get in touch with a recruiter or staffing agency.
States require you to get state licenses before you can work as an RN in any state. Most staffing agencies will help you with the process of getting licensed in the state they're offering you work in. 
Work in some locations is harder to find than in others. While wanting to work in cities like New York or San Fransico is a nice aim to have, you must keep yourself open to other opportunities.
The cost of living in locations like New York is high. You may be better off getting hired in a location where the cost of living is lower so you can take home more money.
Here is a list of things you must find out when you get in touch with a staffing company:
The locations the company serves.
Structure of the pay package.
Health insurance benefits the company provides.
Paid time off the company provides (if any).
Signing/ end-of-assignment bonuses (if any).
Time off between assignments.
When you land a job, make sure you get the start date right — there often can be confusion about when you're starting at your new workplace.
Travel Nurse Housing
A travel nurse is helped with accommodation in one of two ways. The first way is that the company you're working with will find you a place to live.
You can expect to live in a one-bedroom apartment close to the hospital when you travel for assignments. One of the perks of travel nursing is that you get to live in a furnished house, and you don't even have to worry about the utility bill.
The second way a company may help with accommodation is a housing stipend. While you will need to find a place and pay for the utilities out of your stipend, if you find a house cheaper than the stipend, you can pocket the rest of the cash. The stipend is non-taxable, which is another great benefit.
Most experienced travel nurses prefer getting a housing stipend over getting a furnished home. A nurse can live with a roommate and save money.
How Travel Nursing Can Advance Your Nursing Career
Some of the biggest ways pursuing this position can advance your career include:
Expanding Your Skill Set
Working in hospitals around the country, and if you get the opportunity, across the world, will give you the experience that sets you apart from other candidates. 
Working at top-rated hospitals can give your resume a big boost, giving you the edge you need to earn a staff position at a large hospital. An impressive resume can also help you get into the graduate program of your choice.
Better Salary
Bonuses, non-taxable stipends, and the overall higher pay make travel nursing far more lucrative than getting a staff position at a healthcare facility.
Nurses certified in high-demand specialties have the potential to make even more money.
Travel To New Places
After getting into travel nursing, you will notice that assignments are available all across the country. Working in different cities will allow you to figure out if your specialty is in high demand in a city. You could use the knowledge you gain to determine if you want to get a staff position at some point and where.
Flexibility
You will get the chance to take time off between assignments to see family and friends. Taking up contracts back to back isn't a requirement, and you can take a few months off before you go back to work.
Some hospitals give you the flexibility to pick your shift, too, but this isn't always the case.
—
Staying away from friends and family and working long hours can get draining. And that's perhaps the biggest impact travel nursing can have on your life.
Hospitals are always on the lookout for qualified nurses, and new positions open up every day. Travel nursing is also one of the best-paying jobs in the healthcare industry.
If you can handle staying away from friends and family and adapt to new environments and people quickly, becoming a travel nurse could be your calling.