Doctor of Nursing Practice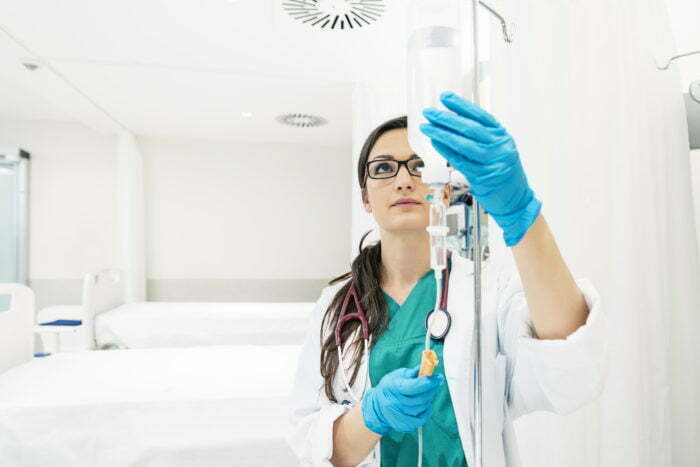 A career in nursing is arguably one of the most gratifying careers one could pick. You can earn a great living and help people from all walks of life recover back to good health. Additionally, as a doctor of nursing practice, you can lead others to help improve patient outcomes.
Regardless of if you're a Registered Nurse or a master's degree holding advanced practice registered nurse, earning a Doctor of Nursing Practice will equip you with the knowledge and credentials you need to specialize in any area of nursing you choose. 
Besides giving you the skills to assess published evidence to improve your healthcare practice, enrolling in a Doctor of Nursing Practice program enables you to enhance the quality of care and subsequently improve patient outcomes or help students wherever you work. 
But what are the requirements of enrolling in a DNP program? What is the salary range for these clinical professionals? Also, in what specialty roles do these clinical experts work?
Here's a comprehensive guide to becoming a Doctor of Nursing Practice that answers all of those questions and more.
What is a Doctor of Nursing Practice?
The Doctor of Nursing Practice (DNP) is a degree designed to equip nurses with the highest level of nursing expertise in healthcare. Enrolling in a DNP program gives nurses the expertise to improve patient outcomes both at the grassroots and industry levels.
These clinical professionals' may play roles that enhance direct care. They may also help improve the medical facility's outcomes by applying their organizational leadership skills. 
DNPs may also get in a position where they bring change in the industry. They do this by implementing better health policies, helping nursing students, or becoming members of the faculty at a university.
What Does a Doctor of Nursing Practice Do?
A DNP-holding nurse may take up a leadership role or provide direct patient care by entering advanced nursing practice.
DNPs in Leadership and Administration
DNPs that choose to work in leadership roles play a paramount role in influencing the facility's outcomes by applying the newest scientific findings. 
Nurses with this qualification also work to strengthen executive nurses' leadership roles in the organization.
These professionals play a pivotal role in creating innovative care programs that are both economical and sustainable.
Nurses that hold a DNP degree may become a part of nurse management. They may also play an organizational leadership role at a hospital, school, or university. They may also lend their expertise to make better health informatics systems or develop better state and national healthcare policies.
DNPs as Advanced Practice Registered Nurses (APRNs)
If a nurse prefers being more "hands-on" with the care they provide, they may stick to the Advanced Practice Nurses' pathway. This path is for students who wish to provide direct patient care. Their responsibilities may include managing patients and assessing and evaluating the care those patients receive.
A DNP-qualified nurse that focuses on advanced nursing practice must get certified as an advanced practice nurse (APRN). Doing so requires them to pass an exam once they graduate from university. DNPs may also need to pass advanced specialty certifications if the specialty position they want requires it.
The most common positions that DNPs are in include:
Nurse Anesthetist
These nurses work with a team of clinical professionals to administer anesthesia. The COA will require nurse anesthetists to earn a DNP or a Ph.D. before they can begin practicing starting in 2025.
Until then, earning an MSN will be deemed sufficient. Also, there will be no retroactive requirement for CRNAs to earn a DNP.
Nurse Practitioner 
NPs are responsible for managing a patient's care (with or without the supervision of a doctor, depending on the state). 
Nurse practitioners may specialize in areas such as gerontology, pediatric nursing, and neonatal nursing. A nurse practitioner may also choose to become a mental health nurse practitioner or a women's health nurse practitioner.
Nurse Midwife 
Nurse midwives provide reproductive care before, during, and after childbirth. They are also responsible for providing primary care and counseling to the parent throughout the child's infancy.
Clinical Nurse Specialist
A specialization program prepares clinical nurse specialists to diagnose and treat a patient at the bedside and other healthcare settings. The NACNS recommends that nurses in this specialty earn a DNP to enter practice by 2030.
Are DNP and Ph.D. the Same?
The DNP is a terminal degree as is the Ph.D. Furthermore, the DNP and the Ph.D. are the only two doctoral-level degrees in nursing. 
Regardless of if you earn a DNP or a Ph.D., you will be eligible to work as a Nurse Practitioner. Neither of the degrees is more "advanced" than the other, but there are differences between them.
It is important for you to note that a Ph.D. is a more research-focused degree and is typically pursued by students interested in carrying out scholarly work.
If you want to work as a nurse practitioner after getting a Ph.D., you will need a post-graduate certificate after completing university. However, getting a practice-focused degree in nursing, like a DNP, will give you the upper hand in many situations when you practice primary care or specialized care for patients. 
You will have all the expertise you need to implement evidence-based practices.
Where Do Doctor of Nursing Practice Work?
After earning their doctorate, nurses may get a position as a health care executive. These leaders work to ensure the smooth day-to-day operation of a medical facility or entire leadership team.
A doctorate-holder may choose to become a part of the nursing education system such as a university and work at nursing schools as faculty. They can help educate the next generation of students and nurses and help them graduate.
These nurses also can work as an Advanced Practice Nurse, providing primary care/acute care to patients after they earn their post master's degree.
After completing the program, a doctorate-holder may establish their own clinical practice, become a health lobbyist to ensure evidence-based practice is applied across the state or country, or become a clinical health researcher.
Doctor of Nursing Practice (DNP) Salary
Determining the salary potential of a DNP is tricky since these professionals can play several different roles in the industry.
A professional with a Master's degree of Science in Nursing may work as an advanced practice nurse, but one with a DNP may also work as an APRN. The median salary for APRNs in 2020 was $117,670, but DNP-qualified professionals earn a lot more than the median salary.
CRNAs earn a median annual salary of $165,120, and nurse midwives earn a median salary of $111,130. Since DNPs have the highest level of education, you can expect to earn a lot more than what an MSN-holder earns in the same position.
While earning a DNP does not guarantee higher pay, a clinical expert with a Doctor of Nursing Practice (DNP) typically earns the best salary for the position.
How Do I Become a Doctor of Nursing Practice?
Traditionally, a student must first earn their Bachelor of Science in Nursing (BSN) from an accredited school of nursing, then join a Master's degree of Nursing program. When students earn their MSN, they can join a DNP program and get a doctorate.
However, there are some other ways that you can earn a DNP:
Direct-Entry DNP
These nursing practice programs are for students and nurses that have earned a bachelor's degree in a field outside of nursing. A direct-entry DNP program prepares students by turning them into highly knowledgeable nurses through training and certification provided by experienced faculty.
This school of nursing program for students takes between four and six years to complete, and full-time study is required to complete this curriculum.
RN-to-DNP Bridge Programs
An RN-to-DNP program prepares RNs to become DNPs without needing to repeat coursework. RNs may complete the course in three years if they choose to study full-time. However, if RNs prefer working and studying, they can study part-time and complete the program in six years.
Most of these programs offer the nurses an MSN degree before beginning the DNP curriculum.
BSN-to-DNP Bridge Programs 
These programs combine the MSN and DNP curriculums and fast-track the process of getting a DNP. A nurse may choose to exit the school of the nursing program after they earn their MSN. Completing these programs can take up to four years when studying full-time and six years when studying part-time.
Online DNP Programs
Depending on the education path you choose and the specialty you pick, you may be able to complete some of the coursework online. 
Online DNP programs give clinical experts more flexibility by allowing them to view the course instructions at their convenience.
Sponsored Programs
Location - Melbourne, FL, US 32901

Since 1977, Keiser University has maintained a practical, hands-on approach to career-focused education to help our students achieve their personal and professional goals.  Our student-ce...ntered approach remains at the foundation of the Keiser University mission and continues to attract students who prefer a more personal learning experience. At Keiser University, you will find a warm, friendly community with faculty and staff truly committed to your success.  Our small class sizes, individualized attention, and one-class-at-a-time schedules create a positive learning environment where you can excel.  Whether your goal is to prepare for a new career or to advance with your current employer, Keiser University is designed around your needs. Keiser University Advantage• Associate, Bachelor's, Master's and Doctoral degree programs• Day, Evening, and Online Classes• Financial Aid to Those Who Qualify• Job Placement Assistance Available• Military-friendly, scholarships for qualified active duty personnel, Veterans, and dependants.  Yellow Ribbon program participant, approved for Veterans trainingPrograms and delivery format vary by campus. Courses are subject to change. Keiser University's programs and curriculum remain in-line with technology and workforce trends, helping you develop the skills and qualifications necessary to succeed in today's job market.  Our career-focused programs make it possible for you to graduate in less time than you may think.  Keiser University is a private, not-for-profit university. Read More

Programs

Bachelor of Science in Nursing (FastTrack)

Nursing, MSN - Family Nurse Practitioner
—
Every Doctor of Nursing practice program is different. You will need to do your due diligence, shortlist the best programs in the country, and choose one that's right for you.
It is also important for you to make sure that the program you pick follows the APRN Consensus Model if you want to work as an advanced practice nurse later on.
Regardless of which training program you pick, you can be sure that you will earn a high salary and be surrounded by future leaders. The majority of the nurses in the USA that have an advanced degree only have an MSN.
Enrolling in a DNP program is the best way of advancing your career and applying your expertise to make a difference in the industry and the health of people from all walks of life.