Nursing Schools in North Carolina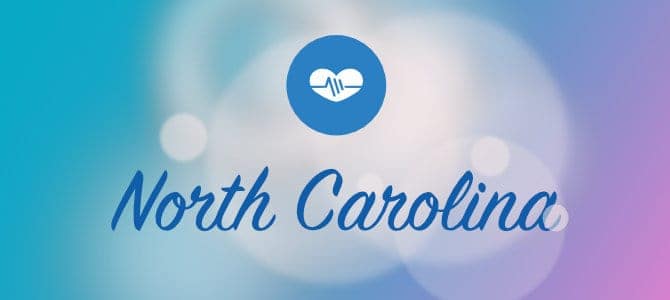 Filled with tons of interesting things to do and see, the next stop is the beautiful state of North Carolina. Known for where the Wright Brothers first proved human flight possible, there are many nursing schools in North Carolina from which to choose. Additionally, the state has a rich history that dates all the way back to the Age of Conquest when settlers came to these very lands and founded the state.
Today, the state's total population is estimated at a little over 10 million and the economy (one that is built heavily on science and technology) is the core driver for many of the remaining industries throughout the state. Because North Carolina has such a thriving economy the cost of living for any nurse will be one that is comfortable and affordable.
Nursing Education in North Carolina
Finding an educational path is not difficult for aspiring and/or returning nurses as a wide selection of educational programs are available at various higher education institutions. Rather than choosing between the University of North Carolina (Chapel Hill), North Carolina State University, East Carolina University, or one of the many others there are many routes to take towards earning a nursing degree at any level.
The University of North Carolina, for example, offers several different areas of the nursing profession that range from a Bachelor's, Graduate, Post-Master's, and even Doctoral degree in the various nursing professions including psychiatry. Nursing degrees include registered nursing and can be earned via a scholarship.
Although several career paths are available in the state of North Carolina, one of the most common nursing positions that are in the most need for additional help can be found in that of at home care. Because there is such a need for medical help in the nursing profession across the board is expected that the overall salary for a nurse will increase dramatically in the coming years.
The need for at-home care is not the only area where nurses will be able to get jobs. Additionally, several nurses will have the opportunity to work at major hospitals such as Duke University Hospital, Forsyth Medical Center, and many the other main hospitals and Doctor offices throughout the state.
Sponsored Programs
Featured Programs
Duke University School of Nursing
BSN graduates and doctoral candidates who pick Duke University for their advanced studies can be assured in their choice as Duke University School of Nursing has been ranked as the #1 graduate school for nursing overall with the #1 Doctor of Nursing Practice program by the U.S. News & World Report 2018.
Fully accredited by CCNE, the school does not offer a traditional first-degree BSN. A 16-month accelerated BSN is available for existing bachelor's holders with a minimum 3.0 GPA which emphasizes wellness and prevention, clinical leadership, evidence-based nursing practice, and culturally relevant care.
The MSN offers seven advanced practice registered nurse majors and three non-clinical majors all of which can be pursued online. The DNP program is designed with flexibility in mind and allows students to continue to work whilst studying. Aspiring nursing research scientists may consider pursuing the Duke Ph.D. program which focuses upon the interface between chronically ill individuals and their care environments.
307 Trent Drive
Durham, NC 27710
919-684-3786
Website: http://www.duke.edu
East Carolina University School of Nursing
ECU produces the most trained nurses out of all four-year institutions across North Carolina with 1,200 students enrolled across all nursing degree programs. The School of Nursing is accredited by CCNE and has been designated a Center of Excellence by the National League for Nursing three times, most recently for the period 2015–2020. In addition, the U.S. News & World Report consistently ranks the college's nursing distance-education programs within the top 25 in the nation.
Various options for completing a BSN are available at the school including a traditional four-year program, advanced placement options for existing RNs, RN to BSN pathway for working RNs, accelerated BSN, and a dual enrollment ADN/BSN degree option delivered in partnership with North Carolina community colleges. Aspiring master's students are spoiled for choice with eight possible MSN concentrations. DNP and Ph.D. programs add to the breadth of choice for prospective students.
East 5th Street
Greenville, NC 27858
252-328-6131
Website: http://www.ecu.edu
Lees McRae College School of Nursing
Lees-McRae is a private coeducational residential college affiliated with the Presbyterian Church. Its four-year traditional BSN is accredited by CCNE. The low clinical student to faculty ratios of 8:1 are a highlight of its educational program and ensure close supervision and learning support through the 1,100 hours each student spends in clinical settings. Around a third of clinical hours are spent in the Hart Simulation Center which has 3G wireless human simulators and a mocked-up inpatient hospital unit to allow students to practice their skills in a safe environment.
191 Main Street
Banner Elk, NC 28604
828-898-5241
Website: http://www.lmc.edu
Fayetteville State University
Part of the University of North Carolina and fully accredited by CCNE, Fayetteville offers a standard four-year BSN. Students are admitted first to Fayetteville State for general education requirements before applying to the School of Nursing. The focus of the educational program is upon interdisciplinary coursework and strengthening student's writing and research knowledge so that they have the skills to succeed and go on to further advanced studies. The curriculum covers community nursing, nursing research, pediatrics, nursing theory, health assessment, and ethics, culminating in a capstone project. An RN to BSN pathway that can be completed in 12 months is also on offer.
200 Murchison Road
Fayetteville, NC 28301
910-672-1111
Website: http://www.uncfsu.edu
North Carolina Board of Nursing Approved Schools
Barton College School of Nursing
Location: Wilson, North Carolina
Programs: BSN
Founded: 1902
Accreditation Body: ACEN – Accreditation Commission For Education in Nursing
Website: http://www.barton.edu
Cabarrus College of Health Sciences Louise Harkey School of Nursing
Location: Concord, North Carolina
Programs: BSN
Founded: 1942
Accreditation Body: CCNE – Commission on Collegiate Nursing Education
Website: http://www.cabarruscollege.edu
Duke University School of Nursing
Location: Durham, North Carolina
Programs: BSN, MSN
Founded: 1838
Accreditation Body: CCNE – Commission on Collegiate Nursing Education
Website: http://www.duke.edu
East Carolina University School of Nursing
Location: Greenville, North Carolina
Programs: BSN, MSN, PhD
Founded: 1907
Accreditation Body: ACEN – Accreditation Commission For Education in Nursing
Website: http://www.ecu.edu
Fayetteville State University Southeastern North Carolina Nursing Consortium
Location: Fayetteville, North Carolina
Programs: BSN
Founded: N/A
Accreditation Body: CCNE – Commission on Collegiate Nursing Education
Website: http://www.uncfsu.edu
Gardner Webb University School of Nursing
Location: Boiling Springs, North Carolina
Programs: BSN, MSN
Founded: 1905
Accreditation Body: ACEN – Accreditation Commission For Education in Nursing
Website: http://www.gardner-webb.edu
Lees McRae College School of Nursing
Location: Banner Elk, North Carolina
Programs: BSN
Founded: 1900
Accreditation Body: CCNE – Commission on Collegiate Nursing Education
Website: http://www.lmc.edu
Lenoir Rhyne College School of Nursing
Location: Hickory, North Carolina
Programs: BSN
Founded: 1891
Accreditation Body: ACEN – Accreditation Commission For Education in Nursing
Website: http://www.lrc.edu
North Carolina Agricultural and Technical State University School of Nursing
Location: Greensboro, North Carolina
Programs: BSN
Founded: 1891
Accreditation Body: ACEN – Accreditation Commission For Education in Nursing
Website: http://www.ncat.edu
North Carolina Central University School of Nursing
Location: Durham, North Carolina
Programs: BSN
Founded: 1910
Accreditation Body: ACEN – Accreditation Commission For Education in Nursing
Website: http://www.nccu.edu
Queens University of Charlotte School of Nursing
Location: Charlotte, North Carolina
Programs: BSN, MSN
Founded: 1857
Accreditation Body: CCNE – Commission on Collegiate Nursing Education
Website: http://www.queens.edu
The University of North Carolina Chapel Hill School of Nursing
Location: Chapel Hill, North Carolina
Programs: BSN, MSN, PhD
Founded: 1789
Accreditation Body: CCNE – Commission on Collegiate Nursing Education
and ACEN – Accreditation Commission For Education in Nursing
Website: http://www.unc.edu
The University of North Carolina Charlotte School of Nursing
Location: Charlotte, North Carolina
Programs: BSN, MSN
Founded: 1946
Accreditation Body: CCNE – Commission on Collegiate Nursing Education
Website: http://www.uncc.edu
The University of North Carolina Greensboro School of Nursing
Location: Greensboro, North Carolina
Programs: BSN, MSN
Founded: 1891
Accreditation Body: CCNE – Commission on Collegiate Nursing Education
and ACEN – Accreditation Commission For Education in Nursing
Website: http://www.uncg.edu
The University of North Carolina Pembroke School of Nursing
Location: Pembroke, North Carolina
Programs: BSN
Founded: N/A
Accreditation Body: CCNE – Commission on Collegiate Nursing Education
Website: http://www.uncp.edu
The University of North Carolina Wilmington School of Nursing
Location: Wilmington, North Carolina
Programs: BSN, MSN
Founded: 1947
Accreditation Body: CCNE – Commission on Collegiate Nursing Education
and ACEN – Accreditation Commission For Education in Nursing
Website: http://www.uncw.edu
Western Carolina University Cullowhee School of Nursing
Location: Cullowhee, North Carolina
Programs: BSN, MSN
Founded: 1889
Accreditation Body: CCNE – Commission on Collegiate Nursing Education
Website: http://www.wcu.edu
Winston Salem State University School of Nursing
Location: Winston-Salem, North Carolina
Programs: BSN, MSN
Founded: 1892
Accreditation Body: CCNE – Commission on Collegiate Nursing Education
Website: http://www.wssu.edu