Nursing Schools in Maine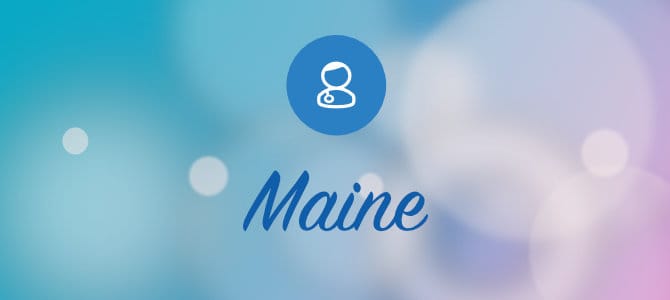 There are 16 schools at Maine that offer excellent and accredited undergraduate nursing programs. Six offer graduate degrees.
The Maine state board of nursing is mandated to protect public health and welfare in the area of nursing practice. Some of the nursing schools that the board has approved for an associate degree in nursing are Central Maine Community College, Maine College of Health Professions, Valley Community College, Southern Maine Community College, and the University of Maine.
For a baccalaureate degree in nursing, you can join schools approved by the board of Husson College/E.M.M.C, St. Joseph's College, Kaplan University. The University of Maine. The University of Maine at Fort Kent, the University of New England, and the University of Southern Maine.
For a prospective student, institutions like the University of Southern Maine provide excellent faculty and programs that involve distinctive and productive community partnerships. This University is strategically located in the southern part of Maine.
Through scholarships and community services that require a combination of professionalism, the University offers a diverse and rich educational curriculum in different fields of a nursing career. The master's programs and baccalaureate at the University are accredited by the Commission on Collegiate Nursing Education, One DuPont Circle.
Located in the state's largest metropolitan region, the Southern Maine University offers an ample and comfy learning environment. Other universities in the state like Husson universities offer various degree and nursing certificates like bachelor of science in nursing degree, nursing education that involves a Master of Science in Nursing for learners who hold a B.S.N. Post Master's Certificate for students who hold and M.S.N. the university also offers a Women's Health Nurse Practitioner CAS.
Sponsored Schools
Location - Tallahassee, FL, US 32309

Since 1977, Keiser University has maintained a practical, hands-on approach to career-focused education to help our students achieve their personal and professional goals.  Our student-ce...ntered approach remains at the foundation of the Keiser University mission and continues to attract students who prefer a more personal learning experience. At Keiser University, you will find a warm, friendly community with faculty and staff truly committed to your success.  Our small class sizes, individualized attention, and one-class-at-a-time schedules create a positive learning environment where you can excel.  Whether your goal is to prepare for a new career or to advance with your current employer, Keiser University is designed around your needs. Keiser University Advantage• Associate, Bachelor's, Master's and Doctoral degree programs• Day, Evening, and Online Classes• Financial Aid to Those Who Qualify• Job Placement Assistance Available• Military-friendly, scholarships for qualified active duty personnel, Veterans, and dependants.  Yellow Ribbon program participant, approved for Veterans trainingPrograms and delivery format vary by campus. Courses are subject to change. Keiser University's programs and curriculum remain in-line with technology and workforce trends, helping you develop the skills and qualifications necessary to succeed in today's job market.  Our career-focused programs make it possible for you to graduate in less time than you may think.  Keiser University is a private, not-for-profit university. Read More

Programs

Accelerated Bachelor of Science in Nursing

Bachelor of Science in Nursing (FastTrack)

Nursing, MSN - Family Nurse Practitioner
Featured Schools
Husson College School of Nursing
The Husson School of Nursing in Bangor works in partnership with the Eastern Maine Medical Center to offer a BSN, an RN to BSN program, and an MSN program. Also on offer are post-master's certificates in Family and Community Nursing, Family Psychiatric Nursing, and Nursing Education. The university is accredited by the Commission on Collegiate Nursing Education (CCNE).
BSN students benefit from the integration of clinical experience throughout the program and have access to a state of the art learning resource laboratory offering opportunities to develop critical thinking, psychomotor skills, and engage in realistic simulated scenarios. The goal of the program is to prepare professional nurses who are theoretically knowledgeable, clinically competent, and compassionate care providers. Previous BSN graduates from Husson have comfortably exceeded the state and national average pass-rate in the NCLEX-RN examination.
1 College Circle
Bangor ME 04401
207-941-7000
Website: http://www.husson.edu/
Saint Joseph's College School of Nursing
Saint Joseph's College is a Roman Catholic liberal arts college in the Sisters of Mercy tradition that enrolls students of all faiths and ages. The framework of the BSN curriculum at St Joseph's is structured around understanding the interconnections between people, health-illness, nursing, and environment, as the four major elements of nursing theory. The college also offers an MSN program. Accreditation is in place from the Commission on Collegiate Nursing Education (CCNE).
Entry to the BSN program is highly selective. Freshman nursing students start nursing courses immediately with clinical experiences beginning in year two. On completion, graduates sit the NCLEX-RN examination for licensure and the pass-rate for previous graduates is in line with the national and state averages.
278 Whites Bridge Road
Standish, ME 04084
855-752-4636
Website: https://www.sjcme.edu/
University of Maine Fort Kent School of Nursing
The BSN program at UMaine Fort Kent has a distinctively rural flavor and a curriculum which is strongly focused on health and wellness. There are three tracks available, a traditional BSN, a 14-month accelerated BSN and an online RN to BSN program. Accreditation status from the Commission on Collegiate Nursing Education (CCNE) is in place. In addition to specified college preparatory courses, applicants seeking entry to the traditional BSN degree program are recommended to have a combined SAT score of 1350 or an ACT score of 19.
Nursing students participate in a preceptorship program where they are mentored one-to-one by an existing Registered Nurse and may also join the Nursing Honor Society and the on-campus Student Nurses Organization.
23 University Drive
Fort Kent, ME 04743
888-879-8635
Website: https://www.umfk.edu/
University of New England School of Nursing
The University of New England is Maine's largest private university. The nursing program is accredited by the Accreditation Commission for Education in Nursing (ACEN). At UNE you can study a traditional BSN, a 16-month accelerated BSN or, if you are already an RN, complete your degree to attain your bachelor's qualification. For traditional BSN students, general education courses take place at the Biddeford seaside campus for the first four semesters. Students then transfer to the urban Portland campus for four semesters of nursing coursework and clinical experiences.
In addition to UNE general admission requirements, candidates for the traditional BSN must have a high school GPA of 3.2, a total SAT score of at least 1100 or an ACT composite score of 22-23. The pass-rate for BSN graduates for the NCLEX-RN licensure exam is higher than the state and US averages.
11 Hills Beach Road
Biddeford, ME 04005
207-283-0171
Website: http://www.une.edu/
Maine Board of Nursing Approved Schools
Husson College School of Nursing
Location: Bangor, Maine
Programs: BSN, MSN
Founded In: 1898
Accreditation Body: Commission on Collegiate Nursing Education (CCNE)
Website: http://www.husson.edu
Saint Joseph's College School of Nursing
Location: Standish, Maine
Programs: BSN, MSN
Founded In: 1912
Accreditation Body: Commission on Collegiate Nursing Education (CCNE)
Website: http://www.sjcme.edu
University of Maine School of Nursing
Location: Orono, Maine
Programs: BSN, MSN
Founded In: 1865
Accreditation Body: Commission on Collegiate Nursing Education (CCNE)
Website: http://www.umaine.edu
University of Maine Fort Kent School of Nursing
Location: Fort Kent, Maine
Programs: BSN
Founded In: 1878
Accreditation Body: Commission on Collegiate Nursing Education (CCNE)
Website: http://www.umfk.maine.edu
University of New England School of Nursing
Location: Biddeford, Maine
Programs: BSN, MSN
Founded In: 1831
Accreditation Body: Accreditation Commission For Education in Nursing (ACEN)
Website: http://www.une.edu
University of Southern Maine School of Nursing
Location: Portland, Maine
Programs: BSN, MSN
Founded In: 1878
Accreditation Body: Accreditation Commission For Education in Nursing (ACEN)
Website: http://www.usm.maine.edu