Nursing Schools in Maine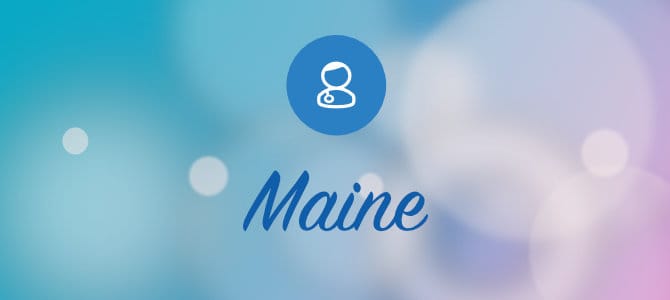 There are 16 schools at Maine that offer excellent and accredited undergraduate nursing programs. Six offer graduate degrees.
The Maine state board of nursing is mandated to protect public health and welfare in the area of nursing practice. Some of the nursing schools that the board has approved for an associate degree in nursing are Central Maine Community College, Maine College of Health Professions, Valley Community College, Southern Maine Community College, and the University of Maine.
For a baccalaureate degree in nursing, you can join schools approved by the board of Husson College/E.M.M.C, St. Joseph's College, Kaplan University. The University of Maine. The University of Maine at Fort Kent, the University of New England, and the University of Southern Maine.
For a prospective student, institutions like the University of Southern Maine provide excellent faculty and programs that involve distinctive and productive community partnerships. This University is strategically located in the southern part of Maine.
Through scholarships and community services that require a combination of professionalism, the University offers a diverse and rich educational curriculum in different fields of a nursing career. The master's programs and baccalaureate at the University are accredited by the Commission on Collegiate Nursing Education, One DuPont Circle.
Located in the state's largest metropolitan region, the Southern Maine University offers an ample and comfy learning environment. Other universities in the state like Husson universities offer various degree and nursing certificates like bachelor of science in nursing degree, nursing education that involves a Master of Science in Nursing for learners who hold a B.S.N. Post Master's Certificate for students who hold and M.S.N. the university also offers a Women's Health Nurse Practitioner CAS.
Sponsored Schools
Location - Pittsfield, MA, US 01201

The mission of Mildred Elley is to provide quality career education and technical training to allow students of diverse educational, cultural and personal backgrounds to become successful in an eve...r-changing global economy. Mildred Elley strives to afford students quality placement opportunities and instill in all of our graduates a desire for lifelong education and learning. Mildred Elley is a co-ed college in Albany, NY with branch campuses in Pittsfield, MA and New York City (Lower Manhattan). Mildred Elley has provided quality higher education for over a century. Each program at Mildred Elley is designed to help you get the career you want in a short amount of time. Programs at Mildred Elley The programs at Mildred Elley offer the most advanced job training available because we know how crucial up-to-date employment skills are to our students' professional development. We design and continually update our courses of study to help you become the perfect match for future employers. Mildred Elley offers a variety of degree and certificate programs that fit your needs for obtaining a successful career. Not all programs offered at all campuses. Benefits of Mildred Elley Flexible Class Schedules Mildred Elley knows not everyone has an open schedule. No matter what your busy day looks like, you can attend class in a variety of sessions: day, evening or weekends, and take some classes online as well. See admissions for class schedule options. Small Class Sizes & Academic Support Our small class sizes allow for more student-to-teacher interaction and overall a more intimate learning environment. This personalized attention gives you the support necessary for your success. Your department chair and faculty act as your mentors; they are available to discuss courses, classwork, careers and anything else that may come up. Faculty and staff will be there to assist you every step of the way. Lifetime Job Placement Assistance Now more than ever, people need a helping hand finding work. Students and graduates of Mildred Elley can rely on us to aid them in finding gainful employment. Our career services staff is dedicated to our graduates for life. Financing Your Education At Mildred Elley, financial aid and scholarships are available for those who qualify. The Office of Financial Aid is dedicated to assisting students with the financial aid process. Free Tutoring & Personal Attention Hand in hand with small class sizes, Mildred Elley offers a variety of academic support services including free tutoring. Take the Next Step Towards the Career of Your Dreams Mildred Elley is the perfect choice for individuals just out of high school, unemployed, underemployed, or looking for a new career. You can receive career training in a wide variety of programs and features designed to allow you to get the most out of your educational experience. At Mildred Elley, you are more than just a student—you are a professional in training. Read More

Programs

Practical Nurse (LPN) - CERT

Location - Louisville, KY, US 40205

Earn your degree from an accredited university by taking all of your classes online. Sullivan University Online delivers high quality online degree programs in an e-Learning environment that allows... you to fit education into your life. Read More

Programs

Practical Nursing Diploma

Location - Boynton Beach, FL, US 33426

At Florida Career College, we encourage our students to achieve their highest potential. We understand that each student learns and grows at their own pace. Our goal is to successfully prepare you ...for new career opportunities. We are the college that cares Whether you're interested in a career in healthcare, computers, cosmetology or trades, FCC is here for you! With real world equipment and training facilities, students have the added advantage of gaining hands-on experience.Our schools offer hybrid learning - online learning with hands-on training in the labs on campus. Our instructors are knowledgeable in their fields and dedicated to helping you succeed. Our career services department is dedicated to helping you find a job! Many of the programs can be completed in as little as 8-9 months!* If you don't have your High School Diploma, ask us about your options! As a student in one of our eligible career pathway programs, you'll have the opportunity to earn your High School Diploma while you complete your career training! Best of all, the opportunity to complete high school is available to you at no additional cost!** Our schools are accredited and ready to get you started on your path to success. Financial Aid is available for those who qualify! **Not all programs are eligible. www.careercollege.edu/studentdisclosures *Timing varies by program. Florida Career College – Miami is the main campus and Boynton Beach, Hialeah, Houston, Jacksonville, Lauderdale Lakes, Margate, Orlando, Pembroke Pines, Tampa, and West Palm Beach  are Branch campuses. Programs vary by campus. All campuses are institutionally accredited by the Accrediting Council for Independent Colleges and Schools (ACICS).Florida Career College – Boynton Beach, Hialeah, Houston, Jacksonville, Lauderdale Lakes, Margate, Miami, Orlando, Pembroke Pines, Tampa, and West Palm Beach are accredited by the Commission of the Council on Occupational Education (COE). Read More

Programs

Patient Care Technician (10-month diploma program)
Featured Schools
Husson College School of Nursing
The Husson School of Nursing in Bangor works in partnership with the Eastern Maine Medical Center to offer a BSN, an RN to BSN program, and an MSN program. Also on offer are post-master's certificates in Family and Community Nursing, Family Psychiatric Nursing, and Nursing Education. The university is accredited by the Commission on Collegiate Nursing Education (CCNE).
BSN students benefit from the integration of clinical experience throughout the program and have access to a state of the art learning resource laboratory offering opportunities to develop critical thinking, psychomotor skills, and engage in realistic simulated scenarios. The goal of the program is to prepare professional nurses who are theoretically knowledgeable, clinically competent, and compassionate care providers. Previous BSN graduates from Husson have comfortably exceeded the state and national average pass-rate in the NCLEX-RN examination.
1 College Circle
Bangor ME 04401
207-941-7000
Website: http://www.husson.edu/
Saint Joseph's College School of Nursing
Saint Joseph's College is a Roman Catholic liberal arts college in the Sisters of Mercy tradition that enrolls students of all faiths and ages. The framework of the BSN curriculum at St Joseph's is structured around understanding the interconnections between people, health-illness, nursing, and environment, as the four major elements of nursing theory. The college also offers an MSN program. Accreditation is in place from the Commission on Collegiate Nursing Education (CCNE).
Entry to the BSN program is highly selective. Freshman nursing students start nursing courses immediately with clinical experiences beginning in year two. On completion, graduates sit the NCLEX-RN examination for licensure and the pass-rate for previous graduates is in line with the national and state averages.
278 Whites Bridge Road
Standish, ME 04084
855-752-4636
Website: https://www.sjcme.edu/
University of Maine Fort Kent School of Nursing
The BSN program at UMaine Fort Kent has a distinctively rural flavor and a curriculum which is strongly focused on health and wellness. There are three tracks available, a traditional BSN, a 14-month accelerated BSN and an online RN to BSN program. Accreditation status from the Commission on Collegiate Nursing Education (CCNE) is in place. In addition to specified college preparatory courses, applicants seeking entry to the traditional BSN degree program are recommended to have a combined SAT score of 1350 or an ACT score of 19.
Nursing students participate in a preceptorship program where they are mentored one-to-one by an existing Registered Nurse and may also join the Nursing Honor Society and the on-campus Student Nurses Organization.
23 University Drive
Fort Kent, ME 04743
888-879-8635
Website: https://www.umfk.edu/
University of New England School of Nursing
The University of New England is Maine's largest private university. The nursing program is accredited by the Accreditation Commission for Education in Nursing (ACEN). At UNE you can study a traditional BSN, a 16-month accelerated BSN or, if you are already an RN, complete your degree to attain your bachelor's qualification. For traditional BSN students, general education courses take place at the Biddeford seaside campus for the first four semesters. Students then transfer to the urban Portland campus for four semesters of nursing coursework and clinical experiences.
In addition to UNE general admission requirements, candidates for the traditional BSN must have a high school GPA of 3.2, a total SAT score of at least 1100 or an ACT composite score of 22-23. The pass-rate for BSN graduates for the NCLEX-RN licensure exam is higher than the state and US averages.
11 Hills Beach Road
Biddeford, ME 04005
207-283-0171
Website: http://www.une.edu/
Maine Board of Nursing Approved Schools
Husson College School of Nursing
Location: Bangor, Maine
Programs: BSN, MSN
Founded In: 1898
Accreditation Body: Commission on Collegiate Nursing Education (CCNE)
Website: http://www.husson.edu
Saint Joseph's College School of Nursing
Location: Standish, Maine
Programs: BSN, MSN
Founded In: 1912
Accreditation Body: Commission on Collegiate Nursing Education (CCNE)
Website: http://www.sjcme.edu
University of Maine School of Nursing
Location: Orono, Maine
Programs: BSN, MSN
Founded In: 1865
Accreditation Body: Commission on Collegiate Nursing Education (CCNE)
Website: http://www.umaine.edu
University of Maine Fort Kent School of Nursing
Location: Fort Kent, Maine
Programs: BSN
Founded In: 1878
Accreditation Body: Commission on Collegiate Nursing Education (CCNE)
Website: http://www.umfk.maine.edu
University of New England School of Nursing
Location: Biddeford, Maine
Programs: BSN, MSN
Founded In: 1831
Accreditation Body: Accreditation Commission For Education in Nursing (ACEN)
Website: http://www.une.edu
University of Southern Maine School of Nursing
Location: Portland, Maine
Programs: BSN, MSN
Founded In: 1878
Accreditation Body: Accreditation Commission For Education in Nursing (ACEN)
Website: http://www.usm.maine.edu