Licensed Practical Nurse (LPN/LVN)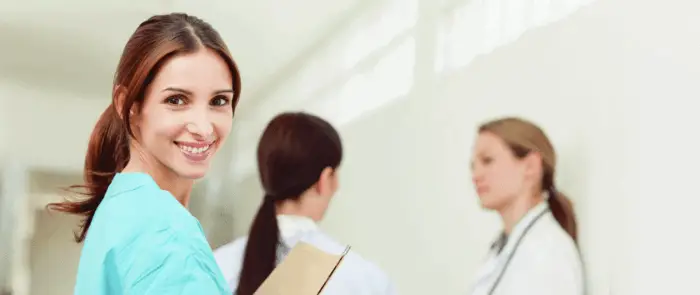 Becoming a Licensed Practical Nurse (LPN) could be the perfect career option for you if you are considering a career in healthcare. You don't need a college degree to pursue the position, and the required qualifications can often be obtained in a year. If you love to work hands-on with people and know your personality fits the mold, this may be your calling.
Use this guide to explore what it means to become an LPN, what the education requirements are, what the job and growth outlooks are, and what your career path could look like.
What is an LPN?
The role of a licensed practical nurse is critical to the healthcare system – LPNs provide patients with essential care on a day-to-day basis under the supervision of Registered Nurses (RNs) and physicians. As subordinates to RNs and physicians, LPNs have several key responsibilities.
​LPN vs. LVN
A Licensed Practical Nurse (LPN) is the same as a Licensed Vocational Nurse (LVN). The title "Licensed Vocational Nurse" is used in Texas and California. 
In all other states, the title "Licensed Practical Nurse" is used. However, the duties remain the same.
How are LPNs different from CNAs?
A Certified Nursing Assistant (CNA) also works to help patients with daily living activities. However, CNAs have a more limited scope of practice and often work under an LPN's supervision. 
CNA responsibilities include:
Transporting patients
Answering call lights
Checking a patient's vital signs
Cleaning patient rooms
Reporting changes in condition to nursing staff
However, unlike an LPN, a CNA does not:
Administer medication 
Collect samples 
Assist with wound care
Insert and care for urinary catheters
Care for patients with ventilators and tracheostomy tubes
Provide feeding through nasogastric tubes
Perform emergency CPR
CNAs have a shorter education period, typically lasting between 4-12 weeks, and have a mean salary of $29,640 per year.
How are LPNs Different From RNs?
The duties and responsibilities of a Registered Nurse (RN) differ greatly from the duties of an LPN. RNs are primarily responsible for supervising LPNs, but they often assist patients with their daily living activities.
In addition to taking on the responsibility of managing LPNs, they must also:
Perform ACLS and PALS
Maintain accurate documentation
Develop a plan of care for each patient
Ensure patient safety (nonmaleficence)
Admit and discharge patients appropriately
Correctly assess and manage patient populations with appropriate intervention.
There are three educational paths to becoming a registered nurse:
RNs can further specialize in areas such as critical care, emergency care, or labor and delivery. They have a mean salary of $73,300 per year. 
LPN Salary
According to Salary.com, The average Licensed Practical Nurse makes $50,411 per year as of June 28, 2021. The salary range typically falls between $45,840 and $56,442. Salary ranges can vary widely depending on many important factors, including education, certifications, and the number of years you have spent in your profession.
LPN salaries are right in the middle of what CNAs and RNs get compensated. The small fraction of LPNs that work at government or military facilities are typically paid the highest salaries, whereas LPNs employed at physician's offices are typically on the lower end of the salary range.
Which States Pay the Most? ​
If you are flexible about relocating, you could consider moving to the best-paying states after becoming an LPN.
Here's a list of the top five best-paying states:0px0px
| | | |
| --- | --- | --- |
| State | Annual Mean Wage | Hourly Mean Wage |
| Alaska | $63,850 | $30.70 |
| Massachusetts | $60,340 | $29.01 |
| California | $60,240 | $28.96 |
| Rhode Island | $59,860 | $28.78 |
| Nevada | $58,470 | $28.11 |
Source: BLS.gov
Licensed Practical Nurses in Virginia get paid the lowest salary – $37,500 annually ($18.03 per hour).
What Does a Licensed Practical Nurse Do?
Collecting samples, taking vital signs, and administering medication are the primary responsibilities of an LPN. LPNs must also ensure patient comfort – helping them eat, dress, bathe, and giving them the quality care they need.
As an LPN, you will work closely with RNs and physicians to maintain clear communication about the status of a patient's recovery and aid them in keeping detailed records. Additionally, you must work with the patient's families and understand procedures to care for sick relatives.
​Where Do Licensed Practical Nurses Work?
Here's a breakdown of work environments as reported by the Bureau of Labor Statistics:
The majority (38%) of LPNs work at nursing homes and residential care facilities.
16% of all LPNs in the USA work at hospitals, whereas 13% work at physician's offices.
A smaller number of LPNs (12%) provide home healthcare services, and 7% LPNs work at government or military facilities.
The remaining fraction (14%) of LPNs work at research centers, schools, churches, and charities. 
An even smaller number of LPNs come across unconventional opportunities, such as working as a nurse on cruise ships, in amusement parks, and even as consultants on TV shows. 
What is the Career Outlook for LPNs​?
The BLS expects a 9% increase in the employment of LPNs over the next ten years. In context, the average growth in employment hovers around the 4% mark. 
The estimates hold water since the baby-boomer population is beginning to age. Additionally, chronic conditions like diabetes and obesity are becoming more and more prevalent.
It is also expected that employers will favor LPNs that specialize in areas like gerontology and IV therapy.
What Career Paths are Available to Licensed Practical Nurses​?
Becoming an LPN gives you a lot of flexibility. You can explore the different areas of nursing and find what your true passion is.
After you become an LPN, you could transition into a BSN-RN role, better known as the registered nurse role.
While becoming a BSN-RN requires you to earn a four-year Bachelor of Science in Nursing degree, you can go through an accelerated BSN program after you become an LPN.
After you finish the program, you'll be qualified to take the NCLEX-RN exam to transition from a registered practical nurse role to a registered nurse role.
You could also use your LPN license to become a Nurse Practitioner (NP). However, the process is challenging. After you become an LPN, you will need to complete the following to become an NP:
Earn a BSN.
Pass the NCLEX-RN exam.
Gain 1-2 years of experience working as an RN.
Apply and complete your graduate degree in nursing (takes ≈ 1.5 years to complete).
Choose a specialty and complete specific coursework (and 500 hours of supervised clinical hours).
Pass a comprehensive exam in your specialty.
NPs are compensated very well (earning an average of $109,820 annually) and enjoy generous benefits. Watch this video on 7 reasons why you should consider becoming an LPN.
How do I Become a Licensed Practical Nurse?
To become an LPN, you must obtain a specific certification and take the right test.
For CNAs
There are programs specifically designed for CNAs to become LVNs. Here are some CNA to LVN programs in California.
Sponsored Programs
Location - Lakeland, FL, US 33805

Since 1977, Keiser University has maintained a practical, hands-on approach to career-focused education to help our students achieve their personal and professional goals.  Our student-ce...ntered approach remains at the foundation of the Keiser University mission and continues to attract students who prefer a more personal learning experience. At Keiser University, you will find a warm, friendly community with faculty and staff truly committed to your success.  Our small class sizes, individualized attention, and one-class-at-a-time schedules create a positive learning environment where you can excel.  Whether your goal is to prepare for a new career or to advance with your current employer, Keiser University is designed around your needs. Keiser University Advantage• Associate, Bachelor's, Master's and Doctoral degree programs• Day, Evening, and Online Classes• Financial Aid to Those Who Qualify• Job Placement Assistance Available• Military-friendly, scholarships for qualified active duty personnel, Veterans, and dependants.  Yellow Ribbon program participant, approved for Veterans trainingPrograms and delivery format vary by campus. Courses are subject to change. Keiser University's programs and curriculum remain in-line with technology and workforce trends, helping you develop the skills and qualifications necessary to succeed in today's job market.  Our career-focused programs make it possible for you to graduate in less time than you may think.  Keiser University is a private, not-for-profit university. Read More

Programs

Accelerated Bachelor of Science in Nursing

Bachelor of Science in Nursing (FastTrack)

Location - Louisville, KY, US 40205

Earn your degree from an accredited university by taking all of your classes online. Sullivan University Online delivers high quality online degree programs in an e-Learning environment that allows... you to fit education into your life. Read More

Programs

Practical Nursing Diploma

Location - Knoxville, TN, US 37909

Since South College was founded in 1882, we have focused on serving students who want hands-on, career-driven education that will have a meaningful impact on their lives and livelihoods.More than a ce...ntury ago, fulfilling that mission meant supplying on-campus offices so students could conduct business in the mercantile and banking industries while getting an education.Today, it means offering accelerated, hybrid, transfer, and distance learning programs. It means small class sizes, state-of-the-art labs, and campuses that are convenient to large numbers of students. Most of all, it means experienced professors who provide real world examples and lead in-depth discussions. Read More

Programs

B.S.N. - Nursing (Accelerated)

Certificate - Licensed Practical Nurse
What are the Education and Certification Requirements?
After you earn your high school diploma, you must apply for and be accepted by a school offering an accredited program. Once you're certified, you must take the NCLEX-PN exam. Keep in mind that while testing sites are located all across the country, spots tend to fill up fast.
You will be able to view your results within 48 hours of the test and receive your license in the mail and an official copy of your results.
How Long Does it Take to Become an LPN​?
Getting the certification to become an LPN takes anywhere between one and two years. How fast you complete it depends on your commitment. 
However, some accelerated programs will earn you your certification in as little as seven months. But don't forget that you need to study for the NCLEX-PN exam, which typically takes two months.  
Can I Attend LPN Nursing School Online​?
There are no programs that offer a fully-online curriculum.
However, some schools offer hybrid LPN programs that allow you to complete a chunk of your coursework online. The remainder of your coursework must be completed at a local nursing school or medical facility.
But living within commuting distance of the facilities where the training takes place is a must if you wish to enroll in hybrid programs.
Most LPN programs require you to core classes in science and mathematics. A lot of these classes are offered online, which will give you some more flexibility.
​Can I Get Financial Aid?
You may be eligible for financial aid. There are many ways for you to apply for financial aid. There are several nursing scholarships you could apply for as well. However, you must remember that these are merit-based, and it takes a lot to qualify. 
Applying for need-based grants is also a good option. The grant you get depends on your financial situation and can be used to cover tuition, housing, books, transportation, and other needs.
You could also apply for a loan, preferably a federal student loan. You don't have to pay it back when you're in school, and the government charges a lower interest than private lenders. The government may allow you to defer your payments if you face financial hardships later, or transition you into a plan that fits your budget.
Nurses are also eligible for loan forgiveness if they have a federal student loan.
You could also look into getting Stafford loans or apply for Federal Perkins Loans, which most nursing students consider the go-to option.
Avoid getting private student loans if possible. They can become a financial burden later on.
​Do I Need a License?
Yes, getting a license is one of the primary requirements for LPN jobs.
You can apply for the test (NCLEX-PN) on the National Council of State Boards of Nursing's official website. It costs $200.
You will be tested on four subjects:
Safe and Effective Care Environment
Health Promotion and Maintenance
Psychosocial Integrity
Physiological Integrity
​What Continuing Education is Required for an LPN?
You will likely need to complete CEUs to renew your license. CEU is short for Continuing Education Units.
Depending on what state you live in, you must earn a specific number of CEUs in a fixed period. However, some states do not require you to earn CEUs at all.
Most state boards randomly audit nurses and ask for proof of completed CEUs when applying for renewal. If you cannot prove that you have completed your CEUs, your LPN license may be suspended until you obtain them.
​Can Licensed Practical Nurses Specialize?
Specializing in an area of nursing is another excellent way to advance your career.
It's easy to transition into different areas of healthcare as an LPN. If you find that you're passionate about a specific part of your job, or see better growth opportunities in particular specializations, getting a certification in that area is a good idea.
There are several specialty LPN certifications, some of which include:
Oncology LPN
Pediatric LPN
Emergency room LPN
Labor and delivery LPN
Rehabilitative and Gerontology LPN
How Can I Transition From an LPN To an RN​?
You can transition from an LPN to an RN by enrolling in either an LPN-to-ADN program or an LPN-to-BSN program. While both the programs will help you build on existing knowledge, both offer benefits and disadvantages that you will need to gauge.
The cost of these programs varies hugely depending on the school you attend. In any case, scholarships and grants can reduce the burden. 
Depending on whether you're pursuing an associate's degree or a bachelor's degree, completing an LPN-to-RN program can take between two and four years.
​Where Can I Find a Nursing School Near Me?
You can search for approved nursing programs here, or by visiting the state board of nursing website for your state. 
​Where Can I Find Jobs?
You can find jobs on job posting websites, or even enquire at the facility you'd like to work at directly. There's no shortage of jobs – in fact, the number of positions is expected to grow astronomically.
Can I Transfer My License to Another State​?
Yes. Should you need to move from one state to another, you can transfer your license by following these steps.
—
If you're passionate about healthcare but don't have a college degree, or just don't want to go down that road, getting your LPN license is a great way to go.
Will it take hard work? Yes.
But in addition to answering your calling, you will also avoid getting into massive debt, be compensated well, and earn a respected place in society.