OR Nurse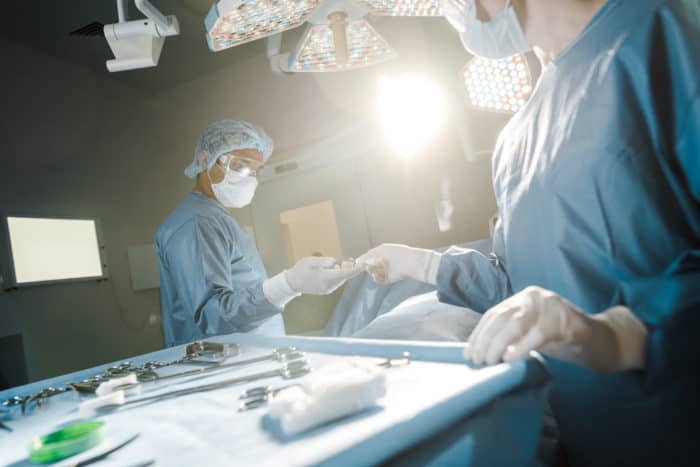 Not everyone is cut out to be a nurse. In addition to being a natural-born empath and having an inherent drive to provide care to others, you also need to be focused and disciplined. The importance of these qualities compounds in high-stress environments, especially for an OR Nurse.
If you're the kind of person who can stay focused and remain calm under pressure, becoming a CNOR credentialed perioperative nurse may be the right career choice for you.
But what exactly is an OR nurse's job? Are perioperative nurses in demand? And what qualifications does one need to become a perioperative nurse?
To help you understand the role's requirements and what it entails to work in an operating room, we've answered these questions and more below.
What Does An Operating Room Nurse Do?
Operating Room nurses spend most of their workday providing patients with medical attention before, during, and after surgery. It is for this reason that having surgical and medical skills is crucial for an OR nurse.
On any given day, an operating room nurse may be required to:
Ensure medical equipment is functioning correctly.
Monitor the patient's condition and ensure their safety.
Convey the needs of the patient to the rest of the team.
Educate the patient and their family about the procedure.
Arrange for medical supplies that the patient and the OR need.
Manage a patient throughout the surgical procedure including patient positioning.
OR nurses also have other responsibilities, almost all of which demand a calm demeanor even if the circumstances are stressful. Perioperative nurses have a thorough knowledge of medical technology. They also pay great attention to detail to ensure that every patient gets the care they need, especially during surgery.
OR nursing is one of the only jobs in healthcare where an RN must care for only one patient at a time before, during, and after surgery.
The most common surgeries an operating room nurse helps with include:
C-section surgery
Lower back surgeries
Appendectomies
Coronary bypasses
Mastectomies
Breast biopsies
Tonsillectomies
The role may sound difficult. However, while demanding, the job can be highly rewarding as most patients undergo procedures that are life-changing or even life-sustaining.
Where Do Perioperative Nurses Work?
A perioperative nurse will typically work in an operating room in various healthcare facilities. However, a registered nurse may also work in departments concerned with the operating room and the surgery that takes place in it.
Hospital Operating Rooms
Most OR nurses, especially scrub nurses, work in general hospitals and assist other healthcare professionals in orchestrating various surgeries. The majority of general service hospitals handle mild surgeries and also surgical procedures to correct developing conditions in patients.
Outpatient Centers
These are also known as ambulatory centers, but they're fundamentally the same as hospitals. The key differentiating factor is that these prioritize treating patients who do not need overnight care. In this work environment, scrub nurses may help with outpatient surgeries.
More than 50% of elective surgeries are performed in outpatient centers. As a result, OR nurses can expect to have densely packed schedules. However, most of the procedures performed at outpatient centers are minor procedures.
An operating room nurse at an outpatient center will mostly be involved in limited ear and nose procedures. They may also help with tonsillectomies, nerve ministrations, and surgeries that involve the extremities of the human body.
Cancer Centers
These healthcare facilities explicitly treat advanced stages of cancer in patients. OR nurses at these facilities are involved in assisting a surgeon(s) with diagnostic, curative, preventive, and invasive surgical procedures.
One of the best things about being a perioperative nurse is that you don't have to be tied to one employer. You can move from one medical center to another. You can also become a travel OR nurse. Travel nurses stay at medical centers for short periods of time before moving to another facility.
How Much do OR Nurses Make?
The most recent reports on nursing from the Bureau of Labor Statistics indicate that the RNs make a salary of $73,300 annually on average. However, OR nurses typically make more than that during their career when seeking roles in nursing with greater responsibility.
Charge nurses typically make a lot more than a regular OR nurse, so if you want to increase your salary, that is the role to pursue in nursing.
You may be paid more or less depending on your experience, work environment, location, and education level. For example, OR nurses with a BSN earn significantly more.
Types of Operating Room Nurses
Scrub Nurses (Intra-Op Nurses)
A scrub nurse is a registered nurse whose specialty is to sterilize and prepare the OR for a procedure. The duties of these specialized nurses include setting up and counting surgical tools along with ensuring that they are sterile.
One of the key duties of these nurses also includes handing the surgeon the tool they need during the surgery. Besides this, an intra-op nurse may also need to complete paperwork if circumstances demand it.
Pre-Op RNs
These registered nurses note the patient's medical history and ensure that they are stable and ready for surgery. Pre-ops must also start any IVs patients require, monitor the patient's vital signs, complete required paperwork, and educate the patient and their family about the procedure.
Circulating Nurses
The circulating nurse is a passive participant in surgical procedures. Circulating nurses are responsible for ensuring that the surgical team follows protocol in the operating room. They work to ensure that every action in the operating room is carried out bearing in mind the patient's best interest.
These health care workers must also keep track of the sterile tools used in the operating room, and must call for a time-out when necessary.
RN First Assistants
These operative room nurses participate actively in invasive surgeries. It is their job to prevent bleeding, ensure stable blood pressure, and administer medication as necessary. These health care works must perform CPR if the patient suffers from cardiac arrest.
During the procedure, the clinical expert must also monitor the patient's vital signs and ensure that the team takes steps to protect the patient's well-being.
Post-Op RN
Post-op nursing is a specialty, and the nurse provides medical care to a patient right after surgery. It is one of the most in-demand specialties, and the nurses in this role are also called Post-Anesthesia Care Unit (PACU) nurses.
Some of the duties of the PACU include:
Monitor the patient after they recover from anesthesia.
Observe patients for complications.
Educate the patient about how they can recover faster.
Move the patient to another unit or discharge them as necessary.
Other Types of OR Nurses
There are some nursing roles that bear parallels with OR nurses. Infection control nurses, nurse anesthetists, and nurse consultants are some of the many specialized nurses that can help other health care workers during a procedure if necessary.
How do You Become an Operating Room Nurse?
Becoming an RN
To become an OR nurse that works at a medical facility, you must first get an RN license. The education requirements for the role of an RN are quite flexible.
You must, at minimum, have an Associate's Degree in Nursing, which takes two years to complete to become an RN. While having a Bachelor's degree of Science in Nursing (BSN) is optional, most employers prefer hiring professionals that hold a degree in nursing.
Some employers choose to hire those with an associate's degree for an RN position; however, they require them to earn their bachelor's degree by an agreed-upon time.
Getting Licensed
After finishing your nursing program, you must pass the National Council Licensure Examination (NCLEX-RN). The exam may comprise a maximum of 265 questions, of which you must answer at least 75 correct to apply for a license.
Keep in mind that a criminal background check and a reference letter are required in most states to get your license.
OR nurse positions aren't open to new graduates. You must either have completed an internship or have at least one year of bedside experience to get a job as an OR nurse.
While most prefer earning a degree in nursing before starting to work as a healthcare professional, you can choose to enroll in a hospital-based diploma program and kickstart your career.
While you cannot earn a degree with a hospital-based program, you will receive a lot of hands-on training, allowing you to get a job quicker. That being said, you will need to start your nursing career in the same hospital that trains you and work there for an agreed-upon period.
Certifications and Specialization
Getting certified is one of the best ways to accelerate your career and earn a higher salary. After you become an OR nurse, you can get a Certified Perioperative Nurse (CNOR) certification.
However, keep in mind that you must have at least two years of experience as an OR nurse to be eligible for CNOR certification.
Alternatively, you could get a CRNFA, CSSM, or CNS-CP certification to become a first assistant, manager, or clinical nurse specialist respectively. You can look at your various specialization options on the AORN website.
Sponsored Programs
Location - Knoxville, TN, US 37909

Since South College was founded in 1882, we have focused on serving students who want hands-on, career-driven education that will have a meaningful impact on their lives and livelihoods.More than a ce...ntury ago, fulfilling that mission meant supplying on-campus offices so students could conduct business in the mercantile and banking industries while getting an education.Today, it means offering accelerated, hybrid, transfer, and distance learning programs. It means small class sizes, state-of-the-art labs, and campuses that are convenient to large numbers of students. Most of all, it means experienced professors who provide real world examples and lead in-depth discussions. Read More

Programs

M.S.N. - Con Family Nurse Practitioner & Psychiatric Mental Health

M.S.N. - Con Family Nurse Practitioner (BSN-MSN)

M.S.N. - Con Family Nurse Practitioner (RN-MSN)

M.S.N. - Con Psy/Mental Health Nurse Practitioner

M.S.N. - Con Pediatric Nurse Practitioner

A.S. - Health Science (Pre-Nursing)

M.S.N. - Con Nurse Executive & Family Nurse Practitioner

M.S.N. - Con Nurse Executive

D.N.P. - Con Nurse Executive

M.S.N. - Con Nurse Executive (RN-MSN)

Location - Naples, FL, US 34112

Since 1977, Keiser University has maintained a practical, hands-on approach to career-focused education to help our students achieve their personal and professional goals.  Our student-ce...ntered approach remains at the foundation of the Keiser University mission and continues to attract students who prefer a more personal learning experience. At Keiser University, you will find a warm, friendly community with faculty and staff truly committed to your success.  Our small class sizes, individualized attention, and one-class-at-a-time schedules create a positive learning environment where you can excel.  Whether your goal is to prepare for a new career or to advance with your current employer, Keiser University is designed around your needs. Keiser University Advantage• Associate, Bachelor's, Master's and Doctoral degree programs• Day, Evening, and Online Classes• Financial Aid to Those Who Qualify• Job Placement Assistance Available• Military-friendly, scholarships for qualified active duty personnel, Veterans, and dependants.  Yellow Ribbon program participant, approved for Veterans trainingPrograms and delivery format vary by campus. Courses are subject to change. Keiser University's programs and curriculum remain in-line with technology and workforce trends, helping you develop the skills and qualifications necessary to succeed in today's job market.  Our career-focused programs make it possible for you to graduate in less time than you may think.  Keiser University is a private, not-for-profit university. Read More

Programs

Nurse Anesthesia Practice, DNAP Completion

Bachelor of Science in Nursing (FastTrack)

Accelerated Bachelor of Science in Nursing

Nursing, MSN - Family Nurse Practitioner
Perioperative Nurse: Job Outlook
It couldn't be a better time to pursue the position of an OR nurse, since the Association of Perioperative Registered Nurses estimates a need for one million more registered nurses by 2022. OR nurses are among the highest in demand.
The field of nursing is growing fast, and there is a shortage of nurses qualified enough to fill OR positions. The Bureau of Labor Statistics estimates the requirement of OR nurses to increase by 7% by 2029.
Advancing Your Career After Becoming an OR Nurse
One of the best things you can pursue to advance your career is to earn a CRNA certification and become a nurse anesthetist. Nurses in that role make twice as much as OR nurses — the BLS reports that CRNAs make a median salary of $183,580.
Other roles you can consider include General Nurse Practitioner, Clinical Nurse Specialist, Nursing Administrator, and Certified Nurse Midwife. All of these positions pay at least $100,000 annually, often a lot more.