How to Become a Nurse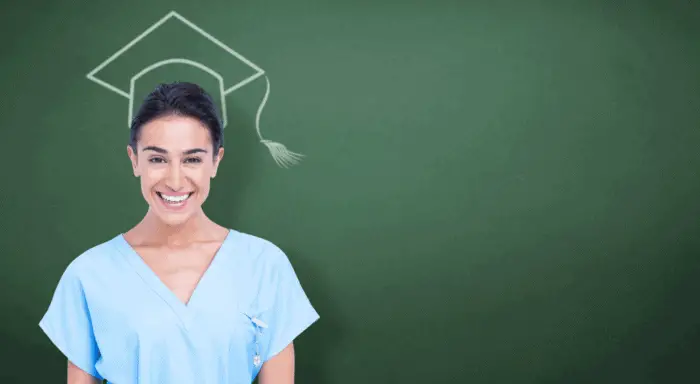 Nursing is a career filled with professional and emotional satisfaction. It's also a good way to make a living. That's why we've created this 5 step guide to show you how to become a nurse in 2021.
Demand for nurses is expected to remain high for the foreseeable future, primarily because of the aging baby boom generation. Unlike many careers, nursing offers multiple educational options. You can become a licensed practical/vocational nurse (LPN/LVN), a registered nurse (RN), or an advanced practice nurse (APN).
Choose Your Career Path
The first step to becoming a nurse is choosing a career path. The nursing field is vast and you can go in many directions. Since you can change your direction along the way as you gain more experience, the most important step is to just START.
You might choose to start out as a staff nurse or certified nursing assistant (CNA) and work your way up to nurse administrator. Or, you may choose to pursue a college degree in nursing and become an RN.
Regardless of what you choose, there are lots of bridge programs available that will allow you to leverage what you've already learned to take your career to the next level of nursing.
What Setting Suits You Best?
When thinking about where you want to start your nursing career, consider the work environment you prefer. For example, you might prefer working in an assisted living facility over a hospital. Or a doctor's office over a procedural clinic. You might even enjoy working as a school nurse.
In addition to setting, think about the role you'd like to fill. As a healthcare provider, you're part of a team. On that team, you might prefer interfacing with patients more (e.g. LPN or CNA) than overseeing certain systems or managing other nurses (e.g. RN).
Similar to the role you'd like to fill is what specialty you'd like to pursue. From pediatric and oncology nurses to geriatric and psychiatric nurses, there are over 30 different specialties to choose from.
If you were to divide the nursing profession into three categories, those would be nursing assistants, practical nurses, and professional nurses. A Certified Nursing Assistant is known as a CNA. A Licensed Practical Nurse is known as an LPN. And a professional nurse is referred to as an RN or Registered Nurse.
How Long Does it Take to Become a Nurse?
The career path you choose will be a big factor in determining how long it will take you to become a nurse. Below are a list of nursing programs and the average time it takes to complete them.
CNA – 1-2 months
LPN/LVN – 18 months
Diploma – 24-36 months
Associate Degree – 24 months
Bachelor's Degree – 48 months
Master's Degree – 24 months with a BSN
Doctoral Degree – 36-48 months with a BSN
For more details, check out this post on how long does it take to become a nurse. It outlines all of the different timelines from starting with a high school diploma and looking to become an RN, or having a non-nursing bachelor's degree and looking to become a nurse practitioner.
Earn Your Degree
Whether you hope to be a licensed practical or vocational nurse (LPN/LVN), registered nurse (RN), or administrator, getting your education is fundamental. Every state and the District of Columbia requires students to graduate from an accredited nursing program to become licensed.
The career path you're interested in pursuing will typically dictate the type of nursing degree you'll need.
Fundamental Education Programs
All nursing programs must meet accreditation standards and include basic education such as anatomy, physiology, microbiology, nutrition, human development, chemistry, and psychology, as well as general education requirements like English and Mathematics.
Each program has a clinical component, in which students perform nursing tasks under the supervision of an instructor and experienced nurses. The clinical components include hospital practice and may also include outpatient facilities or long-term nursing care facilities.
Certified Nursing Assistant (CNA)
Certified Nursing Assistants (CNAs) provide hands-on healthcare to patients in medical settings under the supervision of an LPN or RN. CNAs assist patients with bathing, dressing, and any other basic activities involved in daily life.
Becoming a CNA requires an individual to have a high school diploma or GED and nursing assistant training. Programs for nursing assistant training are typically available through trade schools and community colleges. 
LPN/LVN
LPN/LVNs provide direct care under the supervision of a registered nurse or physician. Their scope of practice is more limited than that of an RN but broader than a CNA. They are more likely to work in long-term care or a home health setting.
LPN/LVNs typically spend about 18 months in school, learning basic hands-on clinical skills. Some LPN/LVN programs offer an associate degree in nursing (ADN). After graduation, the student must pass a national exam called the NCLEX-PN in order to practice.
Diploma
Diploma nursing programs were once the only way to become a registered nurse. These programs typically take two to three years to complete. These programs are much less common than they once were, but some are still available.
The focus in diploma programs is on direct bedside nursing and clinical skills. Some diploma programs are affiliated with associate degree programs.
Associate Degree
An Associate Degree in Nursing (ADN) is a two-year degree, although prerequisite requirements may add an additional one or two semesters to the time period. As in diploma programs, the emphasis is on bedside nursing and clinical skills. Associate degrees are sometimes considered technical rather than professional programs, although the majority of RNs in the USA still graduate from associate degree programs.
Advanced Education Programs
Baccalaureate programs provide basic nursing education, usually in the first two years. In the second two years, students learn about adult and childhood disease, acute and chronic health conditions, psychiatric or mental health nursing, and community nursing.
BSN programs include much more extensive courses on nursing theory, humanities, nursing research, healthcare economics, nursing informatics (the use of computers for nursing documentation and care), and health policy.
Bachelor's Degree
The Bachelor of Science in Nursing (BSN) is rapidly becoming the preferred level of education for many employers and is recommended by professional nursing organizations. A four-year degree, the bachelor of science in nursing (BSN) includes both clinical courses and additional material to prepare the nurse for a higher level of practice, including management roles.
Post-graduate Education Programs
Masters degree programs build on all previous educational levels. They are designed to prepare students for advanced practice and include courses on the same level as those for doctors. A nurse anesthetist, for example, can practice at the same level as an anesthesiologist in most states, while a nurse-midwife can deliver babies.
A master's program is also designed for the initial preparation of nurse researchers or nursing educators.
Master's Degree – Advanced Practice Nurses
A Master of Science in Nursing (MSN) is the minimum level of educational preparation for advanced nursing practice or most management roles. Nurse midwives, nurse practitioners, clinical nurse specialists, and nurse anesthesiologists must have a minimum of a master's degree to become licensed. Professional organizations are now calling for doctorate-level preparation for these professionals.
Doctoral of Nursing Degree
Doctoral nursing programs are the ultimate in nursing education. By the time a student gets into a doctoral program, the focus is no longer on bedside nursing, but on performing research or very high-level clinical functions such as administering anesthesia.
For many nurses, the educational process is a series of stepping stones toward the Doctor of Nursing Practice degree. For example, a student may choose to begin with an LPN/LVN certificate, go on to a diploma or associate degree, and then goes on to part-time education in a bachelor's program. From there many continue to advance to the masters or doctorate level.
Sponsored Programs
Location - Melbourne, FL, US 32901

Since 1977, Keiser University has maintained a practical, hands-on approach to career-focused education to help our students achieve their personal and professional goals.  Our student-ce...ntered approach remains at the foundation of the Keiser University mission and continues to attract students who prefer a more personal learning experience. At Keiser University, you will find a warm, friendly community with faculty and staff truly committed to your success.  Our small class sizes, individualized attention, and one-class-at-a-time schedules create a positive learning environment where you can excel.  Whether your goal is to prepare for a new career or to advance with your current employer, Keiser University is designed around your needs. Keiser University Advantage• Associate, Bachelor's, Master's and Doctoral degree programs• Day, Evening, and Online Classes• Financial Aid to Those Who Qualify• Job Placement Assistance Available• Military-friendly, scholarships for qualified active duty personnel, Veterans, and dependants.  Yellow Ribbon program participant, approved for Veterans trainingPrograms and delivery format vary by campus. Courses are subject to change. Keiser University's programs and curriculum remain in-line with technology and workforce trends, helping you develop the skills and qualifications necessary to succeed in today's job market.  Our career-focused programs make it possible for you to graduate in less time than you may think.  Keiser University is a private, not-for-profit university. Read More

Programs

Bachelor of Science in Nursing (FastTrack)

Nursing, MSN - Family Nurse Practitioner
Get Your License
Once you complete your education, you'll need to take the NCLEX exam to demonstrate your knowledge and nursing skills. Developed by the National Council of State Boards of Nursing (NCSBN), the National Council Licensure Examination (NCLEX) is the basic evaluation of your knowledge and readiness to practice.
While studying for the NCLEX, it helps to have a good NCLEX reviewer to help you prepare.
Once you've passed the appropriate exam, you'll need to obtain your license to practice. This is the official step to becoming a nurse.
These are the four types of nursing programs that require state licensure. Each state has different requirements so you'll want to make sure your school knows in which state you plan to practice so they can prepare you to meet that state's regulatory requirements.
For a list of nursing boards by state and how to contact them, check out our Guide to Nursing Licensure Requirements.
Get a Job
Now how do you REALLY become a nurse? Find a job and start getting PAID!
After all the hard work you've done, you might think finding a job is the easy part. While that may be the case for some, prepare yourself for your search. Take time out of each day to search, apply, and follow up so you can get those interviews. Here are some tips to help you find your nursing job.
Fix Up Your Resume
Sounds simple, right? It should be but don't overlook this step. Ask some friends for their resumes to see how they have formatted theirs.
Search online for "nursing resumes" and choose a few you like. Then take your time to borrow the best elements you like most and incorporate them into your own.
Next, ask three friends to review your resume and make notes of anything that doesn't make sense to them. Take the good points, update accordingly, and use a good spellcheck program to make sure there are no errors.
Your resume is your first impression. Make it count.
Gear Up
To be a nurse, you need the right gear. Wearing comfortable scrubs, great socks, supportive shoes, and a good quality stethoscope is going to make your shifts a whole lot easier.
Be Patient
Finding the right job for you may take time. That's okay. Be patient and wait for the one that suits you best. This is a marathon, not a sprint.
There is currently a nationwide nursing shortage, so take advantage of it. Be sure to ask about signing bonuses and relocation benefits if you are moving.
Use Your Connections
While making time to submit your resume to job postings is part of the process, be sure to ask everyone you know about job opportunities. Looking to work at a particular assisted living facility or hospital?
Think about who you know that works there OR what friend-of-a-friend might know someone who works there. Ask that friend to introduce you via email or text and offer to take them out to coffee. Ask them questions about the facility, how they like their job, and if they know anyone you should talk to about any good openings. Managers and recruiters enjoy hiring individuals who have personal or professional connections who can vouch for them.
Expand Your Search
While I'm a fan of making a list of the top 50 jobs you'd like, sorted by location, it's also a good idea to go broad. Since you never know what you might find, search for nursing jobs by type, by city, by state, or other search parameters.
The more you read the more savvy you'll become about which roles are worth pursuing and which are a waste of your time. Don't forget to do this weekly, save the ones you like, apply, and follow up.
Don't Burn Bridges
Keep in mind that every interview is a memory of you. It's a small world out there and even if you aren't the right fit for THIS job, the person on the other side of the table might like you enough to recommend you to someone else.
Furthermore, should you choose to pursue a role as a travel nurse in the future, these references could come in handy.
Rest
Now that you've become a nurse, take some time to rest. Your first nursing role will keep you plenty busy. Trust me. Between the hours and learning the ropes, you'll have plenty on your plate.
With that said, take care of yourself. Take care of your mind and body by giving them rest. And take care of your spirit by remembering what's most important to you.
You've learned a lot over the last many months so give yourself time to find your rhythm and settle in. After you get comfortable with your routine, you can look ahead to where you want to go next in your career and begin showing interest in that area at work, while researching what requirements you'll need to take that next step.