Nurse Practitioner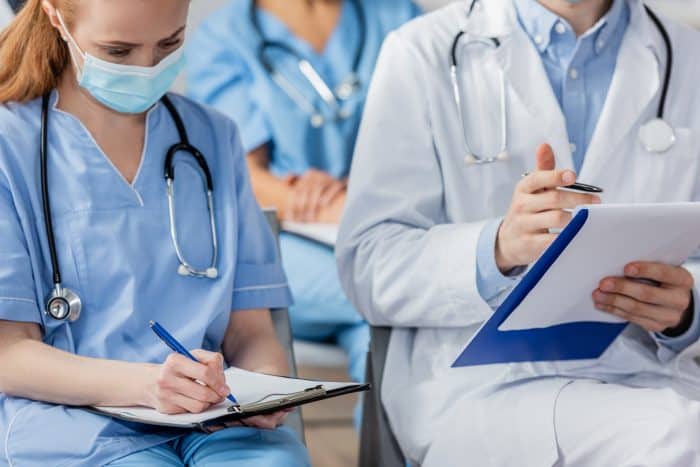 Nurse Practitioners (NPs) are in demand. In fact, according to the U.S. Bureau of Labor Statistics (BLS), the profession is anticipated to grow an impressive 52% by 2029 – one of the fastest-growing in the nation.
The ability to perform similar tasks as a doctor puts NPs in a unique and highly sought-after position. From patient treatments to the prescription of medications, nurse practitioners are essential in keeping doctor offices and hospitals operating smoothly and efficiently.
What is a Nurse Practitioner?
Nurse Practitioners are advanced practice registered nurses (APRNs) who provide comprehensive care to patients. They not only focus on creating and delivering treatment plans, but also on diagnostic and preventive measures.
Similar to a doctor, NPs can administer physical exams, diagnose illnesses, and prescribe medication. While NPs have more authority than RNs and practice physician-level care, some states require doctors to provide oversight for their care decisions.
Nurse Practitioner Salary
$111,000 per year

U.S. Bureau of Labor Statistics Occupational Employment Statistics
Depending on the state in which you plan to work, the average salary of a Nurse Practitioner is around $111,000. The highest average earning potential at this time is approximately $130,000 and will increase in the future.
The number of nurse practitioners is expected to grow an impressive 52% by 2029.

U.S. Bureau of Labor Statistics (BLS)
What Does a Nurse Practitioner Do?
When it comes to the responsibilities of nurse practitioners, there are various responsibilities they can take on in their role. You will find them working as teachers, leaders, patients advocates, and more. Some of their responsibilities include the following.
Providing the patient with acute and preventive care.
Recording the patient's data and checking their medical history.
Ordering diagnostics and therapies for the patient.
Assisting in surgery and ordering prescriptions for the patient.
Taking care of admission, transfer, and discharge of the patient.
Collaborating with various teams and departments to determine the best treatment.
Educating family and patient.
Where Do NPs Work?
NPs are able to specialize within their field and work in a number of specialty areas. Just like doctors, all NPs have a set specialty.
You can find NPs working in just about every area of healthcare. For example, in an acute care setting, you may find them managing the patient's stay, assisting with surgeries, and performing procedures such as inserting central lines, intubating, and suturing.
Another area you will find NPs in is Adult-Gerontology where they specialize in handling elderly patients. They may help with physical routines and order diagnostics for these patients. They can also help manage patients with chronic illness and educate the families about the same.
NP Specialties
Family nurse practitioner (FNP)—FNPs are one of the most common specialties. Generally, FNPs act as primary care providers and provide a wide range of healthcare to all ages of patients throughout the family life cycle. This might include prescribing medications, giving physical examinations, and providing health education.
Adult nurse practitioner—Adult NPs are similar to FNPs. They generally provide primary care to adults.
Pediatric nurse practitioner—Pediatric NPs work with children ranging from a few months old to teenagers.
Geriatric nurse practitioner—Geriatric NPs work with older adults. They often focus on specific populations such as nursing home residents or people with specific conditions like heart disease.
Women's nurse practitioner—Just as the name implies, these NPs provide care with an emphasis on women's reproductive and gynecological health.
Neonatal nurse practitioner (NNP)—These NPs care for newborns in standard labor and delivery units as well as neonatal intensive care units (NICUs).
Acute care nurse practitioner—Acute care typically takes place in hospitals and urgent care centers. Acute care NPs provide advanced care to patients experiencing severe illness or injury.
Occupational health nurse practitioner (OHNP)—OHNPs work to treat and prevent workplace injuries. They might also provide education to employees on health and wellness.
How Long Does it Take to Become a Nurse Practitioner?
If you have your bachelor's degree, it takes about 18 to 24 months to become a nurse practitioner.
Most masters of science in nursing programs offer both part-time and full-time attendance, supplemented with online learning. Therefore, the time it takes you to complete your degree depends on the program and the amount of time you put toward it.
A direct-entry nurse practitioner program can take between 18 and 36 months to complete when attending full time. And a nurse practitioner bridge program can also take about 36 months depending on your choice of specialization.
How to Become a Nurse Practitioner
If you want to become an NP, you'll need to have good problem-solving and interpersonal relationship skills. Additionally, you'll need to be patient, dependable, as well as a good listener and communicator.
Earn Your Undergraduate Degree
You'll first need an Associate Degree in Nursing (ADN) or a Bachelor of Science in Nursing (BSN). With this in hand, you can obtain your RN license.
Nurse Practitioner Bridge Programs
Many colleges and universities have started to offer programs for those who have obtained a non-nursing bachelor's degree but want to become a nurse practitioner.
Since some schools use "Accelerated" and "Direct Entry" interchangeably, you'll need to do some research to make sure you are entering the correct program. An "Accelerated" nursing program could assume you already have an RN license whereas a Direct Entry program may not.
These learning institutions generally offer a pathway that allows students to obtain their BSN, typically in three semesters, then pursue an MSN, which generally takes another three semesters. This allows students who have a bachelor's degree in a field other than nursing, to become an NP in only two years when attending on a full-time basis.
You can find more information on nurse practitioner bridge programs.
Earn Your Registered Nurse License
Once you have your undergraduate degree, you will have to pass the NCLEX-RN exam to obtain your license. Your RN license will need to be in good standing in order to qualify for an NP program.
Earn your MSN or DNP
You'll need at least a Master of Science in Nursing (MSN) as well as a specialty certification to begin working as a nurse practitioner. However, it is expected that by 2025 the Doctor of Nursing Practice (DNP) will be the new standard.
You can apply to the standard MSN program if you have a BSN. If you have an ADN, you can apply to the RN-to-MSN bridge programs. These programs will allow you to earn your BSN in parallel with your MSN.
Take a Certification Exam in Your Specialty
All NPs have a specialty. The exam you take will depend on your area of focus. Certification organizations for NPs include the American Association of Nurse Practitioners Certification Program, the American Nurses Credentialing Center, the National Certification Corporation, and the Pediatric Nursing Certification Board.
Apply for Licensure in Your State
You'll need to submit your exam results, along with your transcripts, to your state to obtain your nurse practitioner license. In some states, you'll also need to apply for a separate prescriptive authority license that permits you to prescribe medication.
Maintain Your License
You'll need to take steps to keep your license active. The steps will depend on your license and your state. Generally, you'll need a set number of continuing education hours and clinical practice hours.
Sponsored Programs
Location - Melbourne, FL, US 32901

Since 1977, Keiser University has maintained a practical, hands-on approach to career-focused education to help our students achieve their personal and professional goals.  Our student-ce...ntered approach remains at the foundation of the Keiser University mission and continues to attract students who prefer a more personal learning experience. At Keiser University, you will find a warm, friendly community with faculty and staff truly committed to your success.  Our small class sizes, individualized attention, and one-class-at-a-time schedules create a positive learning environment where you can excel.  Whether your goal is to prepare for a new career or to advance with your current employer, Keiser University is designed around your needs. Keiser University Advantage• Associate, Bachelor's, Master's and Doctoral degree programs• Day, Evening, and Online Classes• Financial Aid to Those Who Qualify• Job Placement Assistance Available• Military-friendly, scholarships for qualified active duty personnel, Veterans, and dependants.  Yellow Ribbon program participant, approved for Veterans trainingPrograms and delivery format vary by campus. Courses are subject to change. Keiser University's programs and curriculum remain in-line with technology and workforce trends, helping you develop the skills and qualifications necessary to succeed in today's job market.  Our career-focused programs make it possible for you to graduate in less time than you may think.  Keiser University is a private, not-for-profit university. Read More

Programs

Bachelor of Science in Nursing (FastTrack)

Nursing, MSN - Family Nurse Practitioner

Location - Louisville, KY, US 40205

Earn your degree from an accredited university by taking all of your classes online. Sullivan University Online delivers high quality online degree programs in an e-Learning environment that allows... you to fit education into your life. Read More

Programs

Practical Nursing Diploma

Location - Knoxville, TN, US 37909

Since South College was founded in 1882, we have focused on serving students who want hands-on, career-driven education that will have a meaningful impact on their lives and livelihoods.More than a ce...ntury ago, fulfilling that mission meant supplying on-campus offices so students could conduct business in the mercantile and banking industries while getting an education.Today, it means offering accelerated, hybrid, transfer, and distance learning programs. It means small class sizes, state-of-the-art labs, and campuses that are convenient to large numbers of students. Most of all, it means experienced professors who provide real world examples and lead in-depth discussions. Read More

Programs

Certificate - Licensed Practical Nurse

B.S.N. - Nursing (Accelerated)