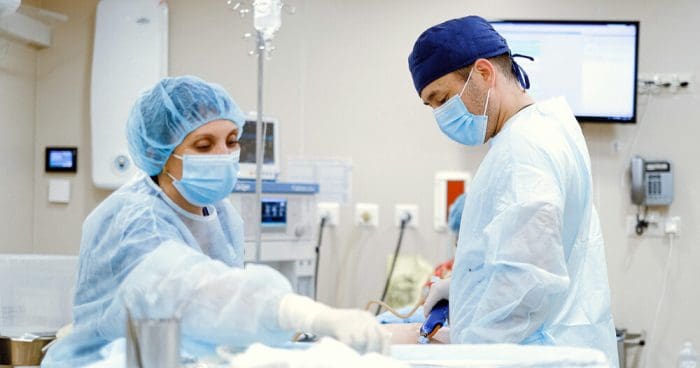 To become a nurse practitioner (NP), students typically obtain a Bachelor's Degree in Nursing (BSN) and continue their studies to obtain a Master's Degree in Nursing (MSN). But how do you become an NP if you didn't obtain a BSN? Through nurse practitioner bridge programs, you can speed up the time it takes to become an NP if you already possess a non-nursing bachelor's degree.
It is possible to become a nurse practitioner if you have a non-nursing bachelor's degree. If you have a bachelor's degree in a field other than nursing and are looking for a way to become a nurse practitioner without starting from scratch, an accelerated program may be the right choice for you.
How to Become a Nurse Practitioner Without a Nursing Degree
Although some schools might label these programs differently, the concept is the same. Many colleges and universities have started to offer programs for those who have obtained a bachelor's degree in another field of study but want to become a nurse practitioner.
Since some schools use "Accelerated" and "Direct Entry" interchangeably to describe a bridge program, you'll need to do some research to make sure you are entering the correct program. An Accelerated nursing program could assume you already have an RN license whereas a Direct Entry program may not.
These learning institutions generally offer a pathway that allows students to obtain their BSN, typically in three semesters, then pursue an MSN, which generally takes another three semesters. This allows students who have a bachelor's degree in a field other than nursing, to become an NP in only two years when attending on a full-time basis.
What are the Requirements for Acceptance Into a Nurse Practitioner Bridge Program?
In order to be accepted into a nurse practitioner bridge program, you must already be a licensed practicing nurse. The schooling required to become an LPN takes about 18 months.
Once certified, an LPN works under the supervision of a registered nurse (RN). It's a task-focused job that deals more with skills and attending to immediate patient necessities than long-term care or medical treatment.
Direct Entry Nurse Practitioner Admissions Requirements
While the admission requirements for a Direct Entry Nurse Practitioner Program will vary from state to state, there are some requirements and documents that all nursing applicants need to fulfill and submit along with their admission form. They include:
An application to your nursing school of choice
A 3.0 GPA or above
GRE scores
Transcripts from your undergraduate experience
2-3 recommendation letters
An essay or personal statement on why you wish to pursue a career as a nursing practitioner
Some colleges and universities that offer the Direct Entry NP will review your transcripts to ensure you have completed all the required prerequisite courses. These prerequisite courses may include biology, statistics, and human anatomy.
Things to Consider
Oftentimes, these types of education solutions are restricted. There may be stipulations attached to them such as requiring students to be available on a full-time basis.
Some universities, community colleges, or technical schools may not allow you to study part-time or for you to earn your nursing degree online. If this is the case, you'll have to make the necessary arrangements to support yourself while you're attending classes. This might mean leaving your current job, or doubling up your schedule, and taking night classes.
Your financial situation and personal commitments will have a large influence on your ability to fully participate in a bridge program. However, for those who are truly passionate about becoming a nurse practitioner, the temporary sacrifices prove worthwhile in the long term.
Nurse Practitioner Bridge Programs Online
The Internet provides millions of students the chance to study and earn their degrees or certification without having to rearrange their entire lives to attend on-site classes. Below you'll find universities that offer online nursing practitioner bridge programs.
Sponsored Programs
Location - Naples, FL, US 34112

Since 1977, Keiser University has maintained a practical, hands-on approach to career-focused education to help our students achieve their personal and professional goals.  Our student-ce...ntered approach remains at the foundation of the Keiser University mission and continues to attract students who prefer a more personal learning experience. At Keiser University, you will find a warm, friendly community with faculty and staff truly committed to your success.  Our small class sizes, individualized attention, and one-class-at-a-time schedules create a positive learning environment where you can excel.  Whether your goal is to prepare for a new career or to advance with your current employer, Keiser University is designed around your needs. Keiser University Advantage• Associate, Bachelor's, Master's and Doctoral degree programs• Day, Evening, and Online Classes• Financial Aid to Those Who Qualify• Job Placement Assistance Available• Military-friendly, scholarships for qualified active duty personnel, Veterans, and dependants.  Yellow Ribbon program participant, approved for Veterans trainingPrograms and delivery format vary by campus. Courses are subject to change. Keiser University's programs and curriculum remain in-line with technology and workforce trends, helping you develop the skills and qualifications necessary to succeed in today's job market.  Our career-focused programs make it possible for you to graduate in less time than you may think.  Keiser University is a private, not-for-profit university. Read More

Programs

Nurse Anesthesia Practice, DNAP Completion

Bachelor of Science in Nursing (FastTrack)

Accelerated Bachelor of Science in Nursing

Nursing, MSN - Family Nurse Practitioner

Location - Corpus Christi, TX, US 78414

Southern Careers Institute has maintained a tradition of career training for over 50 years.  In that time we have trained students the professional skills necessary to gain employment in their lo...cal communities.  In today's job market, you need skills and knowledge that will get you started, and put you in a position to advance.  SCI has made it our mission to provide our students with employer-tailored programs designed to make our graduates the most marketable in the industry.We call our approach The SCI Edge, and it makes our students as competitive as those of any of the accredited colleges or technical schools in Texas.  Increasing the demand for our graduates and ensuring their long term success revolves around three key elements.1. National or State Recognized Certifications:Every program at SCI focuses on preparing students with training that will help them become eligible to earn multiple certifications and stand out when compared to graduates of accredited colleges.2. Career Skills Badges:Our programs give our students the opportunity to earn a variety of career skills with electronic badges that serve as credentials that our employer partners recognize and value.3. SCI Connect:Our SCI Connect online platform matches our students to our employer network needs and employers now have access to the verifiable skills badges and credentials in one location. Our platform gives every student an electronic profile that our career services team uses to market the students verifiable skills badges and certifications to the SCI employer network. The goal, here, is to provide the connection with employers to help them stand above the crowd of graduates from other accredited technical schools.For your convenience, SCI Texas offers day and evening classes at all campus locations:   Austin, Brownsville, Corpus Christi, Harlingen, Pharr, San Antonio North, San Antonio South and Waco.  Programs may vary by campus.Need more reasons to choose Southern Careers Institute?• Career Placement Assistance• Instructors who care• Financial aid available, if qualified• Programs are approved for VA Funding Read More
Summary
A nurse practitioner must earn a BSN and then a master's degree to prove knowledge in their field. Although these programs are rigorous, they are easily adaptable for passionate learners and can be taken by anyone, regardless of their age or prior professional experience.
Categorised in: Nursing News