Nursing Schools in Florida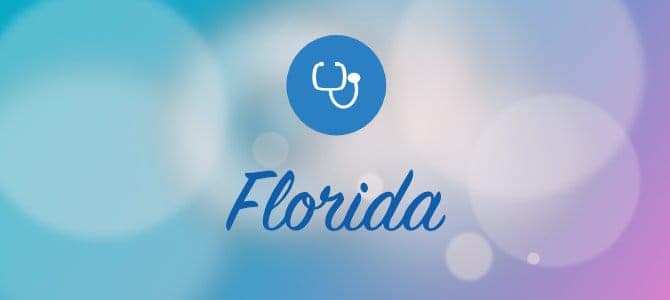 With year-round sunshine and stunning beaches, Florida may be the perfect place to establish yourself as a nurse. Because this state attracts lots of retirees, the demand for nurses is always strong. That's why our list of nursing schools in Florida is a good place to start your career.
The last four years have seen steady growth in nursing. According to the Florida Center for Nursing (FCN), the supply of RNs grew about 7.4%, ARNPs grew by 22%, and the number of LPNs decreased by 1.9% since 2015. The overall population is also in constant growth for several years and is home to many healthcare institutions and hospitals.
If you're looking for the best nursing programs in Florida, check out our list below.
Florida is home to many world-class schools teaching Nursing, from Certificate level and AAS in Nursing to doctorate and master's degrees, you will be spoilt for choice. Many of these are accredited by the main nursing education bodies, CCNE or ACEN.
You can also search for accredited nursing schools near you or find additional information about studying for the NCLEX exam to become a licensed nurse in Florida.
Sponsored Programs
Location - Naples, FL, US 34112

Since 1977, Keiser University has maintained a practical, hands-on approach to career-focused education to help our students achieve their personal and professional goals.  Our student-ce...ntered approach remains at the foundation of the Keiser University mission and continues to attract students who prefer a more personal learning experience. At Keiser University, you will find a warm, friendly community with faculty and staff truly committed to your success.  Our small class sizes, individualized attention, and one-class-at-a-time schedules create a positive learning environment where you can excel.  Whether your goal is to prepare for a new career or to advance with your current employer, Keiser University is designed around your needs. Keiser University Advantage• Associate, Bachelor's, Master's and Doctoral degree programs• Day, Evening, and Online Classes• Financial Aid to Those Who Qualify• Job Placement Assistance Available• Military-friendly, scholarships for qualified active duty personnel, Veterans, and dependants.  Yellow Ribbon program participant, approved for Veterans trainingPrograms and delivery format vary by campus. Courses are subject to change. Keiser University's programs and curriculum remain in-line with technology and workforce trends, helping you develop the skills and qualifications necessary to succeed in today's job market.  Our career-focused programs make it possible for you to graduate in less time than you may think.  Keiser University is a private, not-for-profit university. Read More

Programs

Bachelor of Science in Nursing (FastTrack)

Accelerated Bachelor of Science in Nursing

Nurse Anesthesia Practice, DNAP Completion

Nursing, MSN - Family Nurse Practitioner

Location - Louisville, KY, US 40205

Earn your degree from an accredited university by taking all of your classes online. Sullivan University Online delivers high quality online degree programs in an e-Learning environment that allows... you to fit education into your life. Read More

Programs

Practical Nursing Diploma

Location - Knoxville, TN, US 37909

Since South College was founded in 1882, we have focused on serving students who want hands-on, career-driven education that will have a meaningful impact on their lives and livelihoods.More than a ce...ntury ago, fulfilling that mission meant supplying on-campus offices so students could conduct business in the mercantile and banking industries while getting an education.Today, it means offering accelerated, hybrid, transfer, and distance learning programs. It means small class sizes, state-of-the-art labs, and campuses that are convenient to large numbers of students. Most of all, it means experienced professors who provide real world examples and lead in-depth discussions. Read More

Programs

B.S.N. - Nursing (Accelerated)

Certificate - Licensed Practical Nurse
Featured Schools
Ranked in the top ten percent of graduate degree programs in the nation and recognized for its research accomplishments and innovation, the University of Florida College of Nursing offers undergraduate and graduate nursing programs. It prepares students to become leaders in their field both nationally and internationally.
Study programs include Traditional BSN Program, Accelerated BSN Program, DNP Program, and Ph.D. Program all of which require hands-on experience and prepare students for a competitive healthcare field as researchers, innovators, and competent professionals. Students can join several, recognized nursing organizations on and off-campus.
Students can apply for the honors program. The majority of graduates pass or exceed the passing score of the National Council Licensure Registered Nurse Examination (NCLEX_RN).
1225 Center Drive
Gainesville, FL 32610
Mailing:
University of Florida College of Nursing
PO Box 100197
Gainesville, FL 32610-0197
Phone: 352-273-6400
The Maimi Lakes Educational Center, accredited by The Council on Occupational Education Accreditation, is a vocational-technical training center located in Florida. The 14-month practical nursing program has a core curriculum that allows graduates to take the National Council Licensure Exam that is required before gaining employment as a practical nurse in the state.
Applicants must pass the C-NET exam and possess a high school diploma or GED before being admitted to the program. Those enrolled are expected to complete 680 hours of clinical experience. Instructors use a variety of traditional and non-tradition educational materials, including books, online material, digital resources, and some of the medical equipment they will be expected to operate regularly as professionals.
5780 NW 158th Street
Miami Lakes Florida 33014
Phone: +305- 557-1100
The Concord Career College offers an accredited postsecondary nursing program at four campuses in Florida, including Orlando, Jacksonville, Tampa, and Miramar. Graduates of the 15-month program earn an Associates of Applied Science degree and are qualified to take the National Council Licensure Examination for Registered Nurse (NCLEX-RN).
This program focuses on training students to be competent health care service workers in surgery centers, community health facilities, schools, and other educational institutions, government centers, and other facilities that need registered nurses and helps them gain professional skills, like communication and leadership abilities. The college's main website offers online chat support, phone, and contact form options to reach out to the campus of choice.
Select the campus of choice online
Phone: 1-888-849-9394
Sheridan Technical College offers a complete course of study in practical nursing. They are one of the recognized and accredited public colleges in Broward County, Florida. The college is accredited/ approved by several statewide and national boards, including The Commission of the Council on Occupational Education (COE), Accreditation Commission for Education in Nursing – ACEN, and AdvancED. After completing the program, graduates can apply for an examination that makes them recognized as a licensed practical nurse (LPN) in the state of Florida.
5400 Sheridan Street
Hollywood, Florida 33021
Phone: 754.321.5400
South Florida Nursing Schools
South University prides itself on its history having been founded in 1899. It offers a bachelor's degree undergraduate program that focuses on helping students develop managerial and leadership skills as well as becoming competent practical nurses. The program is CCNE-accredited and makes graduates eligible for ANCC, AANP licensure.
Graduates will also be qualified to teach or train healthcare staff, work as an RN, and quickly climb the career ladder in a competitive field. Upon completing the program, graduates can apply for the higher-level graduate Nursing with a specialization in a Family Nurse Practitioner program. Scholarships may be available, students are encouraged to contact the financial aid office upon acceptance to the university.
University Centre
9801 Belvedere Road
Royal Palm Beach, FL 33411
561.273.6500
866.629.2902
The University of South Florida College of Nursing often referred to as the USF College of Nursing, is a recognized part of the University of South Florida in Tampa, Florida. The undergraduate program curriculum focuses on helping students become leaders in the field starting with earning a professional baccalaureate, which is more advanced and in-depth than a bachelor degree.
Besides being accredited by the Southern Association of Colleges and Schools Commission on Colleges (SACSCOC), USF College of Nursing was ranked by U.S. News and World Report as being the no.1 college in the state and the 45th on the national level. The program relies heavily on hands-on training by those experienced in the field, traditional education, innovative teaching methods and materials, and past and ongoing research in the nursing field. Graduates can go on to earn a master's, DNP, or Ph.D. degree.
12901 Bruce B. Downs Blvd
MDC Box 22
Tampa, FL 33612
(813) 974-2191
List of Florida Board of Nursing Approved Schools
Sarasota County Vocational Technical Center 
Location: Sarasota, FL
Public School
ACEN or CCNE Accredited: Yes
Programs: LPN
www.sarasotatech.org
Atlantic Technical Center 
Location: Coconut Creek, FL
Public School
ACEN or CCNE Accredited: Yes
Programs: LPN
www.atlantictechcenter.com
City College 
Location: Fort Lauderdale, FL
Private School
ACEN or CCNE Accredited: Yes
Programs: Associate
www.citycollege.edu
Palm Beach State College 
Location: Lake Worth, FL
Public School
ACEN or CCNE Accredited: Yes
Programs: Associate, LPN-to-RN
Keiser College – Melbourne/Sarasota Campus
Location: Sarasota/Melbourne, FL
Private School
ACEN or CCNE Accredited: Yes
Programs: Associate
Sheridan Technical Center 
Location: Hollywood, FL
Public School
ACEN or CCNE Accredited: Yes
Programs: LPN
www.ohwy.com
William T. McFatter Vocational Technical Center 
Location: Davie, FL
Public School
ACEN or CCNE Accredited: Yes
Programs: LPN
www.mcfattertech.com
Santa Fe College
Location: Gainesville, FL
Public School
ACEN or CCNE Accredited: Yes
Programs: Associate, LPN-to-RN, LPN
St. Petersburg College
Location: St. Petersburg, FL
Public School
ACEN or CCNE Accredited: Yes
Programs: Associate, BS/BSN, RN-to-BSN
University of Central Florida
Location: Orlando, FL
Public School
ACEN or CCNE Accredited: Yes
Programs: BS/BSN, Accelerated BSN, RN-to-BSN, RN-to-MSN, MSN, Nurse Educator, Nurse Practitioner, PhD – Doctoral degree, DNP
Florida Southern College
Location: Lakeland, FL
Private School
ACEN or CCNE Accredited: Yes
Programs: RN-to-BSN, BS/BSN, RN-to-MSN, MSN, Nurse Educator, Nurse Practitioner
South University-West Palm Beach Campus 
Location: West Palm Beach, FL
Private School
ACEN or CCNE Accredited: Yes
Programs: RN-to-BSN, BS/BSN, MSN, Nurse Educator
Nova Southeastern University
Location: Fort Lauderdale, FL
Private School
ACEN or CCNE Accredited: Yes
Programs: RN-to-BSN, BS/BSN, RN-to-MSN, MSN, Nurse Educator, Nurse Practitioner, PhD – Doctoral degree
Lake-Sumter Community College
Location: Leesburg, FL
Public School
ACEN or CCNE Accredited: Yes
Programs: Associate, LPN-to-RN, LPN
Edison State College 
Location: Fort Myers, FL
Public School
ACEN or CCNE Accredited: Yes
Programs: Associate, LPN-to-RN
www.edison.edu
Gooding Institute of Nurse Anesthesia, Bay Medical Center 
Location: Panama City, FL
Public School
ACEN or CCNE Accredited: Yes
Programs: Nurse Anesthetist
www.baymedical.org
Seminole State College of Florida 
Location: Sanford, FL
Public School
ACEN or CCNE Accredited: Yes
Programs: Associate, LPN-to-RN, LPN
State College of Florida – Manatee-Sarasota
Location: Bradenton, FL
Public School
ACEN or CCNE Accredited: Yes
Programs: Associate, BS/BSN, RN-to-BSN
University of West Florida
Location: Pensacola, FL
Public School
ACEN or CCNE Accredited: Yes
Programs: BS/BSN, RN-to-BSN
Valencia Community College
Location: Orlando, FL
Public School
ACEN or CCNE Accredited: Yes
Programs: Associate
Gulf Coast Community College
Location: Panama City, FL
Public School
ACEN or CCNE Accredited: Yes
Programs: Associate, LPN-to-RN, LPN
Florida Agricultural and Mechanical University
Location: Tallahassee, FL
Public School
ACEN or CCNE Accredited: Yes
Programs: RN-to-BSN, BS/BSN, MSN, Nurse Practitioner, PhD – Doctoral degree
Florida Gulf Coast University
Location: Fort Myers, FL
Public School
ACEN or CCNE Accredited: Yes
Programs: BS/BSN, LPN-to-BSN, RN-to-BSN, RN-to-MSN, MSN, Nurse Anesthetist, Nurse Practitioner
Lake City Community College
Location: Lake City, FL
Public School
ACEN or CCNE Accredited: Yes
Programs: Associate
University of Tampa 
Location: Tampa, FL
Private School
ACEN or CCNE Accredited: Yes
Programs: RN-to-BSN, BS/BSN, RN-to-MSN, MSN, Nurse Practitioner, DNP
Daytona State College
Location: Daytona Beach, FL
Public School
ACEN or CCNE Accredited: Yes
Programs: Associate, LPN
www.dbcc.cc.fl.us
Hillsborough Community College, Dale Mabry Campus
Location: Tampa, FL
Private School
ACEN or CCNE Accredited: Yes
Programs: Diploma
Hillsborough Community College, Plant City Campus
Location: Plant City, FL
Private School
ACEN or CCNE Accredited: Yes
Programs: Diploma
Bethune-Cookman University
Location: Daytona Beach, FL
Private School
ACEN or CCNE Accredited: Yes
Programs: BS/BSN, RN-to-BSN
Broward Community College
Location: Ft. Lauderdale, FL
Public School
ACEN or CCNE Accredited: Yes
Programs: Associate
Central Florida Community College
Location: Ocala, FL
Public School
ACEN or CCNE Accredited: Yes
Programs: Associate, LPN-to-RN, LPN
Barry University
Location: Miami Shores, FL
Private School
ACEN or CCNE Accredited: Yes
Programs: BS/BSN, Accelerated BSN, RN-to-BSN, RN-to-MSN, MSN, Nurse Educator, Nurse Practitioner, PhD – Doctoral degree, DNP
Galen School of Nursing – Tampa Bay
Location: St. Petersburg, FL
Private School
ACEN or CCNE Accredited: Yes
Programs: Associate, LPN-to-RN, LPN
University of Florida
Location: Gainesville, FL
Public School
ACEN or CCNE Accredited: Yes
Programs: BS/BSN, Accelerated BSN, RN-to-BSN, MSN, Certified Nurse Midwife, Nurse Practitioner, PhD – Doctoral degree, DNP
Pasco-Hernando Community College
Location: New Port Richey, FL
Public School
ACEN or CCNE Accredited: Yes
Programs: Associate
Pensacola Junior College
Location: Pensacola, FL
Public School
ACEN or CCNE Accredited: Yes
Programs: Associate
Polk State College
Location: Winter Haven, FL
Public School
ACEN or CCNE Accredited: Yes
Programs: Associate, LPN-to-RN
Adventist University of Health Sciences
Location: Orlando, FL
Private School
ACEN or CCNE Accredited: Yes
Programs: Associate, BS/BSN, LPN-to-RN, RN-to-BSN, Nurse Anesthetist
Florida Atlantic University
Location: Boca Raton, FL
Public School
ACEN or CCNE Accredited: Yes
Programs: BS/BSN, Accelerated BSN, Accelerated MSN, RN-to-BSN, RN-to-MSN, MSN, Nurse Educator, Nurse Practitioner, PhD – Doctoral degree, DNP
Florida State University
Location: Tallahassee, FL
Public School
ACEN or CCNE Accredited: Yes
Programs: BS/BSN, Accelerated BSN, RN-to-BSN, RN-to-MSN, MSN, Nurse Educator, Nurse Practitioner, DNP – Doctor of Nursing Practice
University of South Florida
Location: Tampa, FL
Public School
ACEN or CCNE Accredited: Yes
Programs: BS/BSN, Accelerated BSN, RN-to-BSN, RN-to-MSN, MSN, Nurse Practitioner, PhD