2 Year Nursing Programs in Florida – Associate's Degree in Nursing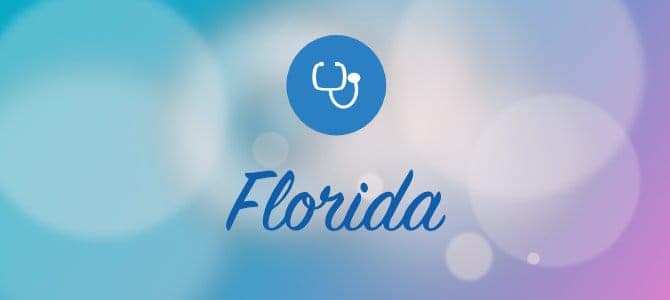 An Associate Degree in Nursing (ADN), which is also known as an Associate of Science in Nursing (ASN) degree or Associate of Nursing (AND) degree is the fastest and most assured way of becoming a Registered Nurse (RN). 
An ADN is a stepping stone for your nursing future. It requires a 2-year degree with courses that concentrate on biology, physiology, anatomy, and nutrition. Upon graduation, the nursing associates are authorized to take the NCLEX-RN licensing test, which is a national requirement.
Once they pass the NCLEX-RN test, they are given a license to practice as registered nurses. An accredited college and technical school is the best place to get an ADN.
Some ADN graduates promptly apply to a college or university that offers a Bachelor's Degree in Nursing (BSN) because without a four-year Bachelor's Degree in Nursing, it would be very hard for ADNs to get promoted to higher nursing levels. There are accredited schools where ADN graduates are permitted to complete their BSN in two years instead of the regular four-year term.
According to the Florida Center for Nursing, the state of Florida will face a nursing shortage by the year 2025. The main reason is that as the existing nurses get older, the number of new and younger nurses are not increasing.
This is not proportionate to the growing population in Florida. This significant information is very encouraging for people who are interested in the degree. ADN graduates constitute an important part of the nursing framework. As a corrective measure, many scholarships have been established to encourage the younger generation to become registered nurses. Hopefully, this will produce staffing stability that will be needed in the hospitals in a few years.
How to Earn an ADN in Florida
Earning an ADN degree at an accredited school is the best thing for your career. To successfully apply for an Associate Degree in Nursing, you need :
a grade point average that is 2.5 or higher,
a completed application form with the application fee,
a completed health form,
to send your transcripts, ACT, SAT or TOEFL scores,
and pass the criminal background check.
The curriculum for ADN students is similar from state to state. The 2-year degree will teach you about the fundamentals and technical aspects of nursing, anatomy, physiology, chemistry, nutrition, psychology, sociology, microbiology, and health concepts. You will also have to pass the hands-on clinical training. Once you complete your studies and earn your associate degree, you will have to acquire a nursing license by taking the National Council Licensure Examination (NCLEX), which is offered throughout the United States and Canada.
Sponsored Programs
Location - Knoxville, TN, US 37909

Since South College was founded in 1882, we have focused on serving students who want hands-on, career-driven education that will have a meaningful impact on their lives and livelihoods.More than a ce...ntury ago, fulfilling that mission meant supplying on-campus offices so students could conduct business in the mercantile and banking industries while getting an education.Today, it means offering accelerated, hybrid, transfer, and distance learning programs. It means small class sizes, state-of-the-art labs, and campuses that are convenient to large numbers of students. Most of all, it means experienced professors who provide real world examples and lead in-depth discussions. Read More

Programs

A.S. - Health Science (Pre-Nursing)

Location - Daytona Beach, FL, US 32114

Since 1977, Keiser University has maintained a practical, hands-on approach to career-focused education to help our students achieve their personal and professional goals.  Our student-ce...ntered approach remains at the foundation of the Keiser University mission and continues to attract students who prefer a more personal learning experience. At Keiser University, you will find a warm, friendly community with faculty and staff truly committed to your success.  Our small class sizes, individualized attention, and one-class-at-a-time schedules create a positive learning environment where you can excel.  Whether your goal is to prepare for a new career or to advance with your current employer, Keiser University is designed around your needs. Keiser University Advantage• Associate, Bachelor's, Master's and Doctoral degree programs• Day, Evening, and Online Classes• Financial Aid to Those Who Qualify• Job Placement Assistance Available• Military-friendly, scholarships for qualified active duty personnel, Veterans, and dependants.  Yellow Ribbon program participant, approved for Veterans trainingPrograms and delivery format vary by campus. Courses are subject to change. Keiser University's programs and curriculum remain in-line with technology and workforce trends, helping you develop the skills and qualifications necessary to succeed in today's job market.  Our career-focused programs make it possible for you to graduate in less time than you may think.  Keiser University is a private, not-for-profit university. Read More

Location - Louisville, KY, US 40205

Earn your degree from an accredited university by taking all of your classes online. Sullivan University Online delivers high quality online degree programs in an e-Learning environment that allows... you to fit education into your life. Read More
Nursing Schools in Florida with an Associate's Degree in Nursing ADN 
Keiser University
Keiser University is ranked second among the best national colleges for an associate degree in health studies. It is the fifth among the best in national associate programs in nursing by College Community Week. It is a private non-profit university that was established in 1977. With more than 15 different and convenient locations in Florida, the main campus is in Fort Lauderdale.
Keiser's curriculum aims to develop the students' critical thinking and assessment abilities, which are vital during actual practice especially when administering medications. It focuses on biology, psychology and all the physical and social sciences that are necessary to learn for passing the NCLEX-RN licensure. Many graduates of Keiser's ADN program continue to study for their BSN at the same University.
1500 NW 49th Street
Fort Lauderdale, FL 33309
1-866-288-1781
Polk State College
Polk State College, which was formerly known as Polk Community College is located in Winter Haven. Established in 1964, it is a part of Florida's public college system. The college offers an ADN degree that requires 72 hours to graduate. According to the Florida Department of Health, 95% of its students graduate with an ADN certification.
Classroom instructions at Polk State are comprised of a small number of students in order to facilitate student learning and instructor interaction. The tuition is affordable. The curriculum consists of communications, mathematics, social and natural sciences, humanities, microbiology, human development, pharmacology, and hands-on training. The school aims to develop compassion and precision in all its students.
Classroom instructions at Polk State are comprised of a small number of students in order to facilitate student learning and instructor interaction. The tuition is affordable. The curriculum consists of communications, mathematics, social and natural sciences, humanities, microbiology, human development, pharmacology, and hands-on training. The school aims to develop compassion and precision in all its students.
999 Avenue H NE
Winter Haven, FL 33881
(863) 297-1000
Mercy Hospital College of Nursing
Mercy Hospital College of Nursing, a program of Plantation GenerMercy Hospital College is the only private Catholic hospital-based school that offers medical programs in education in Florida. Recognized in 2001 as an excellent nursing school, the Mayor of Miami's Dade County dedicated the 3rd of August as Mercy Hospital School of Practical Nursing Day.
The college has an 85% retention rate in its Nursing Associate Degree program. Students usually finish the degree in three semesters. A total of 16 weeks is allocated for each semester. Students are allowed to combine evening and daytime classes. The curriculum consists of the physical and social sciences, anatomy, microbiology, communication, chemistry, and laboratory training.
MERCY HOSPITAL COLLEGE OF NURSING
A Program of Plantation GenerMercy Hospital College of Nursing
3663 S Miami Avenue
First Floor – Mercy Tower Suite 1500
Miami, FL 33133
(305) 285-2777
Choosing Where to Apply
Remember that a school's accreditation is the most important quality that you should consider when you decide where to graduate. Based on the data from Career Index, there are 71 accredited schools that offer an ADN certification or degree in the state (http://www.educationnews.org/career-index/bsn-schools-in-florida/). You can find Florida schools with accreditation on this site. You can also do your own research online or call the Accreditation Commission for Education in Nursing at (404) 975-5000. Their email address is [email protected] Their website is at www.acenursing.org.
Funding and Scholarships
Naturally, the tuition cost is the second significant factor in your decision. As stated above, there are many scholarships that have been established to help you. Currently, there are 370 grants and scholarships for potential nurses, https://www.discovernursing.com/scholarships#no-filters. You can also find another list of grants and scholarships at www.collegescholarships.org/scholarships/.
Licensure
In order to practice as a registered nurse, you are required to pass the NCLEX-RN. The examination is a measure of testing your basic nursing skills and abilities. It is computerized. A good school should prepare you well to pass and attain the license.
Your Options
Once you get your license, you can immediately work in the entry-level nursing profession. You will not have a problem getting a good salary that meets the average standard of living. However, a license will not get you promoted. You will work as a registered nurse. To be promoted to a supervisory position, you will need a Bachelor of Science in Nursing. Many ADNs pursue further education to attain a Bachelor of Science in Nursing. There are accredited colleges that will take the two years of your ASN studies into consideration and allow you to graduate with a BSN in two years, instead of four years, which is the regular span.