Nursing Schools in Alabama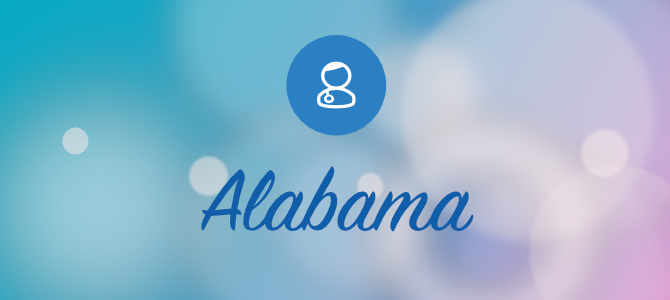 If you're thinking about a career in nursing, Alabama is one of the best places in the country for work/life balance. Not only are its residents friendly and welcoming, but the population is less dense making commute times much shorter. That's why our list of nursing schools in Alabama is a great place to start your career.
Another big plus is the state's low cost of living. Every dollar you earn as a nurse will go farther than most other states and the opportunity for homeownership near your work will be more likely.
To become a nurse in Alabama, you'll need to complete a program from an accredited nursing school. With your degree in hand, you'll need to pass the NCLEX-RN (for RNs) or NCLEX-PN (for LPNs) before obtaining your license to practice from the Alabama Board of Nursing.
Once you're a practicing nurse, your nursing license will need to be renewed every two years by applying and completing a form from the state board of nursing. Renewal requirements also require earning 24 contact hours from one Continuing Education provider approved and recognized by the board.
Below you'll find a list of nursing schools in Alabama. You can explore the directory of 2 Year associate degree in nursing programs in Alabama, Bachelor's, Master's, BS to BSN, RN to BSN/MSN, Nurse Practitioner, and DNP degree programs provided by accredited Alabama nursing schools and colleges.
Sponsored Programs
Location - Pittsfield, MA, US 01201

The mission of Mildred Elley is to provide quality career education and technical training to allow students of diverse educational, cultural and personal backgrounds to become successful in an eve...r-changing global economy. Mildred Elley strives to afford students quality placement opportunities and instill in all of our graduates a desire for lifelong education and learning. Mildred Elley is a co-ed college in Albany, NY with branch campuses in Pittsfield, MA and New York City (Lower Manhattan). Mildred Elley has provided quality higher education for over a century. Each program at Mildred Elley is designed to help you get the career you want in a short amount of time. Programs at Mildred Elley The programs at Mildred Elley offer the most advanced job training available because we know how crucial up-to-date employment skills are to our students' professional development. We design and continually update our courses of study to help you become the perfect match for future employers. Mildred Elley offers a variety of degree and certificate programs that fit your needs for obtaining a successful career. Not all programs offered at all campuses. Benefits of Mildred Elley Flexible Class Schedules Mildred Elley knows not everyone has an open schedule. No matter what your busy day looks like, you can attend class in a variety of sessions: day, evening or weekends, and take some classes online as well. See admissions for class schedule options. Small Class Sizes & Academic Support Our small class sizes allow for more student-to-teacher interaction and overall a more intimate learning environment. This personalized attention gives you the support necessary for your success. Your department chair and faculty act as your mentors; they are available to discuss courses, classwork, careers and anything else that may come up. Faculty and staff will be there to assist you every step of the way. Lifetime Job Placement Assistance Now more than ever, people need a helping hand finding work. Students and graduates of Mildred Elley can rely on us to aid them in finding gainful employment. Our career services staff is dedicated to our graduates for life. Financing Your Education At Mildred Elley, financial aid and scholarships are available for those who qualify. The Office of Financial Aid is dedicated to assisting students with the financial aid process. Free Tutoring & Personal Attention Hand in hand with small class sizes, Mildred Elley offers a variety of academic support services including free tutoring. Take the Next Step Towards the Career of Your Dreams Mildred Elley is the perfect choice for individuals just out of high school, unemployed, underemployed, or looking for a new career. You can receive career training in a wide variety of programs and features designed to allow you to get the most out of your educational experience. At Mildred Elley, you are more than just a student—you are a professional in training. Read More

Programs

Practical Nurse (LPN) - CERT

Location - Louisville, KY, US 40205

Earn your degree from an accredited university by taking all of your classes online. Sullivan University Online delivers high quality online degree programs in an e-Learning environment that allows... you to fit education into your life. Read More

Programs

Practical Nursing Diploma

Location - Boynton Beach, FL, US 33426

At Florida Career College, we encourage our students to achieve their highest potential. We understand that each student learns and grows at their own pace. Our goal is to successfully prepare you ...for new career opportunities. We are the college that cares Whether you're interested in a career in healthcare, computers, cosmetology or trades, FCC is here for you! With real world equipment and training facilities, students have the added advantage of gaining hands-on experience.Our schools offer hybrid learning - online learning with hands-on training in the labs on campus. Our instructors are knowledgeable in their fields and dedicated to helping you succeed. Our career services department is dedicated to helping you find a job! Many of the programs can be completed in as little as 8-9 months!* If you don't have your High School Diploma, ask us about your options! As a student in one of our eligible career pathway programs, you'll have the opportunity to earn your High School Diploma while you complete your career training! Best of all, the opportunity to complete high school is available to you at no additional cost!** Our schools are accredited and ready to get you started on your path to success. Financial Aid is available for those who qualify! **Not all programs are eligible. www.careercollege.edu/studentdisclosures *Timing varies by program. Florida Career College – Miami is the main campus and Boynton Beach, Hialeah, Houston, Jacksonville, Lauderdale Lakes, Margate, Orlando, Pembroke Pines, Tampa, and West Palm Beach  are Branch campuses. Programs vary by campus. All campuses are institutionally accredited by the Accrediting Council for Independent Colleges and Schools (ACICS).Florida Career College – Boynton Beach, Hialeah, Houston, Jacksonville, Lauderdale Lakes, Margate, Miami, Orlando, Pembroke Pines, Tampa, and West Palm Beach are accredited by the Commission of the Council on Occupational Education (COE). Read More

Programs

Patient Care Technician (10-month diploma program)
Featured Programs
Auburn University School of Nursing
Auburn has been ranked in the top 50 public universities for 25 consecutive years by the US News & World Report, while Niche.com ranked Auburn as #1 among colleges in Alabama in 2018. Completely new facilities, including newly designed and equipped simulation labs, were completed for the Auburn School of Nursing in 2017 which is accredited by the Commission on Collegiate Nursing Education (CCNE). This makes it one of the most up-to-date nursing schools in Alabama.
The Auburn nursing curriculum is centered upon six skill areas: communication and collaboration; critical thinking and clinical judgment; evidence-based practical skills; clinical prevention and population health skills; diversity skills; and leadership skills.
The university offers a BSN which is divided into a two-year pre-nursing element and a six-semester professional nursing component. Holders of alternative first bachelor's degrees are directed to apply directly to the professional nursing component. A 100% online RN to BSN pathway is also on offer and can be completed in one year. The Master of Science in Nursing degree is offered jointly with Auburn University Montgomery.
710 South Donahue Drive
Auburn University, Alabama 36849
334-844-5665
Website: http://www.auburn.edu/
Jacksonville State University School of Nursing
JSU is a regional public co-educational university with approximately 8,500 students on roll. The Department of Nursing provides programs accredited by the Commission on Collegiate Nursing Education (CCNE).
Undergraduates can choose from a BSN pre-licensure program and an RN to BSN. Students begin the standard BSN nursing program by taking academic, core requirement courses; a separate application is then filed to request admission into the clinical portion of nursing education.
Graduates can opt for one of three online master's concentrations in the topics of Population Health, Nursing Education, and Emergency Management. In 2016 the MSN in Population Health was ranked #18 among online master's in public health degrees by affordablecollegesonline.com. The post-master's DNP track focuses on advanced clinical practice, leadership, informatics and technology, quality indicators and outcomes improvement, and translation of evidence to practice.
700 Pelham Rd
N Jacksonville, AL 36265
800-231-5291
Website: http://www.jsu.edu
Spring Hill College School of Nursing
Spring Hill College is a private Roman Catholic college rooted in the Jesuit educational tradition. The Spring Hill College Nursing Program has been ranked #2 in Alabama in 2018 by registerednursing.org. and is accredited by the Commission on Collegiate Nursing Education (CCNE).
The BSN nursing curriculum consists of two phases: pre-professional and professional. The three-semester pre-professional phase is open to all students declaring nursing as their major. Admission to the professional phase, which begins the second semester of the sophomore year, involves the fulfillment of specific requirements and a separate application reviewed by the nursing faculty.
Quinlan Hall
4000 Dauphin St.
Mobile, Alabama 36608
800-742-6704
Website: http://www.shc.edu/
Tuskegee University School of Nursing
Founded by Booker T. Washington, Tuskegee University tied for sixth place in the US News & World Report 2018 category for Historically Black Colleges and Universities (HBCU) category. The university's nursing program dates back to 1948, with the establishment of Alabama's first baccalaureate degree in nursing and is accredited today by the Accreditation Commission for Education in Nursing (ACEN).
The philosophy of Tuskegee School of Nursing is based on the belief that a comprehensive BSN program incorporates knowledge in the liberal arts, sciences, and humanities to provide a solid foundation for the nursing major. Candidates for entry to the nursing profession are then prepared with a core body of knowledge with an emphasis on the intellectual, moral, and professional standards that enables them to respond to the changing complexities of the environment.
School of Nursing and Allied Health
209 Basil O'Connor Hall
1200 W. Montgomery Rd.
Tuskegee, AL 36088
334-727-8382
Website: https://www.tuskegee.edu/
Alabama Board of Nursing Approved Schools
Auburn University School of Nursing
Location: Auburn University, Alabama
Programs: BSN
Accreditation: NLNAC – National League for Nursing Accrediting Commission
Website: http://www.auburn.edu
Auburn University Montgomery School of Nursing
Location: Montgomery, Alabama
Programs: BSN
Accreditation: CCNE – Commission on Collegiate Nursing Education
Website: http://www.aum.edu
Jacksonville State University School of Nursing
Location: Jacksonville, Alabama
Programs: BSN, MSN
Accreditation: CCNE – Commission on Collegiate Nursing Education
Nursing School Website: http://www.jsu.edu
Samford University Ida V Moffett School of Nursing
Location: Birmingham, Alabama
Programs: BSN, MSN
Accreditation: CCNE – Commission on Collegiate Nursing Education
Nursing School Website: http://www.samford.edu
Spring Hill College School of Nursing
Location: Mobile, Alabama
Programs: BSN
Accreditation: CCNE – Commission on Collegiate Nursing Education
Nursing School Website: http://www.shc.edu
Troy State University School of Nursing
Location: Troy, Alabama
Programs: BSN, MSN
Accreditation: NLNAC – National League for Nursing Accrediting Commission
Nursing School Website: http://www.troy.edu
Tuskegee University School of Nursing
Location: Tuskegee, Alabama
Programs: BSN
Accreditation: NLNAC – National League for Nursing Accrediting Commission
Nursing School Website: http://www.tuskegee.edu
The University of Alabama Capstone College School of Nursing
Location: Tuscaloosa, Alabama
Programs: BSN, MSN
Accreditation: CCNE – Commission on Collegiate Nursing Education
Nursing School Website: http://www.ua.edu
The University of Alabama Birmingham School of Nursing
Location: Birmingham, Alabama
Programs: BSN, MSN, PhD
Accreditation: CCNE – Commission on Collegiate Nursing Education
Nursing School Website: http://www.uab.edu
The University of Alabama Huntsville School of Nursing
Location: Huntsville, Alabama
Programs: BSN, MSN
Accreditation: CCNE – Commission on Collegiate Nursing Education
Nursing School Website: http://www.uah.edu
University of Mobile School of Nursing
Location: Mobile, Alabama
Programs: BSN, MSN
Accreditation: CCNE – Commission on Collegiate Nursing Education
Nursing School Website: http://www.umobile.edu
University of North Alabama School of Nursing
Location: Florence, Alabama
Programs: BSN
Accreditation: NLNAC – National League for Nursing Accrediting Commission
Nursing School Website: https://www.una.edu/nursing/index.html
University of South Alabama School of Nursing
Location: Mobile, Alabama
Programs: BSN, MSN
Accreditation: CCNE – Commission on Collegiate Nursing Education
Nursing School Website: http://www.usouthal.edu