PACU Nurse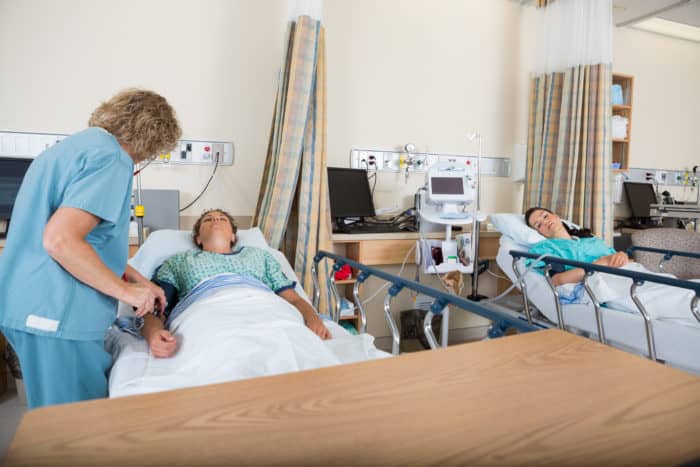 PACU nursing is an interesting and fast-paced career choice. Regardless of if you're someone who likes to be front and center, or enjoys spending important time with patients, there is a place for you in the pre-op and post-op areas of nursing as a PACU nurse.
PACU nurses are otherwise known as Post-Anesthesia Care Unit nurses. "Peri" is Greek for "around," and a registered nurse (RN) in this position provides all the care patients may need around the administration of anesthesia.
The role requires excellent critical thinking abilities, an eye for attention to detail, and outstanding communication skills. Therefore, in order to have a successful career, and earn a strong salary as a PACU nurse, you'll need all of these.
But what is it like to be a PACU nurse? And how can I become one? We explore all there is to the career in this post.
What Does A PACU Nurse Do?
A Post-Anesthesia Care Unit nurse is a registered nurse that provides care for patients under the effects of anesthesia. PACU nurses must observe the patient post-surgery and ensure they awaken safely.
Patient care involves monitoring vital signs (blood pressure, temperature, etc.) and keeping track of the patient's level of consciousness. Sedation is one of the many effects of anesthesia, and as a registered nurse, PACU nurses must ensure anesthesia wears off properly and patients regain consciousness.
During recovery, a patient may experience pain, difficulty in breathing, nausea, and fear from the anesthesia. Among the responsibilities of the Post-Anesthesia Care Unit nurse is helping the patient recover from these effects.
Some hospitals may also require a registered nurse to help patients stand and regain control over their movement. They may also require them to change dressings, and discharge patients.
A PACU nurse is often the first healthcare professionals a patient sees after a surgical procedure. A good PACU nurse considers it one of their responsibilities to comfort the patient and reassure their loved ones. A calm demeanor and excellent communication skills are a necessity for becoming a successful PACU nurse.
Where Do PACU Nurses Work?
As registered nurses, these professionals most commonly work in hospital settings in a department called the Post-Anesthesia Care Unit (PACU). PACU nurses are mostly focused on delivering patient care in the post-surgery recovery room.
A PACU nurse may also work at outpatient facilities, GI and dental clinics, or surgery centers.
How Are Perianesthesia Nurses Different From OR Nurses?
There are many similarities between the two positions, and both play key roles throughout the surgical process. An OR nurse's responsibilities include preparing the patient for surgery and caring for them during the surgery. As a registered nurse, these professionals may be required to control the patient's bleeding and administer medication during surgery.
After an OR nurse's job is complete, the PACU nurse takes over and works to ensure the patient's smooth recovery from anesthesia.
PACU nurses are sometimes confused with Certified Registered Nurse Anesthetists (CRNAs). CRNAs prepare and administer anesthesia and observe and maintain unconsciousness during the procedure. As a registered nurse, a CRNA works alongside physicians and anesthesiologists and work at hospitals, pain management clinics, and dental clinics.
How Do I Become a PACU Nurse?
PACU nurses are RNs, and PACU nursing is a specialty that requires you to first get licensed as a registered nurse. After becoming a registered nurse, you will need to gain experience and get certified before getting a job as a PACU nurse.
The education pathway to PACU nursing can be broken down into three steps.
Step #1: Becoming A Registered Nurse
There are many different ways you can become a registered nurse. You can choose to earn an associate degree in nursing (ADN), get licensed, and then complete an RN-BSN program to be a BSN.
Alternatively, you can go the traditional route and earn your Bachelor of Science in Nursing (BSN) degree before passing the National Council Licensure Examination for Registered Nurses (NCLEX-RN).
Only after you pass the test will you be able to apply for a license and be a registered nurse.
Enrolling in a curriculum that offers a perianesthesia concentration or enrolling in anesthesia-related care courses can be incredibly beneficial if you've set your mind to pursuing the role of a PACU.
Step #2: Gaining Experience
There is no set path to specializing in PACU nursing. However, after you become a registered nurse, you will need to gain experience in PACU nursing. While getting certified is desirable, it isn't required. You can move to a recovery unit in a couple of years and learn a PACU nurse's duties.
Step #3: Getting Certified
After becoming a registered nurse and gaining some experience, speaking to your employer about moving to a PACU nursing role should be your first move.
However, most employers will require you to learn specialized skills and get certified before you can work as a PACU nurse. Getting certified as a Certified Post-Anesthesia Nurse (CPAN) is the right way to go, but you can also be a Certified Ambulatory Perianesthesia Nurse (CAPA) and care for patients in the pre-anesthesia phase.
Becoming a Certified Post-Anesthesia Nurse (CPAN)
The CPAN course teaches a registered nurse to care for patients that are in post-anesthesia Phase I. Even if you're currently working as a PACU nurse, getting a CPAN certification will ensure you get paid a proper salary for your specialized skills.
However, it is important to remember that you must gain a minimum of 1,800 hours of clinical experience in two years to be deemed ready for the CPAN course.
The American Board of Perianesthesia Nursing Certification oversees the certification process and will require you to pass a computer-administered test to earn the certification.
While you could be a CPAN with just an associate's degree, working to earn your BSN before getting certified is the better route to take if you want to appear as an attractive job candidate.
After you get certified, you must renew the certification every three years. You could choose to retake the exam or choose to complete 90 contact hours. Outside of this recurring requirement, PACU nurses do not require any other continuing education in nursing.
Becoming a Certified Ambulatory Perianesthesia Nurse (CAPA)
The role of a CAPA nurse is different from the role of a PACU nurse. A CAPA nurse manages patients before anesthesia is administered and on the day of the surgical procedure. They are also involved with patients in post-anesthesia Phase II and extended care if necessary.
Alike the CPAN course, to be eligible for the CAPA certification, you must have completed at least 1,800 hours in a clinical environment within two years of applying. You will also need to pass the CAPA test to get your certification.
CAPAs earn about the same as a CPAN nurse and have equal scope for growth. As reported by Payscale, the average salary of a CAPA nurse is $85,522.
Other Certifications
Regardless of whether you decide to get a CAPA or CPAN certification, you will likely be required to earn a Basic Life Support (BLS) certification and an Advanced Cardiovascular Life Support (ACLS) certification to qualify for PACU jobs. However, some states don't require these certifications.
Sponsored Programs
Location - Port Saint Lucie, FL, US 34987

Since 1977, Keiser University has maintained a practical, hands-on approach to career-focused education to help our students achieve their personal and professional goals.  Our student-ce...ntered approach remains at the foundation of the Keiser University mission and continues to attract students who prefer a more personal learning experience. At Keiser University, you will find a warm, friendly community with faculty and staff truly committed to your success.  Our small class sizes, individualized attention, and one-class-at-a-time schedules create a positive learning environment where you can excel.  Whether your goal is to prepare for a new career or to advance with your current employer, Keiser University is designed around your needs. Keiser University Advantage• Associate, Bachelor's, Master's and Doctoral degree programs• Day, Evening, and Online Classes• Financial Aid to Those Who Qualify• Job Placement Assistance Available• Military-friendly, scholarships for qualified active duty personnel, Veterans, and dependants.  Yellow Ribbon program participant, approved for Veterans trainingPrograms and delivery format vary by campus. Courses are subject to change. Keiser University's programs and curriculum remain in-line with technology and workforce trends, helping you develop the skills and qualifications necessary to succeed in today's job market.  Our career-focused programs make it possible for you to graduate in less time than you may think.  Keiser University is a private, not-for-profit university. Read More

Programs

Bachelor of Science in Nursing (FastTrack)

Nursing, MSN - Family Nurse Practitioner

Location - Knoxville, TN, US 37909

Since South College was founded in 1882, we have focused on serving students who want hands-on, career-driven education that will have a meaningful impact on their lives and livelihoods.More than a ce...ntury ago, fulfilling that mission meant supplying on-campus offices so students could conduct business in the mercantile and banking industries while getting an education.Today, it means offering accelerated, hybrid, transfer, and distance learning programs. It means small class sizes, state-of-the-art labs, and campuses that are convenient to large numbers of students. Most of all, it means experienced professors who provide real world examples and lead in-depth discussions. Read More

Programs

Certificate - Licensed Practical Nurse

B.S.N. - Nursing (Accelerated)
PACU Nursing: Job Outlook
The BLS reports that the number of jobs for a registered nurse will increase by an impressive 7% by 2029. However, specialized attendants are typically in even higher demand since their responsibilities in the hospital are greater, skills are more specific, and there are fewer of them.
We expect the demand for CAPA nurses to continue to surge since the country's population is aging, and anesthesia is used in virtually every surgery and procedure.
Nearly half of the US population has at least one chronic condition, which is another reason why career opportunities for perianesthesia nurses are expected to grow.
According to Payscale, the average salary of a certified post anesthesia nurse (CPAN) in the United States is $96,047. But as you gain more experience and move into roles with more responsibilities, you may see your PACU nurse salary climb to well over $140,000 a year.
How To Become A PACU Travel Nurse
If you've worked as a PACU nurse for at least two years and have a lot of experience working in ERs and ICUs, you can confidently apply to be a travel PACU nurse. You will be hired for periods of 13-weeks, after which you can move to another location to help address the nurse shortage.
If you're still in college and aspire to be a travel PACU nurse, remember that you will need to stay calm in emergencies and make decisions quickly.
Benefits of Becoming A PACU Travel Nurse
If you're a PACU, choosing to become a travel nurse can be an exciting transition that certainly gives you a lot more exposure and opportunities. Since PACU nurses are critical care nurses (CCNs), you will always be in high demand.
But other than always having opportunities to work, here are some other benefits of becoming a PACU travel nurse:
Increased Pay: A traveling PACU nurse job is the same as a PACU nurse's job; however, traveling nurses get paid the best salary in the PACU nurse salary range. If you move to a location with a high cost of living, you earn even more money.
Expanding Your Skills: While you will need to be comfortable with working with a new team, you will get opportunities to work in other departments and take up roles like recovery room nurse since you have the critical-care experience to deliver patient care. You will get to explore other nursing paths and build experience.
Looks Great On The Resume: Traveling nurses get to work with some of the country's best healthcare professionals. The number of facilities you work at will look great on your resume.
Tour New Places: While your job will undoubtedly help you gain a lot of knowledge which is useful in a competitive job market, you will also get to see many new places. The different assignments you take up will allow you to work with numerous care teams.
A PACU nurse's role is challenging yet exciting, and you can be sure that no two days of work will feel the same.
Advancing Your Career After Becoming an Anesthesia Care Unit PACU
If you already have a PACU nurse job, you can still get your CPAN or CAPA certification, which will indubitably help you earn more. However, as your experience in the healthcare industry increases, you will get a chance to move to more enticing roles and make more money.
You could choose to become a clinical nurse specialist or study some more and become a nurse anesthetist. You could also progress to positions like nurse manager, supervisor, or even nurse director.
While these positions will be more demanding, you will make a bigger impact on people's lives which can be immensely gratifying.
If you decide to get your master's degree or earn a doctorate in nursing, you could also be a nurse educator. They are in high demand and are compensated handsomely.
FAQs
Are PACU Nurses Critical Care Nurses?
Yes, the PACU nurse job comes under the critical care nurse umbrella, and the role is given the same importance as Intensive Care Unit nurses. If you wish to get a job as a PACU nurse quicker, gaining some critical care experience will make you a prime candidate.
How Many Patients Does a PACU Nurse Tend To?
The number of patients PACU room nurses tends to vary from state to state. In most states, PACU staff only deliver patient care in a recovery room to a handful of patients at a time.
It is also important to remember that many patients don't leave operating rooms at the same time. The timeline for a PACU nurse to care for a patient is staggered, and you may find yourself caring for two-to-three patients at most times.
PACU nurses are and will continue to be in high demand, and it is one of those healthcare positions that are unlikely to be automated. The pay is excellent, and the growth potential is incredible. It is one career path every nurse should consider pursuing.