Certified Nursing Assistant (CNA)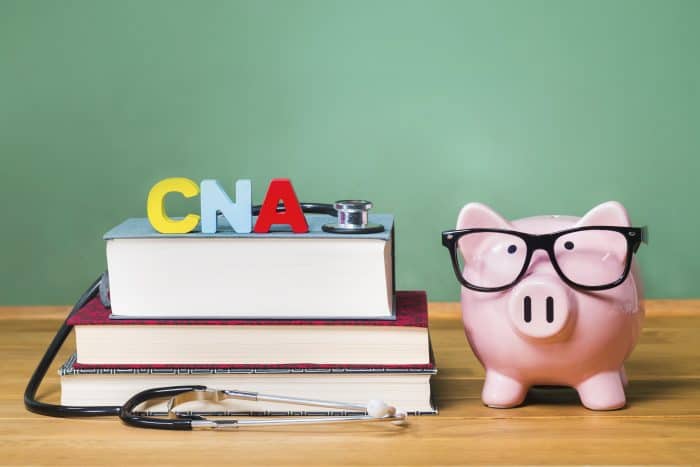 Certified nursing assistants may be referred to as a registered nurse aide, nurse aide, or licensed nurse aide. Regardless of title, CNAs assist patients with a wide range of care including bathing, grooming, eating, toileting, moving, and many other activities the patient cannot do by themselves.
What is a Certified Nursing Assistant?
Certified nursing assistants (CNAs) are responsible for providing care to patients who are unable to do so on their own. As a result, the role can be both physically and mentally demanding, but also very rewarding.
CNAs serve as a valuable connection between a patient and the larger healthcare team. In addition to helping patients with daily activities, CNAs spend time getting to know their patients, offering emotional support, taking vital signs, and recording information about a patient's ever-changing condition.
The difference in qualifications between a CNA and registered nurses (RNs) is that a CNA does not have the qualifications and licensing necessary to deliver certain types of care. While a registered nurse can deal with the injuries and help with treatment, CNA can only assist RNs with these activities.
The best part about this role is that you don't need a college degree to get started. However, you have the option to become a registered nurse later on after getting enough experience.
What Does a CNA Do?
Certified nursing assistants are physically active. This means they are on their feet most of the day lifting patients, transferring them to/from the bed, changing their bed position, and transporting them via wheelchair or bed to other areas within the healthcare facility.
As a CNA, you'll have daily contact with patients who may be elderly, ill, or recovering from surgery. Other patients may have physical and/or emotional disabilities. While CNA classes will prepare you for all aspects of the job, certain innate qualities will also help you succeed as a certified nursing assistant.
To be a successful certified nursing assistant, you'll need to be physically fit, compassionate, and patient. Because you'll be primarily working with patients that are recovering from surgery, are physically or mentally ill, and/or are elderly, you'll need to be dependable and maintain a positive attitude as well.
CNA Job Description
The responsibilities of a certified nursing assistant include the following.
Preparing the room for patient admission.
Helping physically disabled patients turn and reposition on their bed. 
Checking vital signs of patients and answering their calls.
Documenting the patient's status and any changes noticed. 
Feeding patients and measuring their intake. 
Cleaning rooms and bedding for patients.
Assisting Registered Nurses and other medical staff with procedures. 
Gathering supplies and resources for licensed and registered nurses. 
Wound dressing and bathing. 
Where Do Certified Nursing Assistants Work?
Long-term care, or nursing care facilities, employ most CNAs. However, they are also in high demand in home health companies and surgical hospitals. Because they are in high demand 24 hours a day and seven days a week, shifts that fit your schedule abound.
What is the Salary of a Certified Nursing Assistant?
The mean annual salary for a CNA is $29,734.
Industries with the highest levels of employment in this occupation:
| Industry | Employment (1) | Percent of industry employment | Hourly mean wage | Annual mean wage (2) |
| --- | --- | --- | --- | --- |
| Nursing Care Facilities (Skilled Nursing Facilities) | 566,240 | 35.31 | $14.25 | $29,650 |
| General Medical and Surgical Hospitals | 373,200 | 6.69 | $15.64 | $32,540 |
| Continuing Care Retirement Communities and Assisted Living Facilities for the Elderly | 157,270 | 16.61 | $13.99 | $29,100 |
| Home Health Care Services | 78,080 | 5.21 | $14.09 | $29,310 |
| Individual and Family Services | 39,020 | 1.54 | $13.49 | $28,070 |
US Bureau of Labor and Statistics
Career Growth
The United States Bureau of Labor Statistics (BLS) expects demand for certified nursing assistants to grow by 9% over the next decade. Because there has been an increase in preventive and home health care, demand for CNAs is expected to be strong.
If you want to grow your career in healthcare and earn more, you can find an RN program. This will increase your average salary from $29,734 to over $50,000.
Does Being a CNA Help With Nursing School?
Yes. Being a CNA not only helps set your application to nursing school apart from others. It not only can help you get into nursing school but once you have completed your program of choice, it can help you get a job due to your progressive experience over the course of your career.
Becoming a Certified Medication Aide is another way of furthering your career once you have your CNA and some healthcare experience. Also referred to as Medical Aide Technicians, they are responsible for administering daily medication to patients.
How Do I Become a Certified Nursing Assistant?
When it comes to educational requirements for this role, it is not as strict and time-consuming as other nursing roles. If you have a high school diploma or GED, you can begin your training to become a certified nursing assistant.
To work as a certified nursing assistant, you'll have to complete a state-approved training program. If a program doesn't have state approval, it won't qualify you for a role as a CNA.
Federal law requires that CNA programs include at least 75 hours of training. However, some states may set criteria greater than this. For specific requirements, in your state, check with your state nursing board.
Sponsored Programs
Location - Houston, TX, US 77092

The College of Health Care Professions is a Texas-based career education school founded by physicians in the Texas Medical Center solely specializing in healthcare education and dedicated to provid...ing students with training and education Read More

Programs

Nursing – AAS Degree (LVN to ADN)

Vocational Nursing Certificate Program

Location - New Port Richey, FL, US 34652

Since 1977, Keiser University has maintained a practical, hands-on approach to career-focused education to help our students achieve their personal and professional goals.  Our student-ce...ntered approach remains at the foundation of the Keiser University mission and continues to attract students who prefer a more personal learning experience. At Keiser University, you will find a warm, friendly community with faculty and staff truly committed to your success.  Our small class sizes, individualized attention, and one-class-at-a-time schedules create a positive learning environment where you can excel.  Whether your goal is to prepare for a new career or to advance with your current employer, Keiser University is designed around your needs. Keiser University Advantage• Associate, Bachelor's, Master's and Doctoral degree programs• Day, Evening, and Online Classes• Financial Aid to Those Who Qualify• Job Placement Assistance Available• Military-friendly, scholarships for qualified active duty personnel, Veterans, and dependants.  Yellow Ribbon program participant, approved for Veterans trainingPrograms and delivery format vary by campus. Courses are subject to change. Keiser University's programs and curriculum remain in-line with technology and workforce trends, helping you develop the skills and qualifications necessary to succeed in today's job market.  Our career-focused programs make it possible for you to graduate in less time than you may think.  Keiser University is a private, not-for-profit university. Read More

Programs

Nursing, MSN - Family Nurse Practitioner

Location - Pharr, TX, US 78577

Southern Careers Institute has maintained a tradition of career training for over 50 years.  In that time we have trained students the professional skills necessary to gain employment in their lo...cal communities.  In today's job market, you need skills and knowledge that will get you started, and put you in a position to advance.  SCI has made it our mission to provide our students with employer-tailored programs designed to make our graduates the most marketable in the industry.We call our approach The SCI Edge, and it makes our students as competitive as those of any of the accredited colleges or technical schools in Texas.  Increasing the demand for our graduates and ensuring their long term success revolves around three key elements.1. National or State Recognized Certifications:Every program at SCI focuses on preparing students with training that will help them become eligible to earn multiple certifications and stand out when compared to graduates of accredited colleges.2. Career Skills Badges:Our programs give our students the opportunity to earn a variety of career skills with electronic badges that serve as credentials that our employer partners recognize and value.3. SCI Connect:Our SCI Connect online platform matches our students to our employer network needs and employers now have access to the verifiable skills badges and credentials in one location. Our platform gives every student an electronic profile that our career services team uses to market the students verifiable skills badges and certifications to the SCI employer network. The goal, here, is to provide the connection with employers to help them stand above the crowd of graduates from other accredited technical schools.For your convenience, SCI Texas offers day and evening classes at all campus locations:   Austin, Brownsville, Corpus Christi, Harlingen, Pharr, San Antonio North, San Antonio South and Waco.  Programs may vary by campus.Need more reasons to choose Southern Careers Institute?• Career Placement Assistance• Instructors who care• Financial aid available, if qualified• Programs are approved for VA Funding Read More
Certified Nursing Assistant Training
CNA training programs usually last between four and twelve weeks. They are typically available at community colleges and vocational schools near you. Additionally, organizations like the American Red Cross, as well as some hospitals and nursing homes, may also offer classes in your area.
The program that they would enroll in should be recognized and approved by your state's nursing board. So before registering for your CNA training, make sure it has been approved by the state or the National League for Nursing Accredited Commission.
Once you have completed your training, you will have to pass an examination to get your certification. The exam will have two parts, written and practical. The questions on the written exam will be multiple-choice and the time allowed to complete the exam is around 90 minutes.
The second part of the exam is the clinical exam, which is checked and administered by a Procter or observer. The individual will have to pass the test on four random clinical skills, which will be selected by the examiner. The total time that one gets to complete is 30 minutes.
When it comes to certification, one can go for one provided by The Commission on Collegiate Nursing Education (CCNE), which handles education programs for nursing at all levels. There is no other specific certification for this profile, as it can be done with the CNA exams.
Financial Aid for CNAs
Fortunately, CNA programs are typically less expensive than nursing diplomas or degree programs. Nevertheless, you may still need financial help paying for your training. The type of financial aid available depends on the type of school you choose.
If you choose to attend an accredited community college or vocational school, you may be eligible for federal financial aid. Before enrolling, you can verify any school's accreditation at the U.S. Department of Education.
If the school is accredited, you can complete the Free Application for Federal Student Aid (FAFSA) to determine your eligibility. The financial aid office of the school you choose can provide help with the application process.