APRN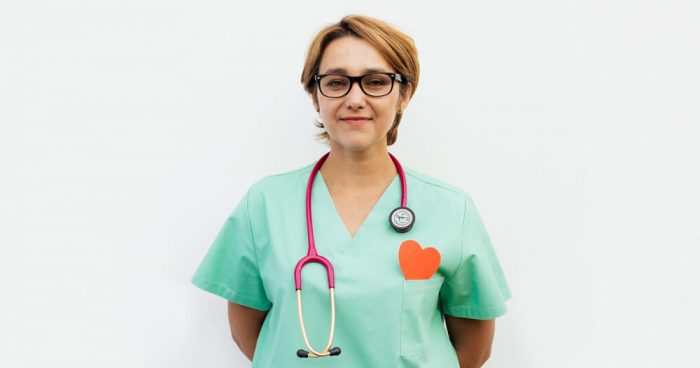 Advanced Practice Registered Nursing
Advanced Practice Registered Nurses (APRNs) are nurses with advanced education, training, and certification. These advancements allow them to provide advanced care to patients.
In many cases, APRNs act as primary care providers. They can assess, diagnose, and treat patients.
There are four APRN jobs:
These roles move into the realm of practice usually reserved for physicians, such as diagnosing disease and prescribing medications and treatments.
Compared to other graduate or post-graduate nursing careers, APRN roles are primarily focused on clinical practice. In addition to the hands-on clinical roles, however, APRNs might also work in fields like education, research, public health, or public policy. The APRN group is the largest of all the specialized graduate nursing fields.
Nurse Practitioners
Nurse practitioners are essential to the provision of primary and acute care, especially in underserved areas. They may specialize in areas like pediatrics or gerontology or see patients across the full age spectrum. As the shortage of physicians in family practice and internal medicine becomes acuter, nurse practitioners are increasingly stepping into primary care practice roles.
Clinical Nurse Specialists
Clinical nurse specialists focus on a particular population, setting, or disease types, such as pediatrics, critical care, or diabetes management. Many also have teaching responsibilities, especially in large medical centers. Clinical nurse specialists may provide direct care or supervise the provision of care by other nursing staff.
Certified Registered Nurse Anesthetists
Certified Registered Nurse Anesthetists provide anesthesia care and make up the majority of anesthesia providers in nearly all rural hospitals. In many areas, the nurse anesthetist is the sole anesthesia provider. A nurse anesthetist might provide general anesthesia, perform a nerve block or epidural. Nurse anesthetists may also work in the field of acute or chronic pain management.
Certified Nurse Midwives
Nurse midwives provide primary health care services with a focus on reproductive, gynecologic, and obstetric care, as well as care of the newborn. Although they cannot perform C-sections, nurse midwives can deliver babies and perform all other aspects of obstetric care. Many nurse midwives offer home births, which obstetricians do not.
Other Advanced Nursing Roles
Nurse Researcher
Nurse researchers perform research specific to nursing and translate that research into innovations in care at the bedside. Unlike medical research, which typically focuses on the effects of medications or medical treatments, nursing research focuses on nursing science and nursing issues.
For example, nurse researchers might look at how staff mix or educational preparation affects patient outcomes. You'll need a doctorate for independent research or other senior research roles.
Nurse Educator
Nurse educators prepare the next generation of nurses through didactic teaching, role modeling, and supervision. Flexibility is a key strength in their role, as constant innovations in practice and science drive education.
Nursing educators may also conduct research in the field and publish the results of that research in professional journals. Demand for educators is very high in academic centers as well as hospitals, public health agencies, and other settings. You should have additional education in pedagogy (the art of teaching) to prepare yourself for this role.
Clinical Nurse Leaders
Clinical nurse leader positions offer nurses a management role at the bedside. Care coordination, quality improvement, patient advocacy, and systems improvement are major responsibilities in this role. The clinical nurse leader may supervise other members of a nursing team as well as provide direct care.
Nurse Administrators
Nurse administrators may be responsible for a department, several nursing units, or an entire health system. Their work is rarely performed on the direct clinical level but is typically focused more on systems issues such as staffing, quality of care, and meeting regulatory requirements.
Public Health Nurses
Public health nurses participate in activities related to population health, health promotion, disease prevention and control, and community education. A public health nurse might manage a clinic, educate the public about health issues, perform epidemiology work related to communicable diseases, or work in the field of environmental health.
Public health nurses spend much of their time in collaborative efforts with community leaders, government classification, and in other areas of community and population health.
Nursing Informaticists
Nurse informaticists practice a specialty that includes a foot in each of two camps: nursing and information management. The goal of nursing informatics is to integrate information and provide data relevant to nursing and medical care.
This could take the form of developing an electronic nursing documentation system, modifying an electronic medical record to facilitate nursing documentation, or collecting aggregate data for quality improvement activities. Nurse informaticists typically obtain a master's degree or doctorate in the field of informatics to complement their nursing education and experience.
Public Policy Nurses
The public policy arena offers an opportunity for nurses to advise legislators on health care policy, develop legislation, and provide expert advice on various public policy issues related to nursing and healthcare. Nursing policy experts might work in think tanks, government policy-making bodies, or for a special interest group. Public policy includes opportunities at the local, state, and national levels.
Other Options
Other possibilities for nurses with graduate degrees include less well-known areas like nursing forensics, genetics, and genomics or the law. Nurses in these areas might conduct investigations into suspicious or accidental deaths, perform genetic counseling or research or act as expert witnesses in court cases related to medical or nursing issues.

See also: http://www.aacn.nche.edu/publications/brochures/GradStudentsBrochure.pdf