Oncology Nurse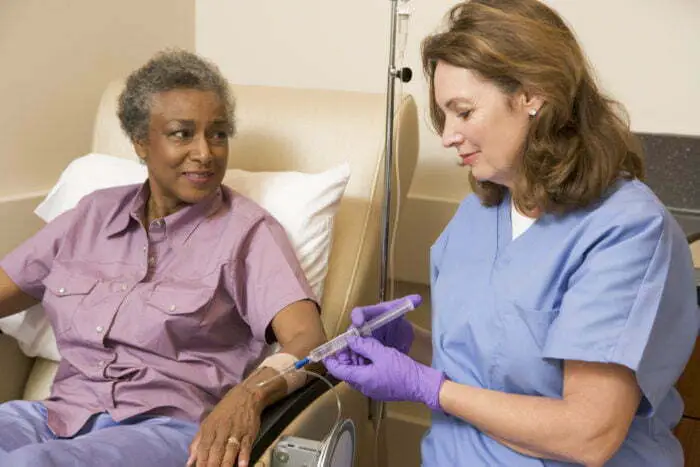 Reports by the National Cancer Institute reveal that cancer is a risk factor for 1000 in every 100,000 people over 60 in America. According to the ACL, the population over 65 in the USA is expected to double to 98 million by 2060. Because of these data, becoming an oncology nurse could be an excellent career choice for you.
Cancer can affect individuals of all ages, but with a generation of people aging, the pool of elderly cancer patients is expected to rise in the coming decades. Oncology nurses will continue to play a significant role in the healthcare industry as the population ages.
While becoming a nurse is difficult, it is one of the most professionally and financially rewarding careers one could pick. 
If you're considering oncology nursing, this post will help familiarize you with the educational and experience requirements so you can position yourself to make the most of every opportunity you come across in the field.
What Is An Oncology Nurse?
Hematology/oncology nurses (Heme/Onc) play a major role in most aspects of cancer diagnoses and subsequent treatment. These healthcare professionals are also responsible for the early detection and prevention of the disease.
Besides serving as a caregiver to patients, oncology nurses find satisfaction in providing the patients and their families with the education and support they need to navigate such a difficult time. These oncology nurses care for very sick and also stable populations. 
The nature of the job requires the nurse to tolerate a wide gamut of emotions throughout their workday. As a result, the job can be as emotionally challenging as it is rewarding.
Oncology nurses are typically recognized as the nurses that administer chemotherapy to patients and assess and treat the complications of the therapy. The nurses must work with an interdisciplinary team, oftentimes at a cancer center, to create and execute a recovery plan.
Modern oncology nursing is very different from early cancer treatment. A broader array of treatment options now exist that have fewer side effects. There are also better means for pain control. The science of battling cancer is dynamic and fast-paced, with several new potential treatments on the horizon.
More people than ever are transitioning into cancer survivors. Every cancer patient has a different set of challenges to overcome, but often, there is hope for recovery. Oncology nurses have important roles to play throughout a patient's journey to better health.
A career in oncology comprises many challenges, financial rewards, and professional growth. If you desire to understand the many nuances of the needs of patients, becoming an oncology nurse may be your calling.
What Does An Oncology Nurse Do?
Oncology nurses are typically Advanced Practice Registered Nurses (APRNs) who hold master's degrees in nursing. With their qualifications, cancer oncology nurses can choose to work in roles such as:
Educator
Consultant
Researcher
Coordinator
Administrator
Direct caregiver
In general, oncology nurses provide and supervise care for cancer patients. Their day-to-day responsibilities include:
Prescribing medication 
Administering chemotherapy
Assessing ongoing patient needs
Monitoring patient's physical condition
Creating symptom management strategies
Advocating patient needs to the team and family members
Offering empathy and dignity with regards to end of life care 
Demonstrating expertise in legal issues and upholding safety standards
Educating and providing emotional support to patients and patient's families 
Using professional communication methods to convey information to patients, families, and staff
It is important to note that oncology nurses are responsible for their own professional development. You will have a great deal of autonomy with respect to how you want to progress in your career.
Where Do Oncology Nurses Work?
Oncology nurses work in the following settings:
Hospitals
Oncology nurses assist in coordinating cancer care in hospital settings. They may also be required to assist in surgical prep, address the patient's questions, and ensure their overall well-being.
Some oncology nurses work in specialty hospitals where they take up additional responsibilities.
Physician's Offices
In a doctor's office, oncology nurses function mainly as educators since these offices typically employ non-surgical cancer management methods. Nurses working in an oncology physician's office will administer chemotherapy and other forms of systematic therapy and cancer care.
Outpatient Care Center
Outpatient care centers with a focus on oncology typically facilitate minimally invasive treatments like chemotherapy and infusions. In these settings, the nurses must administer the necessary treatment and ensure that every patient is informed about the treatment they're under and what they can expect moving forward.
Besides these, home care organizations and ambulatory centers also employ oncology nurses. 
Oncology Nursing Salary
While the Bureau of Labor Statistics does not report specific figures, according to the bureau, registered nurses make an average annual salary of $75,330. Earning a master's degree will enable you to move to positions like Oncology Nurse Practitioner with a higher salary.
The BLS estimates job growth of 7% by 2029 for registered nurses; however, it is safe to stipulate a greater increase in demand for oncology nurses in the coming decade as the population ages.
It is also important to note that the salary for the same position can vary widely from location to location. The BLS reports that registered nurses in California and Hawaii are paid over $100,000 annually for their expertise. 
You could earn over $140,000 per year for being an oncology nurse in the right location with the right qualifications.
How To Become An Oncology Nurse 
Oncology nurses are required to become Registered Nurses (RNs) before they can practice. While you can become a registered nurse after getting an associate's degree in nursing, most hospitals require nurses to have a bachelor's degree to qualify for a position.
Step #1: Earn A Bachelor's of Science in Nursing
Before becoming an oncology nurse and administering cancer treatments to patients, you must earn a BSN, which takes four years. As mentioned earlier, you can become an Oncology Certified Nurse with just an associate's degree or diploma. However, finding a job as an ADN holder is a lot more challenging. 
Furthermore, holding a bachelor's degree opens up career advancement opportunities later down the road. If you're already a Licensed Practical Nurse, you can complete an LPN to BSN bridge program to get the necessary qualifications and become an oncology nurse.
It is also possible for you to attend nursing school if you have a degree in another field. All you have to do is enroll in an accelerated BSN program.
It is also critical that you get your nursing education from a program accredited by the right organizations. Enrolling in an accredited medical program ensures that you receive high-quality training that meets medical standards.
Sometimes, students that complete a non-accredited course can take the NCLEX licensing exam. However, non-accredited education typically does not count towards your continuing professional education. Therefore, if you enroll in a non-accredited nursing program, you may be able to earn a nursing license, but you will not be able to retain it over your years in the field.
For this reason, you must enroll in a program accredited by either the ACEN or the CCNE. Students that enroll in accredited nursing programs never have to worry about being unable to retain their license because of the limitations of the program they completed.
You can attend a local college or university program or choose to enroll in an online nursing program. Online programs are designed for employed individuals that want to switch careers. However, students with other commitments that cannot attend university full-time may enroll in these courses and get their education. 
If you enroll in an online nursing program, you must complete the practical requirements by finding a placement locally. Most online programs help students find a placement to complete their practical requirements.
Step #2: Get Licensed
After you earn your BSN, your next move is to pass the NCLEX-RN exam to get a license to begin practicing. To pass the exam, you must demonstrate your expertise in four key areas of nursing.
When you pass the test, you will hold the title of "Registered Nurse," enabling you to apply for jobs and begin practicing. You can begin exploring oncology right after earning your license.
Step #3: Gain Experience
While you can apply for positions and try to get hired, branching out into the field of oncology typically isn't easy and requires some prior experience. To gain experience, you can volunteer to work as an assistant in an oncology unit.
The best way to find the right position is to reach out to healthcare employers and enquire about their hiring requirements. Supplementing what you learn at work with online courses and other resources is one of the best ways to learn oncology.
Step #4: Become An Oncology Certified Nurse
Getting certified is the best way to demonstrate a firm grip over all the required knowledge in oncology. Most nurses prefer getting certified in oncology by giving the Oncology Certified Nurse exam.
The coursework will teach you the cancer care skills that will enable you to deliver high-quality patient care. Working with cancer patients requires compassion and expertise about all else. After gaining one year of experience working as an RN and completing 1,000 hours of oncology nursing practice, you will be eligible to take the test.
Besides the ONC exam, the ONCC offers six other certifications. Depending on your career goals, interests, and experience, you can choose to enroll in any of the following certification courses:
Certified Breast Care Nurse 
Blood and Marrow Transplant Certified Nurse 
Advanced Oncology Certified Nurse Practitioner 
Certified Pediatric Hematology-Oncology Nurse 
Advanced Oncology Certified Clinical Nurse Specialist 
Figuring out whether you have the right qualifications and enough experience to enroll in a certification course can seem complicated. The ONCC makes things easy with its online tool.
All you have to do is enter your details, and it will calculate whether you have enough oncology nursing experience to be eligible for the test.
Step #5: Complete Continuing Education Requirements
As you progress in your career as an oncology nurse, you will need to meet specific continuing education requirements. To continue your practice, you will need to renew your certification every four years.
If you want to move into better-paying roles with additional duties, you can consider getting a Master of Science in Nursing (MSN). For example, with a master's degree, oncology certified nurses can move into nurse educator and family nurse practitioner roles. Getting a master's degree also opens up pathways to leadership and administrative roles in nursing.
Many oncology certified nurses decide to become oncology nurse practitioners. Before you can become an oncology nurse practitioner, you must earn your MSN, which typically takes two years. You can then become an Advanced Practice Registered Nurse by passing the exam administered by your local board of nursing.
Besides earning the degree, you will need to have completed 500 hours of supervised clinical practice in oncology to qualify for becoming an oncology nurse practitioner.
Getting certified to become an oncology nurse practitioner is required in most states and recommended in others.
Sponsored Programs
Location - Houston, TX, US 77092

The College of Health Care Professions is a Texas-based career education school founded by physicians in the Texas Medical Center solely specializing in healthcare education and dedicated to provid...ing students with training and education Read More

Programs

Nursing – AAS Degree (LVN to ADN)

Vocational Nursing Certificate Program

Location - Port Saint Lucie, FL, US 34987

Since 1977, Keiser University has maintained a practical, hands-on approach to career-focused education to help our students achieve their personal and professional goals.  Our student-ce...ntered approach remains at the foundation of the Keiser University mission and continues to attract students who prefer a more personal learning experience. At Keiser University, you will find a warm, friendly community with faculty and staff truly committed to your success.  Our small class sizes, individualized attention, and one-class-at-a-time schedules create a positive learning environment where you can excel.  Whether your goal is to prepare for a new career or to advance with your current employer, Keiser University is designed around your needs. Keiser University Advantage• Associate, Bachelor's, Master's and Doctoral degree programs• Day, Evening, and Online Classes• Financial Aid to Those Who Qualify• Job Placement Assistance Available• Military-friendly, scholarships for qualified active duty personnel, Veterans, and dependants.  Yellow Ribbon program participant, approved for Veterans trainingPrograms and delivery format vary by campus. Courses are subject to change. Keiser University's programs and curriculum remain in-line with technology and workforce trends, helping you develop the skills and qualifications necessary to succeed in today's job market.  Our career-focused programs make it possible for you to graduate in less time than you may think.  Keiser University is a private, not-for-profit university. Read More

Programs

Bachelor of Science in Nursing (FastTrack)

Nursing, MSN - Family Nurse Practitioner
Frequently Asked Questions
How much does it cost to become an oncology nurse?
Your location and the school you choose to study at largely determine the amount you will spend on your education. You need to remember that you must pay for books, accommodation, and transport besides the tuition fees to get qualified.
On average, an associate's degree in nursing costs $31,000 to get. The lower cost is the biggest reason why students choose to earn an associate's degree and later get a BSN through a bridge program.
That said, BSN-holding registered nurses are paid a much higher salary, allowing them to earn back the cost of their degree a lot quicker.
Are there any scholarships for oncology nurses?
The aging of the population has lead to an increase in demand for oncology nurses. There are numerous financial support programs and scholarships you can apply to and reap the benefits of.
The best way to get financial support to become an oncology nurse is to look at what financial aid your school offers. Applying to the Oncology Nursing Society for financial support is another excellent way to reduce the financial burden of getting an education.
Conclusion
Oncology nursing is by no means an easy job. Patients, families, and caregivers undergo a lot of stress as the patient gets diagnosed and receives treatment. An oncology nurse must help them feel at as much ease as possible with the uncertainty brought on by the disease.
Strong compassion and the ability to function in highly emotionally stressful settings are critical skills that not everybody can learn.
That said, providing patients, caregivers, and families with an invaluable base of support in care facilities can be incredibly rewarding. So if you're the kind of person that finds gratification in helping patients overcome the odds and recover back to good health, oncology nursing may be your calling.