2 Year Nursing Programs in Michigan – Associate's Degree in Nursing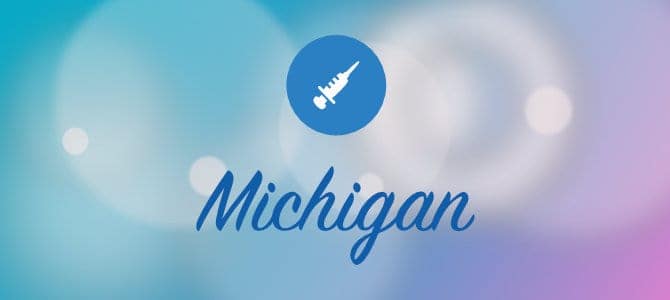 Like much of the USA, Michigan is experiencing a shortage of nurses driven by an aging population and a similarly aging healthcare workforce. The shortage is expected to continue until at least 2030. The supply of newly trained nurses is reduced by bottlenecks at nursing schools caused by limited clinical facilities to train new nurses and insufficiently qualified nurse educators to instruct them.
Two year ADN programs are a helpful route to ensuring newly qualified RNs get into the workforce more quickly while still retaining the option to go back to their studies at a later date.
There are around 30 ADN programs across Michigan, delivered mainly by community colleges. Competition for available places is often high. Once accepted into a nursing program, a student in Michigan will typically take four to five semesters to complete their degree and will then be eligible to sit the NCLEX-RN examination to receive their state license.
Michigan is not a member of the original Nurse Licensure Compact. However, the state of Michigan has legislation pending which will allow it to become a member of the Enhanced Nurse Licensure Compact. This means that RNs registered in Michigan will become eligible to obtain a multi-state license.
Sponsored Programs
Location - Houston, TX, US 77092

The College of Health Care Professions is a Texas-based career education school founded by physicians in the Texas Medical Center solely specializing in healthcare education and dedicated to provid...ing students with training and education Read More

Programs

Nursing – AAS Degree (LVN to ADN)

Location - Port Saint Lucie, FL, US 34987

Since 1977, Keiser University has maintained a practical, hands-on approach to career-focused education to help our students achieve their personal and professional goals.  Our student-ce...ntered approach remains at the foundation of the Keiser University mission and continues to attract students who prefer a more personal learning experience. At Keiser University, you will find a warm, friendly community with faculty and staff truly committed to your success.  Our small class sizes, individualized attention, and one-class-at-a-time schedules create a positive learning environment where you can excel.  Whether your goal is to prepare for a new career or to advance with your current employer, Keiser University is designed around your needs. Keiser University Advantage• Associate, Bachelor's, Master's and Doctoral degree programs• Day, Evening, and Online Classes• Financial Aid to Those Who Qualify• Job Placement Assistance Available• Military-friendly, scholarships for qualified active duty personnel, Veterans, and dependants.  Yellow Ribbon program participant, approved for Veterans trainingPrograms and delivery format vary by campus. Courses are subject to change. Keiser University's programs and curriculum remain in-line with technology and workforce trends, helping you develop the skills and qualifications necessary to succeed in today's job market.  Our career-focused programs make it possible for you to graduate in less time than you may think.  Keiser University is a private, not-for-profit university. Read More
Featured Programs
Grand Rapids Community College
The associate degree program at Grand Rapids consists of a pre-nursing semester and four semesters of nursing coursework. A mixture of classroom instruction and clinical lab work that provides direct, hands-on healthcare experience ensures that students are ready to work as a Registered Nurse in a variety of acute and community settings. The program is approved by the Michigan Board of Nursing and accredited by the Accreditation Commission for Education in Nursing (ACEN). Graduates go on to take the NCLEX-RN licensure examination.
Requirements for admission to the program include a minimum High School GPA of 2.5 or a College GPA of 2.0 and a score of 75% on each segment of the HESI (Health Education Services Inc.) entrance examination. Candidates who meet all of the requirements are placed on a waitlist and allocated the next available seat on the program. The waiting time once accepted is between 18 months and two years.
143 Bostwick Avenue NE
Grand Rapids, MI 49503
616-234-4238
Website: http://www.grcc.edu/nursingprograms
Lake Michigan College
The LMC nursing program associate degree has been accredited by the Accreditation Commission for Education in Nursing (ACEN) since 1981 and is fully approved by the Michigan Board of Nursing. Graduates are prepared to take the NCLEX-RN licensure examination. The average completion time is three years, year one is taken up by the completion of pre-requisite and general education courses.
Pre-requisite courses include chemistry, biology, and math with a minimum GPA of 2.5. Applicants must also take and pass the HESI (Health Education Services Inc.) entrance examination. Entry into the nursing program is competitive and places are limited. All applicants are evaluated and ranked using a point system. In addition to the candidate's academic record, direct patient care work experience, certification in a healthcare field, completion of the Professional Health Careers Academy (PHCA), or a previously earned bachelor's degree will also be taken into account in the ranking process.
2755 E Napier Ave
Benton Harbor, MI 49022
269-927-1000
Website: https://www.lakemichigancollege.edu/home/programs-majors/browse-all-programs?c=healthsciences&p=nursing
Lansing Community College
LCC's career ladder nursing program leads initially to certification as an LPN and continues on to an Associate Degree in Applied Science (AAS). Graduates take the NCLEX-RN licensure examination. The program is approved by the Michigan Board of Nursing and is accredited by the Accreditation Commission for Education in Nursing (ACEN). The program operates a selective admissions process. There is no waitlist, candidates are ranked and offered one of the limited numbers of places based on a points system.
The program offers three tracks towards the associate degree. The traditional track admits two intakes each year and can be completed within two years. The second-degree track admits up to 32 students each year who already possess a bachelor's or higher degree and has a 16-month duration. The advanced standing track is designed for existing LPNs, respiratory therapists, and paramedics and also has a 16-month duration..
610 N Capitol Avenue
Lansing, MI 4893
3517-483-1410
Macomb County Community College
Macomb County Community College has around 550 nursing students enrolled in its selective-entry ADN program. This program prepares students for the NCLEX-RN licensing examination and a career as a registered nurse. In recent years, the pass rate for Macomb graduates in this examination has exceeded the US national average. The associate degree program at Macomb is accredited by the Accreditation Commission for Education in Nursing (ACEN) and approved by the Michigan Board of Nursing
At Macomb, nursing and general education courses are enhanced by supervised clinical experience in hospitals and other healthcare settings. Nursing coursework introduces students to theoretical concepts and patient-centered care and allows for the exploration of different nursing specialties. Macomb is particularly proud of its Human Patient Simulator Lab which includes a state-of-the-art, computer-controlled mannequin, upon which students can practice their hands-on nursing skills.
14500 E Twelve Mile Road
Warren, MI 48088
586-445-7999
Website: https://www.macomb.edu/future-students/programs/nursing.html
Schoolcraft College
Schoolcraft two year nursing program graduates receive an award of an Associate Degree in Applied Science (AAS) and are prepared to sit their NCLEX-RN examination. The 63.5 credit program is approved by the Michigan Board of Nursing and accredited by the Accreditation Commission for Education in Nursing (ACEN).
Application requirements include pre-requisite college-level courses in Psychology, Math and Biology with a minimum 2.5 GPA, and a composite score of 60% for the Test of Essential Academic Skills (TEAS). Qualified applicants are allocated places in date order of the receipt of their application. Students are admitted to the program on an ongoing basis and start the program in the fall semester.
Nursing courses are offered during the day/afternoon at the Livonia campus and are scheduled throughout the year in seven-week blocks. In addition to lecture and laboratory sessions, clinical rotations during evenings and weekends form part of the standard curriculum.
18600 Haggerty Highway
Livonia, MI 48152
734-462-4400
Website: https://www.schoolcraft.edu/academics/healthcare-and-health-sciences/nursing