LVN to RN Bridge Programs in California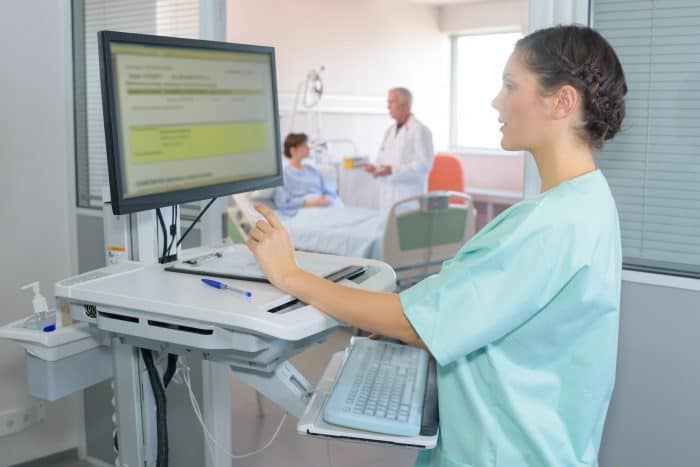 California LVN to RN bridge programs are optional paths for practicing licensed vocational nurses to become registered nurses. Most bridge programs allow you to transfer credits from your LVN coursework and apply it to your RN coursework.
It's possible for a licensed vocational nurse to become a licensed registered nurse in California in just 18 to 24 months without obtaining a degree. However, the California Board of Registered Nurses recommends completing an associate's degree or a bachelor's degree in nursing to fully prepare you for your career as a licensed registered nurse. You must have a degree in nursing to transfer your California registered nurse license to another state.
Registered Nurses in California
You can become a registered nurse with an associate's degree, a bachelor's degree, or an entry-level master's degree. You can do so if your undergraduate degree is in a field other than nursing, you have military training and experience, or by completing the LVN 30 unit path from a nursing school approved by the California Board of Registered Nurses.
The CBRS website lists scholarships that may be applied to your tuition. Once you've completed the program, you must submit your coursework and clinical experience to the California Board of Registered Nurses, and pass their computerized National Council Licensing Examination (NCLEX). With an interim permit, you can practice as a supervised registered nurse until your test scores are recorded. To prepare for the NCLEX exam, you may follow this NCLEX study guide.
California Nursing Schools
California Nursing Schools are accredited by the Higher Learning Commission, the Accreditation Commission for Education in Nursing, and the California Board of Registered Nurses. U.S. News ranks nursing schools according to their performance on "accepted indicators of excellence." Each of these California nursing schools offers uniquely different compliant programs for LVNs to become registered nurses.
Sponsored Programs
Location - Port Saint Lucie, FL, US 34987

Since 1977, Keiser University has maintained a practical, hands-on approach to career-focused education to help our students achieve their personal and professional goals.  Our student-ce...ntered approach remains at the foundation of the Keiser University mission and continues to attract students who prefer a more personal learning experience. At Keiser University, you will find a warm, friendly community with faculty and staff truly committed to your success.  Our small class sizes, individualized attention, and one-class-at-a-time schedules create a positive learning environment where you can excel.  Whether your goal is to prepare for a new career or to advance with your current employer, Keiser University is designed around your needs. Keiser University Advantage• Associate, Bachelor's, Master's and Doctoral degree programs• Day, Evening, and Online Classes• Financial Aid to Those Who Qualify• Job Placement Assistance Available• Military-friendly, scholarships for qualified active duty personnel, Veterans, and dependants.  Yellow Ribbon program participant, approved for Veterans trainingPrograms and delivery format vary by campus. Courses are subject to change. Keiser University's programs and curriculum remain in-line with technology and workforce trends, helping you develop the skills and qualifications necessary to succeed in today's job market.  Our career-focused programs make it possible for you to graduate in less time than you may think.  Keiser University is a private, not-for-profit university. Read More
Featured Programs
1. Southern California / Santa Maria / Anaheim
Allan Hancock College
Christine Rincon, a nursing student, finds, "Allan Hancock College [is] a clear path for [my] career. The classes are challenging and rewarding. The instructors really share their knowledge with you."
If you completed your 12-month licensed vocational nurse program at Allan Hancock College, you learned concepts of nursing and patient care, anatomy and physiology, surgical procedures, labor and delivery, pediatric nursing, nutrition, first aid, and basic medications. You did your clinical experience in hospitals and laboratories near the college prior to taking your National Council Licensure Examination for Vocational Nurses.
Allan Hancock's two-semester Registered Nursing program for LVNs is fully accredited by the California Board of Registered Nursing. It's offered every year starts with the spring semester.
Allan Hancock College
800 South College Drive
Santa Maria, California 93454
(805) 922-6966 Ext 3384 or 3542
University of California — Los Angeles
University of California — Los Angeles ranks 21st on the 2018 U.S. News list of Best National Universities. U.S. News ranks Ronald Reagan UCLA Medical Center #5 in the country. UCLA enrolls 30,873 undergraduate students and graduates unrivaled medical and nursing students.
The UCLA School of Nursing ranks 15th in the country with Bachelor of Science, Master's Entry, Master's Advanced Practice, and Ph.D. programs in nursing. UCLA offers options for LVNs who advance into licensed clinical registered nurses.
UCLA School of Nursing
700 Tiverton Avenue
Los Angeles, California 90095
(310) 825-3109
(310) 825-0303
West Coast University
West Coast University offers a 34-month LVN to BSN program with no waiting list. Courses are available when you are: evenings, weekends, and online. You can transfer course credits to West Coast University and challenge clinical experience courses by passing an examination.
West Coast students gain hands-on experience through simulation and do their clinical supervision in one of 500 medical facilities associated with West Coast University. Scholarships are available.
West Coast University
1477 S Manchester Avenue
Anaheim, California 92802
(714) 782-1700
2. Northern California / Gilroy / Santa Clara
Holy Names University
U.S. News ranks Holy Names University #55 in Regional Universities West. Holy Names University is a private nursing school and university on a 60-acre campus.
Holy Names University offers numerous options for working licensed vocational nurses to complete bachelor's degrees in nursing within 15 months. Holy Name's uniquely accelerated evening classes and clinical supervision schedules are designed to meet the needs of busy practicing nurses. Hybrid online courses teach technology, written and oral communications skills, and rigorous nursing coursework.
Holy Names University
3500 Mountain Blvd
Oakland, California 94619-1699
(510) 436-1340
Gavilan College
Gavilan College, a California community college, offers LVNs the opportunity to complete associates degrees in registered nursing. Gavilan College serves South San Jose and San Benito County.
LVNs and military medical personnel become registered nurses through certificate or associate degree programs at Galivan College. Galivan's Allied Health Department offers advanced placement in LVN programs, grants credits for LVN courses, and accepts transfer credits in liberal arts subjects.
Galivan College offers choices: Latino health assessment, case management, and evidence-based nursing.
Gavilan College Nursing Career Ladder Program
5055 Santa Teresa Blvd
Gilroy, California 95020
(408) 848-4883
Mission College
Mission College, in Silicon Valley, requires LVN courses as prerequisites for role transition from LVN to RN clinical nurses. Sufficient scores on the Test of Essential Academic Skills (TEAS)are required for admission.
LVN courses with maternal and child, mental health, medical-surgical, nutrition, and clinical judgment courses, labs, and clinical practice are acceptable credits in California State University.
Mission College
3000 Mission College Blvd
Santa Clara, California 95054
(408) 855-5374
3. Central California / San Joaquin Valley / Sacramento
Reedley College
Reedley College prepares LVNs for careers as registered nurses. The entire school enrollment is approximately 15,000 students.
The Reedley College LVN to RN program culminates in an Associate's Degree in Nursing, or LVNs earn a certificate in registered nursing upon completion of a 30-unit course of study.
Reedley College teaches a holistic approach to patient care based on the World Health Organization's definition of health. Reedley teaches nurses to consider the physical, mental, and social well-being of each patient and to prevent disease, minimize disability, and rehabilitate their patients.
Reedley College
Madera Community College Center
30277 Avenue #12
Madera, California 93638
(559) 675-4800
Carrington College
Carrington College offers a rigorous Nursing Bridge / Registered Nursing LVN to RN program. You can transfer your licensed vocational nurse credits into Carrington College's Nursing Bridge program and earn your degree within a year.
Carrington students spend three days per week in the classroom, and they log 180 hours of supervised clinical practice. Carrington students graduate with an associate's degree in nursing, and they are well prepared for the National Council Licensure Examination for Registered Nurses.
Carrington College
8909 Folsom Blvd
Sacramento, California 95826
(916) 361-1660 Ext 714
Chamberlain University
Chamberlain University's reputation for high standards and excellence prepares nurses for 21st-century healthcare careers. Chamberlain University, accredited by the Higher Learning Commission and the Commission on Collegiate Nursing Education, values your experience and offers an online Bachelor's degree in Nursing.
You can transfer up to 77 credits and complete your BSN in as few as three semesters. Your coursework begins with an online orientation and an overview of transitions of nursing. Chamberlain University also offers online MSNs.
"Chamberlain University online enables me to interact with supportive instructors and peers in nursing. [It's] preparing me as a future leader without compromising my schedule" observes Amy, a Chamberlain BSN student.
Chamberlain University – Sacramento
10971 Sun Center Drive
Rancho Cordova, California 95670
(916) 330-3410