Labor and Delivery Nurse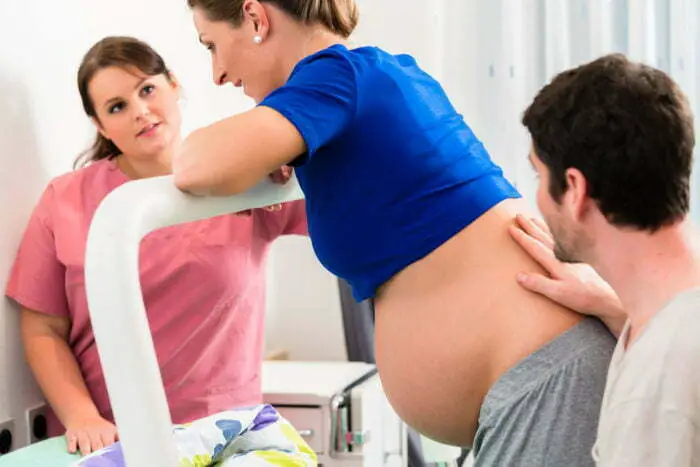 Childbirth is the most traumatic natural process humans go through. That's why aiding an expectant mother through the process is both physically and emotionally taxing for a labor and delivery nurse.
Labor and Delivery (L&D) nurses can expect to be engaged with the mother and her family throughout their entire 12-hour-shift. Besides the right education, it takes grit, the ability to remain calm, and excellent communication skills to thrive in this role.
On the bright side, labor and delivery nursing can be very rewarding. Witnessing the creation of a new family is an invaluable experience. An experience you too can witness if you're ready to complete years of training and preparing yourself to handle the ebbs of the job.
Here's a comprehensive guide to a successful career in labor and delivery nursing.
What is a Labor and Delivery (L&D) Nurse?
A labor and delivery nurse or an obstetric nurse plays a vital role in the healthcare team responsible for looking after the patient and the baby.
These nurses are the primary caregivers for women throughout labor. An expert in women's health, an L&D nurse is by the expectant mother's side throughout the four stages of delivery — from when the contractions begin to shortly after the baby's delivery.
What Does a Labor and Delivery Nurse Do?
Labor and delivery nurses have a large set of responsibilities both before and after the child's birth. These nurses educate the parents about the delivery process and answer whatever questions they may have about labor and birth. They also inform the parents that the doctor will be involved in the final moments of the delivery. Therefore, throughout the process, the mother must rely on the L&D nurse for whatever she needs.
When mothers go into labor, labor and delivery nurses are responsible for monitoring the mother's vitals and the baby's heartbeat. If complications develop, these nurse specialists are the first to identify and respond. 
When the doctor gets involved with delivery, L&D nurses become second-in-command and play the advocate for the mother. These professionals often stay past their 12-hour shifts to see a delivery through.
L&D nurses are also responsible for maintaining a record of the birth. And after the birth is complete, they help the parents with the hospital discharge.
What An L&D Nurses' Job Description Looks Like
The job description of a labor and delivery nurse can differ depending on the location and size of the healthcare facility. However, most L&D nurses have some common responsibilities:
Assist doctors with inducing childbirth.
Responsible for monitoring the baby's heart rate and mother's vitals.
Must ensure care standards are maintained in the delivery room.
Responsible for continually assessing the mother's condition.
Familiarity with the measurement of contractions during delivery is required.
Required to manage the patient's check-in process. The nurse must also assist the patients with initial insurance paperwork.
Work alongside laboratory personnel and report findings back to doctors.
Communicate with patients and the responsible healthcare team about the test results and treatment recommendations.
Demonstrate sound decision-making in emergencies based on the patient's vital signs, presentation, and assessments.
Provide care for all patients, and handle procedures like intubations, defibrillations, auto-transfusions, and more.
Where Do Labor and Delivery Nurses Work?
L&D nurses typically work at acute care hospitals, most of which have units specifically for the care of expectant mothers. In these units, an L&D nurse may find themselves working in antepartum rooms, the OR, triage rooms, the labor room, postpartum rooms, or the infant nursery.
A smaller healthcare center may also provide these specialized nurses with jobs. In some cases, the facility may not require the nurse to work in a maternity-specific unit. The labor and delivery nurse may work across different units in the hospital, providing both pregnant and non-pregnant patients with the care they need.
L&D nurses have a lot more autonomy than nurses in other roles. That being said, they work with a variety of health care providers and women's health specialists.
Labor and Delivery Nurse Salary
According to annual pay data analysis by Salary.com, labor and delivery nurses earn a median hourly wage of $36. The annual pay of an L&D nurse is in the $80,000-$90,000 range (not considering bonuses).
As you gain more experience with helping women through the birthing process, your salary will increase. Earning more advanced certifications or getting another degree will also boost your annual salary.
Becoming an instructor in a related field, such as lactation consulting or prenatal care, will advance your career and help you earn more.
According to the BLS, the demand for these professionals is high, and an L&D nurses' search for jobs is typically short. Registered nurses are stipulated to remain in high demand over the coming decade.
How Do I Become a Labor and Delivery Nurse?
Working in a hospital and helping mothers through the birthing process may seem rewarding, but you will need to put in a lot of work before starting working in hospitals. After you get licensed, chances are you will need to earn the right clinical certifications before you can help mothers and newborn babies in the delivery unit.
Earning an education to start a career as a labor and delivery nurse can get a little complicated. So, we've broken your education pathway down to four steps.
Step #1: Earn A Degree
Before you can become a labor and delivery nurse, you must work to become an RN. To become eligible for a license, you will need to enroll in one of many accredited nursing programs. There are two degrees you can earn to become eligible to get licensed as an RN:
Associate's Degree: To earn an associate's degree in nursing (ADN), you will need to attend university for two years after high school. These nursing degrees are more affordable than BSNs, making it easier for students to attend. If you decide to earn your BSN, you can join a school that offers students an accelerated program and get your bachelor's degree in two years.
Bachelor's Degree: Getting a bachelor's degree of science in nursing (BSN) takes four years. The tuition is also higher than ADNs. However, getting a job is easier with a BSN than with an ADN.
You must bear in mind that different hospitals have different education requirements, and employers have come to expect students to have earned their BSN. You may be able to get a job with an ADN; however, magnet-status hospitals prefer hiring RNs with at least a BSN.
Step #2: Get Licensed
Getting an ADN or a BSN is not enough. Before you can work in a hospital as a nurse, you will need to get licensed by passing the National Council Licensure Examination (NCLEX).
The NCLEX tests students' knowledge of nursing and ensures that the student is ready to practice nursing. The exam is of two kinds:
NCLEX-RN: This is the test you must aim to pass. After earning a degree from a nursing school, passing this test will get you a license to work as an RN. RNs have a wide range of responsibilities and can work with most of the population. The test has between 75 and 265 questions, 75% of which you must get right in order to pass.
NCLEX-PN: Passing this exam after finishing school will earn you a practical nurse license. While you can work in delivery units of medical care facilities, with this license, nurses with this license are often supervised by registered nurses. The jobs, duties, and salary range of these nurses are limited. The test has between 85 and 205 questions, of which you must get 67% right to pass.
After you get your license, you can search for hospital jobs and start practicing.
Health care facilities, especially those working towards attaining or having a magnet status, require you to have a certification to work as an L&D nurse. But contrary to popular belief, registered nurses do not need to get certified to get a job in an L&D unit. You can apply straight after getting a license. 
Earning some certifications will make you stand out from the pool of medical professionals that apply, and getting certified may also help you negotiate a higher annual salary.
Step #3: Get Certified 
To advance your career, take up additional duties, and attract a higher salary, you can get certified by the NCC. Passing the Inpatient Obstetric Nursing exam (RNC-OB) test will make you a certified L&D nurse.
Bear in mind that you can only take the RNC-OB if you have two years of experience and meet the required practice time and hours. The nursing exam is three hours long, and the nurse must answer questions relating to C-section procedures, labor, and pregnancy-related medication.
The exam tests the nurses' ability to monitor women during labor and ensures they know how to provide the support the patient needs.
Required Renewable Certifications
Different nurses must obtain different certificates to learn the various lifesaving procedures they may need to perform. Labor and delivery nurses must obtain and renew some of these certificates to continue practicing:
Basic Life Support Certification: The American Heart Association requires nurses to earn this certificate. A registered nurse learns how to perform CPR on every age group, which ensures the safety of both the mother and the newborn baby.
Advanced Cardiac Life Support Certification: It is a more advanced version of the BLS program. In it, a registered nurse learns better CPR techniques and chest compressions. The nurse also learns to detect cardiac arrest when in the program. These skills can be vital in the delivery room, and the labor and delivery nurse should remain prepared for worst-case scenarios.
Optional Certifications
Obtaining additional certifications isn't required to be a labor and delivery nurse. However, if you want to move past the level of knowledge that undergrad-level nursing programs provide, getting certified is a good idea.
Often, nurses move ahead in their careers with the knowledge they gain in certification programs. Some of the most common certificates labor and delivery nurses obtain are:
Electronic Fetal Monitoring: All types of clinical professionals can obtain the C-EFM certificate. Besides nurses, doctors and paramedics also get this certificate. It teaches the medical professional how to support a mother pre-birth.
Neonatal Resurrection Certification: To get this certificate, you must sign up for one of many nursing programs that focus on resuscitating a newborn. These nursing programs also help improve teamwork in the delivery room.
Certified Nurse Midwife: A nurse midwife is different from an L&D nurse. However, a labor and delivery nurse can become a certified nurse-midwife. While nurses don't need to obtain an MSN, it can take up to eight years for a student to get the required education, experience, and additional training to become a midwife.
Step #4: Continuing Education
Most states require nurses to take continuing education nursing programs — it's the only way to renew your license. While different states have different requirements, most states require nurses to earn 20 CEUs (Continuing Education Units) every two years. One CEU equals one hour of continuing education received.
It is also important to note that some states require the CEUs to be in the area of the nurses' specialty.
Sponsored Programs
Location - Houston, TX, US 77092

The College of Health Care Professions is a Texas-based career education school founded by physicians in the Texas Medical Center solely specializing in healthcare education and dedicated to provid...ing students with training and education Read More

Programs

Nursing – AAS Degree (LVN to ADN)

Vocational Nursing Certificate Program

Location - New Port Richey, FL, US 34652

Since 1977, Keiser University has maintained a practical, hands-on approach to career-focused education to help our students achieve their personal and professional goals.  Our student-ce...ntered approach remains at the foundation of the Keiser University mission and continues to attract students who prefer a more personal learning experience. At Keiser University, you will find a warm, friendly community with faculty and staff truly committed to your success.  Our small class sizes, individualized attention, and one-class-at-a-time schedules create a positive learning environment where you can excel.  Whether your goal is to prepare for a new career or to advance with your current employer, Keiser University is designed around your needs. Keiser University Advantage• Associate, Bachelor's, Master's and Doctoral degree programs• Day, Evening, and Online Classes• Financial Aid to Those Who Qualify• Job Placement Assistance Available• Military-friendly, scholarships for qualified active duty personnel, Veterans, and dependants.  Yellow Ribbon program participant, approved for Veterans trainingPrograms and delivery format vary by campus. Courses are subject to change. Keiser University's programs and curriculum remain in-line with technology and workforce trends, helping you develop the skills and qualifications necessary to succeed in today's job market.  Our career-focused programs make it possible for you to graduate in less time than you may think.  Keiser University is a private, not-for-profit university. Read More

Programs

Nursing, MSN - Family Nurse Practitioner
Conclusion
Not only is this nursing specialty relatively easy to get into, but it is also highly rewarding — both financially and emotionally. Nursing mothers when they need assistance the most and ensuring a safe birth can be extremely gratifying.
Becoming an L&D nurse is also an excellent jumping-off point for other careers. You can transition into becoming a midwife or a neonatal nurse as you gain more experience.
If you're interested in a career in nursing and like the idea of helping create new families with your specialty practice, you're just the right kind of person to become a labor and delivery nurse.