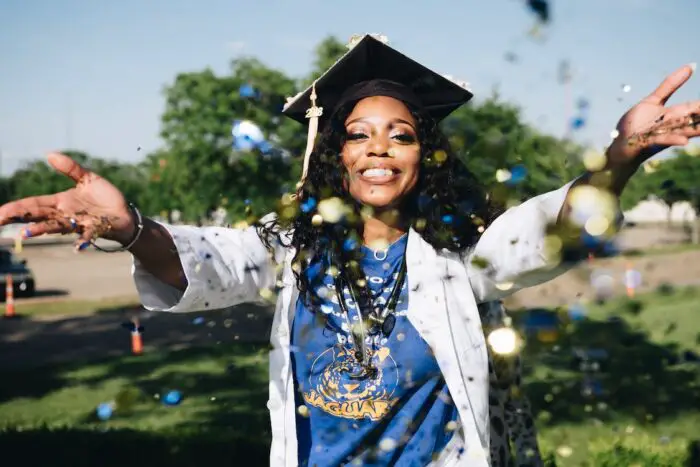 Time and money are limited resources for many. With a massive demand for nurses in our healthcare system, even I would be very interested in becoming a nurse if given one more opportunity at my university. So what's the fastest way to become a nurse in California? 
You can become a Licensed Vocational Nurse within one year. Or you can become a Registered Nurse, which requires two years and additional resources.             
In this article, I will share the quickest way to become a nurse in California. The options available at your disposal, their drawbacks, and their benefits.   
How To Become a Nurse in California Quickly?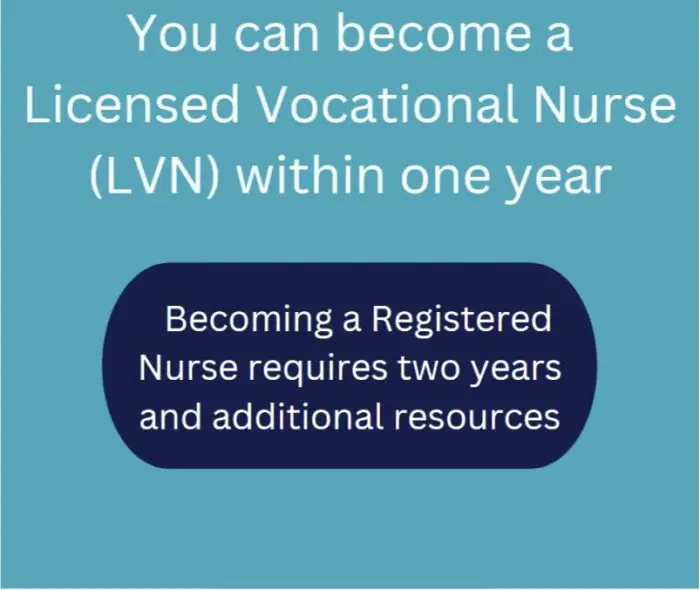 There are two ways in which you can become a nurse in California. The first option is as a Registered Nurse, and the second is as a Licensed Vocational Nurse, also known as LVN.
Out of these two, the pathway to becoming an LVN is the fastest. 
What's an LVN?
This name is unique to the state of California, and it's called the Licensed Practical Nurse in other states. You might be thinking, "What's the difference between a Registered Nurse and an LVN?" 
Here it is: an LVNs' daily routine is similar to that of a Registered Nurse in that they help and take care of patients under the guidance of doctors. But LVNs are also expected to work under the supervision of Registered Nurses.         
What makes this designation so attractive? Usually, you can complete the course within less than a year. Making it the fastest option for becoming a nurse in California 
Here Are Some of the Interesting Facts About the LVN Nursing Program:
It can take anywhere between 12- 24 months to complete.
The certification obtained in the end is comparable to a diploma.
It may or may not be recognized outside the state of California. To be considered for a Registered Nurse license outside California, you still need an Associate Degree in Nursing. 
If you plan to enroll in an associate degree after becoming an LVN nurse, based on your program and educational institution, you will be given credit points.
It falls under the board of the Bureau of Vocational Nursing and Psychiatric Technicians.
What Are Your Other Options, and How Does It Compare to LVN?
The main difference between the other options is time and financial investment. Let's take a look at the number of years you need to complete the associate and bachelor's degree and compare them so you get the complete picture:   
Associate Degree in Nursing: two years and tuition fees approximation of $20,000
Bachelor's Degree in Nursing: four years and tuition fees approximation of $40,000 
LVN Program: one to two years and tuition fees approximation of $5000 
Once you finish your LVN program, you must pass the licensing procedures and will be given a license as a non-independent practitioner.
After completing associate and bachelor's degree programs, you can directly apply for a Registered Nurse license.    
The Requirements for Applying to LVN and Compensation
The LVN position is an entry-level position within the healthcare industry. Hence, four different options are outlined in the Vocational Nursing Practice Act for meeting its requirements. They are:
You must graduate from a Vocational Nursing Program approved by the state of California.
You must graduate from an approved out-of-state Practical or Vocational Nursing program.
Must have background education or work experience as

Bedside Nursing experience (fully paid) for 51 months
Pharmacology Education in a program with at least 54 hours
You must have served in the medical corps division of the Armed forces of the United States of America
For a much more detailed overview of the requirements, please visit this page on the government board website.
Salary Compensation:
The average salary ranges between $25,000 to $50,000 per year, which translates to $14 to $25 per hour.  
What Are the Downsides of LVN, and Should You Consider the Second-Fastest Option?
As I mentioned, one of the main disadvantages of LVN is that you're not eligible to apply for the NCLEX-RN exam. You are required to pass this exam to become a Registered Nurse. As an LVN, your credentials might be accepted only within California.
But as a Registered Nurse, you will have many more job opportunities, and your compensation will be much higher. So I'm sharing the second fastest option for becoming a nurse in California:
By Earning an Associate Degree in Nursing
After LVN, an associate degree in the nursing discipline is the fastest way to become a nurse in California. This degree is an absolute requirement for becoming a Registered Nurse and usually takes around two to three years to complete.
At the end of the educational program, you will have gained the training and the knowledge required for you to pass the NCLEX exam. This exam is mandatory to earn your nursing license. 
To learn more about the NCLEX exam, please visit the board certification webpage.
And feel free to check out our free NCLEX Practice test; to get a feel of how you will be tested in the main exam. 
If you're short on time, the LVN route might be your best bet, but an associate degree in nursing is a good investment. Yes, you will be spending more time and resources, but it will be worth it! Because there is a high demand for Registered Nurses in the healthcare system. 
Wrapping Up 
You can become an LVN within one year. But the downsides are your credentials will most probably be only accepted within California. 
Becoming a Registered Nurse takes more than two years as you will also have to clear the NCLEX exam and requires more financial resources. 

I have covered two of the fastest approaches, and you're free to choose the one that best suits your interests. Also, don't forget to check out our NCLEX Hero Comprehensive Study Guide, which can help you study more efficiently and achieve great results in the NCLEX exam.
Categorised in: How-to